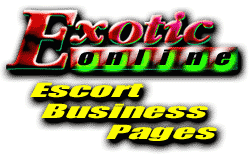 The entertainers featured on this website are independent contractors who own and operate their own businesses and render services to their own customers. All independent contractors operate in accordance with the laws of the State of Oregon. These are NOT offers of prostitution!

Exotic Magazine is under contract by each individual entertainer as a referral service only and in exchange retains an advertising commission. Exotic Magazine does not condone and is in no way liable for any illegal activities that might be committed by either the entertainers or their customers.

The photos of all the advertisers on this site are true and authentic. What you see is what you get! Do NOT copy, borrow, steal, or hijack any of these images. If you do we may have to tell your mother!
There are explicit pictures of naked girls beyond this page!
Please be sure that you are of legal age before you proceed. Double check.

Continue | Exit
©2000 Exotic Magazine