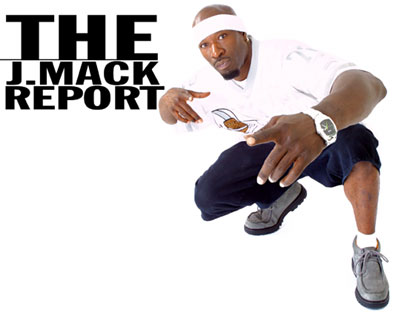 Whatz Crackin'?
By J.Mack

What's up music lovers, club hoppers, fly-girls and homeboyz? It's time to put something in the wind and roll wit' me. I'm about to take you on a trip through the local and national entertainment scene. I will also give you the 411 about Snoop Dogg's new cut that's clownin' Suge Night in a major way. But first...........
The Local Shizz
As I take a real cool look at things around town, I am beginning to notice that Portland, Oregon is slowly but surely about to become one of the next music meccas of our time. There are some real tight recording artists here that if given the chance to be on a major label would be sure to blow up! Big concert promoters are also finding a great deal of success in the Portland music market. The cool thing about this is that we will be able to check out artists and groups that have normally skipped over P-Town.
Even though Jammin 95.5 has had it's share of critics (including myself), they still play a major roll in giving the city that musical boost it was missing for years. Their DJs have also played a huge part in the recent success of some of the nightclubs in Portland, Vancouver and Salem. I have also noticed that there has been a lot less drama at the clubs lately. It's like people are finally starting to party again and let all the bullshit go!
Since Portland is an international city, the variety of beautiful women is something that continues to shock the shit out of most out-of-towners. That's one of the main reasons I chose to add the "Honey of Month" article to my monthly Mack Report.

The National Stiznuff
Robert Kelly, better known as R.Kelly, is back in the headlines and it's not because of his music. Homeboy is already facing 21 counts of child pornography, but now he's facing 12 more. Recently while filming a video in Miami, FL, Rob was arrested at his hotel and charged for more porno offenses. Police found 12 photos of a young nekkid chick at R.Kellys house. Three of the pictures show him and this girl doing some thangz and the other nine are of her booty-butt-nekkid. Each picture is considered a felony with a maximum punishment of 5 years a pop. If convicted on these new charges, Rob could be facing up to 60 years in prison. There ain't that much freaky shit in the world that would make me give my life to the feds. This cat needs to start checking I.D.s or somethin' 'cause he's about to be assed out for real! He is currently out of jail after posting $12,000 bail. His first trial hasn't even started yet and now this. He is this month's official winner of the "What the Fuck Were You Thinking?" award. Good luck at your trials, Rob.
Angie Martinez
, the sexy hip-hop diva, has just announced that she is about to be a mama. She hasn't revealed who the baby's daddy is, but after checking out her new video "Take You Home" it appears that Angie is not just bold and to the point, baby girl is horny as all hell. Listen to her words. According to her record label, Nokio from the group Dru Hill is the lucky bastard and poppa to be. I'll keep you posted. Congrats girl!
Snoop Dogg
has recently released one of his best albums in a while entitled
Paid tha Cost To Be da B0$$
. The Dogg Father is in rare form on this one. You can tell he took his time on it and isn't holding anything back. His album is currently #14 on the Billboard Hot 100 charts. One of the songs that really got my attention was a joint called "Pimp Slapp'd" The whole song is about how Snoop feels about his former boss, Deathrow's Suge Night. Snoop has never lyrically lashed out at Mr. Night until now. He's calling dude every name in the book, challenging him to a fight, revealing Suge's other name, and basically telling him how he really feels.
I couldn't believe some of shit that Snoop said, but my boy got heart! If you haven't heard it yet, you're missing out. Mr. Doggy Dogg is this month's winner of the "I've Got KING-KONG BALLS" award!!!
Nicole Kidman
was recently seen shopping in NYC with the debonair rapper
Q-Tip
. According to witnesses the two of them were holding hands, exchanging kisses and hugs, and basically not given a damn about who saw them. It was also reported that Nicole appeared to be extremely happy. My guess is that Q put his Tip in that "Vibrant Thang" and gave her ass new life. As for Ms. Kidman's ex hubby Tom Cruise, it has been rumored that he is seriously taking on a recording career and has been working on his new album
I Got the Baby Mama Blues
. His first single is called "She Went Black and Ain't Came Back." I'll let you know when it hits the streetz. Yeah right!!

The "Honey of the Month"
This month's award goes to the beautiful Kiona of Club Exotica International. Not only is she fine, but this honey is also highly intelligent. She is a student by day and a dancer by night. Kiona recently got her MA at the Concord Career Institute and will soon be going back to school to get her RN. She will definitely be the sexiest nurse in the business. You go baby!!!!
The Biggest Party in FEBRUARY...
...taking place Sunday, February 16th inside the V.I.P. Room of Club Exotica. Featuring Deejay Joe T spinning all the latest cuts, reggae, R&B and old school hip-hop. The party will be hosted by your's truly and you know how I get down. Lots of fun wit absolutely no bullshit! Dress to Impress!! 21 and over. I'll see you there!!!

Don't forget to check me out in next month's magazine!
I'll catch you up on all the latest local and national music news. I'll have photos of the 112, Avant, and MR Cheeks concert and afterparty. I'll also be featuring a new "Honey of the Month" so if you know someone that you think qualifies, email me and tell me why. Feel free to join my mailing list. If you have any questions or comments holla at ya boy at whatzcrackin_j@hotmail.com
I'm Out
One Love,
J.MACK