EXOTIC'S WIN A BOOB JOB CONTEST
Exotic's Boob Job Contest Preliminaries were the hot tickets in June. Highlights of the first round at Sassy's included a watermelon show and a milk show. Yum! Carmen and Kat from Stars will advance to this month's finals, as will Stacy from Sassy's.
The second round was held at Cleopatra's Viewpoint, and house girls Pelle, Luscious and Tiffany stole the show! Highlights included neon body paint, candlewax and a fiery magic strip act. The third round, at Club Exotica, was held after the magazine went to press.
The finals will be held at Stars Cabaret on Thursday, July 10th. Nine of Portland's hottest girls will compete for brand new boobs (or $1500 cash) and other great prizes. Do not miss this exciting event! Good luck, ladies!
EXOTIC MAGAZINE'S TENTH ANNIVERSARY BASH
Come help us celebrate at Dante's on Sunday, July 27th. We'll be kickin' it with lots of babes and booze, and all your favorite and least-favorite writers and designers will be in the house. July 27th is also Viva's birthday, and she wants presents.
IT'S SUMMER!
It's finally hot enough for the shower shows and outdoor stages at your favorite clubs, and there's a lot going on around town. Secret Rendezvous at 125th and SE Division is having a BIKINI CAR WASH on July 13th. We've been assured the girls are highly skilled and put great care and lots of muscle into their work, and that their bikinis are "very cute."
G-GIRL ACTION!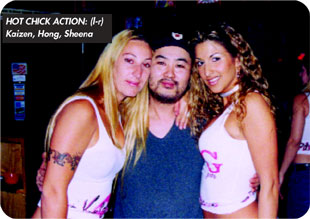 Sheena's G-Girls from the G-Spot are doing a special show at the Viewpoint on Thursday July 17th. Twenty-five babes, partying and playing from 9pm to 2am! Sheena dropped off a bunch of photos at Exotic, and its doubtful she'll get them back...these girls are pistols! Last month the G-Girls turned up the heat at Soobie's on their way to their gig at the Pallas, where they put on a great show and rocked out with the band Debris. What a genius idea: a roving band of fun-loving super-hot strip-teasers!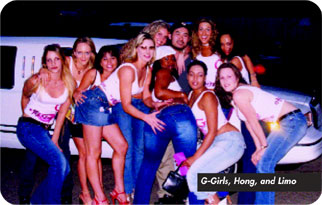 The
Dolphin II
is hosting a
SUMMER BEACH PARTY
on Wednesday, July 23rd. They promise to "bring the beach to you," with water, sand, a free BBQ dinner and forty bikini-clad babes doing theme shows. Bring your own lawn chair and get in for free!
Stars Cabaret turns seven this month, and they've filled their calendar with cool events. Every Tuesday night finds Exotic's Strip Search Contest at Stars, with finals on July 22nd. Winner takes home $2000 and appears on the cover of September's Exotic. And don't miss Exotic's Boob Job Contest Finals on July 10th!
Wanna get lei'd by hot scantily-clad chicks and feast on roast suckling pig? Try Stars' Hawaiian Luau on Saturday, July 12th. The following Thursday, July 17th, features the return of Stars' extremely popular H2O Night. Don't miss the outdoor BBQ, beer gardens and swimming pool during the day, and at night, three hot tubs, two swimming pools and two shower stages. Awesome! Finally, Jill Kelly will be in town, and making thrice-nightly appearances at Stars July 23rd-July 26th.