BOOM BOOM ROOM EAST NOW OPEN!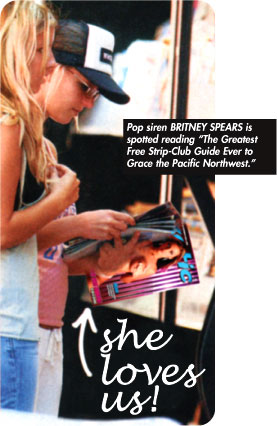 Finally there's a new strip club in Pornland. Boom Boom Room East is located on the east end of the Ross Island Bridge. They feature super sexy, sassy girls in a totally revamped club. It's hot!
FIREDANCERS
Speaking of hot, firedancers will be heating up Roc's Dollhouse every Tuesday for Hell Night. The Dollhouse also features Double-Trouble Fridays, with two hot gals on every stage.
The recently-opened Pharaoh Room at Cleopatra's Viewpoint is about as hot as it gets, with sensual firedancers and belly dancers in a swanky members-only lounge. Check it out at their 2nd Anniversary Party on Saturday the 13th, and don't miss Debris on the 20th--they rock!
Firestripppers? Yup! Every Monday at Devil's Point. Ya gotta see it to believe it.
SECOND ANNUAL CONTRACTORS' BALL
At Stars! Ever see a chick strip out of a wifebeater, tool belt, and hard hat? Now's your chance. Stars' incredible dancers will show you how to use a hammer... and a whole lot more. Salem: September 19th. Beaverton: September 26th.
SUPERSTRIPPER
One of the hottest gals around is back on the circuit. Amy (formerly known as Sydney) is performing on Tuesday nights at the newly revamped Dino's. Amy took a year off to fight breast cancer, and now she proudly sports a small scar near her left breast where she had a lumpectomy. She's sexy as hell, and ballsy, too. And she'll be featured this month in Big Butts Magazine.

GET READY
Coming next month is an event so spectacular that it could not die a respectable death. That's right kiddies, it's Portland's most notorious contest, back from a limited engagement on the community service tour in Hell, the event you love to hate...INK-N-PINK 2003. Venues are still in the preliminary stages at press time, and word has it that the event producer, Spooky, is locked away in rehab right now preparing for the event. Jesus, how many times do we have to fire that guy anyway? He just keeps coming back! They're even calling the event "The Resurrection." (It's starting to sound like another chapter in the Friday The 13th saga.) Details concerning the "unexpected" return of this event are shrouded in mystery, but rest assured that next month's issue will be packed with all the hot sticky decadent details.