INK-N-PINK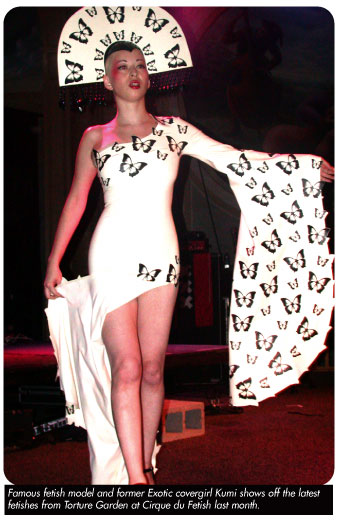 The Resurrection! Portland's fabulous tattooed stripper extravaganza returns this month. Opening night ceremony at Union Jacks on Friday October 10th followed by the Semi-Final Sacrifice on the 24th, also at Union Jacks. The finals will be on Halloween night at Cleopatra's Viewpoint. Don't miss this super hot annual event.
****************
JACKLYN LICK
As seen on The Man Show, in Orgazmo and 8mm, as well as over 250 XXX videos... Jacklyn's back in Portland at Cleopatra's Viewpoint October 30th ­ November 1st. Three nights only!
****************
BOOM BOOM
ROOM EAST
Grand Opening! Friday, October 3rd is the night to check out this hot new club.
****************
HAPPY HALLOWEEN
Almost every costume shop in town is running sales to help you get your trick or treat outfit together. Butterfly's gowns and vinyl are 20%-70% off, Spartacus is offering 10% off everything to Exotic readers (mention their ad!), Cathie's always has great deals, and Portland's "Best Vintage Shop" Atomic Lily has a pre-Halloween sale from 10/27 ­ 10/31.
Once you're dressed up, get messed up at any one of the fabulous parties going on, from HELL NIGHT at Stars (10/30 in Beaverton, 10/31 in Salem) to Queen Ruth E.'s fabulous Pagan Bash at Dino's to the Magic Gardens' Midnight Monster Bash. And don't forget to stop by Severina's Halloween Ball at the Roseland on Halloween night for two floors of Halloween decadence.