MAKE BOOBIES, NOT WAR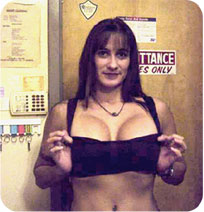 STACY @ Sassy's has a new rack. Exotic paid for these puppies after she swept the BOOB JOB CONTEST this summer, and now she won't even give us a bit of nip! Just goes to prove the old adage "as goes the cup size, so goes the nose." Kidding, kidding. Congrats!
****************
CHRISTMAS AT STARS
This invitation-only event for friends and VIP members has got the figgy pudding and the shaky pudding, so if you don't have your FREE VIP CARD yet, get one and get in on the fun! December 21st @ STARS BEAVERTON.
****************
WINTER WONDERLAND PARTY

Spend the second longest night of the year (December 20th) with Exotica International's snow bunnies and peppermint patties. Guaranteed to warm you up. And watch for the Grand Opening of EXOTICA DOWNTOWN.
****************
ROCK!
Don't miss Diamond Tuck & the Privates @ Dante's on 12/11 with the Makers or the Distillers @ the Aladdin on 12/18. And remember to attend the religious institution of your choice this holiday season, even if it is the Church of the Naked Lady.