One of the most important distribution venues for fine adult publications is FANTASY VIDEO, with their numerous well-supplied locations. Due to limited space, beginning last month, Exotic and only Exotic was the only local adult magazine available to Fantasy customers. This may not be important to you readers, but to us and our advertisers this is a big deal. Why? Because Exotic is the best, coolest and hottest mag of its kind, and Fantasy Video knows it! Thanks!
Chief, the President of Reservation Records and Mayoral Hopeful (right baby?) is flying in his friends the New Bomb Turks, Fitz of Depression and the Wednesdays to celebrate his birthday. DO NOT miss Chief Fest at Dante's January 23rd. All the cool kids will be there. Then hang with the Dirtbombs, Fireballs of Freedom and the Sights @ Dante's on the 24th!
*********
BABY, IT'S COLD OUTSIDE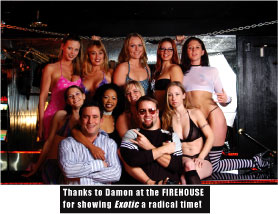 Stars Beaverton hosts ICE The Party on Saturday January 31st. Look for a winter wonderland featuring snowmobiles, ice sculptures, a huge fireplace and--of course--Stars' snow bunnies!
Things are a little warmer down south at Stars Salem. GUYS NIGHT OUT on January 24th was planned with fans of Comedy Central's The Man Show in mind. Don't miss this night of fun theme shows, wild contests and NAKED GIRLS ON TRAMPOLINES!!
The PALLAS celebrates their Third Anniversary on January 24th. Win free stuff all night long while checking out incredible babes, including Portland's newest adult video honey SOLARA STAR.
Banana Eating Contest at JODY'S! January 21st. We're Goin' Bananas night is open to everyone. $100 to ladies who demonstrate the most creative banana eating technique. Check out their Wednesday Nights with the "Wild Thing Girls," too.
DREAM ON SALOON is the place to be on Thursdays if you're a pool player, a cowboy, or both! Wear your hat on Cowboy Thursdays for unbeatable deals. Pool tournament starts at 8pm. Their awesome STRIPPERELLA CONTEST returns on Wednesday, January 21st.