Winners
Exotic's new online logo won a design award from logolounge.com. Woohoo! As far as anyone can tell this is the first time an adult magazine has won one of these awards. Kudos to designer Tim Oakley.
Gorgeous blonde Karina stole the show at last month's Exotic Covergirl Contest at Stars. She infiltrated the crowd in military fatigues, passing out sparklers and little American flags, then stripped down to a tiny sequined American flag bikini. This eventually disappeared, too, revealing cute little temporary tattoos of Afghanistan and Iraq painted in red-white-and-blue. Kidding! About the last part.
Losers
Well, there's the Blazers.... And in less scandalous news, those sweat shop salaried actors employed in the

adult film industry have been taking an involuntary vacation. Seems one
Darren James
contracted HIV while shooting condomless porn in Brazil. HELLO! Before his results were in he'd filmed twelve scenes with twelve girls. Those twelve girls fucked between nine and ninety men, women and dogs a piece, so you can imagine the kafuffle this is causing. At press time, one starlet, teenage Canadian newbie Lara Roxx, had tested positive. Hopefully everyone can relax a little and enjoy their time off and return to the sets fit as fiddles when filming resumes in mid-June.
Naked News
For five hot days in early May, Jody's is where the action's at. Any stripper worth her salt will be at one--or all--of Jody's World's Best contests. On Monday, May 3rd, ladies will compete for the World's Best Buns title. May 4th features World's Best Breasts. Wednesday the 5th is World's Best Double Trouble Team (yikes!) and on Thursday gals compete on the pole. Finally, on May 7th, World's Best Exotic Dancer will be chosen. Thousands in cash prizes will be given away and competition is expected to be fierce!
May's still a bit chilly for sex on the beach in Coos Bay, so head to Beaverton for the Big Bang's Beach Party on May 8th.
Stars Salem hosts a Poker and Smokers' Party on May 13th. Lord knows who's getting poked and what's getting smoked, but anyway you slice it this is an idea whose time has come.
Back from Iraq? The Pallas hosts an Armed Services Appreciation Week May 26th - May 29th. Show up in uniform for the best values in town. [Plus strippers luuuv a (wo)man in a uniform.] Tattooed folks get deals every Thursday. Call the club to see if you get double deals for being tattooed AND in the Armed Services.
Full Tilt Riders presents Bikes and Babes Party at Exotica, featuring free food, drink specials, bikes on stage and prizes! Bike clubs, bike owners and babes call 503-449-3808 for more info and get ready to party on May 28th.
Speaking of NAKED, world famous dominatrix and office goddess Severina escorted a new human into the world this month. Welcome, Torsten Gustav, to the Exotic family! Those are some nice tits you get to suck on!
Write for Exotic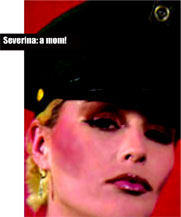 Everyone dreams of writing for Exotic, and we're in the business of making dreams come true. Write about a wacky night out in Pornland's fabulous strip clubs and music bars and if we like it, we'll print it! Be sure to include a naughty photo and send it to viva@xmag.com or by mail to Exotic Magazine attn:VIVA, 818 SW 3rd Ave., Suite 1324, Portland, OR, 97204. Thank you to Diamond Tuck and Private Mike for their stellar contribution this month on page 65. And don't fret, Demi Mondaine has not deserted you. She just got a month off for good behavior.
Rock'n'Roll!
May 1 -- Ron Jeremy's Circus Sideshow @ Dante's
May 12 -- Hellside Stranglers, Coco Cobra & the Killers @ Grand Central Bowling Alley
May 13 -- Peaches @ Roseland
May 21 -- Diamond Tuck & the Privates w/ Knight After Knight @ Slabtown
May 25 -- Rasputina @ Dante's
May 28 -- Hell's Belles @ Dante's