Obviously the big news this month is Halloween. Show me a stripper who doesn't like to get dressed up and messed up and I'll punch her in the throat. Every club in town is putting on a Halloween Party. Plan your week wisely and by the time October 31st rolls around you'll be dead (drunk).
Get into the spirit at Stars Salem's Pajama Party on the sixteenth, a perfect prelude to Halloween and the place to be if you're a bloodthirsty psychopathic slasher celebrity wanna-be. Stars Beaverton gets the party started in earnest on Wednesday the 27th with a Halloween Party featuring a PORN MAZE (first one to get through is a rotten egg) and their infamous fire bar.
On October 28th it's PORNOWEEN at Safari. Local porn newbies will be on hand for the in-house screening of their very own vids! Press the flesh with Kimberly Kane, Skyler Storm, Solara Starr, Troy T-Bone and more. Porn talent scouts will be on hand if you think you've got what it takes... A costume contest follows at 11PM, if anyone's wearing any clothes.
The party continues October 29th, 30th and 31st at Dancin' Bare. Wear your costume and compete for prizes. (Scary.) Dancin' Bare also hosts Oktoberfest all month long, featuring daily specials. More made-for-slashers fun at the Bare's Naughty School Girl Party on the 13th and Wet T-Shirt Contest on the 21st. Double Date Night returns on 10/28, featuring two girls on every stage and two steak and shrimp dinners for only $15. Bring your lady. Bring two.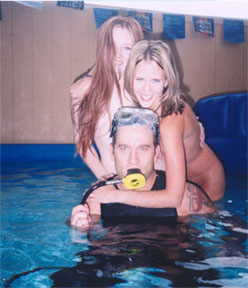 ONE SMALL STEP FOR MAN, ONE GIANT LEAP FOR MANKIND
I wasn't there, citing the usual "troubles in paradise," but I've seen the photos. And I'll never be the same. Whoa! Who knew when they got VIP passes to Exotic's Anniversary Party that they were going to wind up at a drunken orgy with stripper luminaries crawling around on all fours? Probably everyone. No fights this year, just good dirty fun. Steve "Fiesta" Santoro took one for the team and cleaned up in Safari's pool for the World's First Underwater Tabledance. He will never be the same, either.
On October 3rd, Nerve Magazine sexologists Em & Lo are coming to Portland (Dante's) to show us how it's done. Sex Ed for Grown-Ups involves videos, music, parodies and skits, a 'test your sex IQ' game show, Q&As and more, covering everything from Anal to Zany S-E-X. I'm sure more than a few of you could learn SOMETHING at this workshop, so please, take notes. Stick around for Sinferno, when Portland gals show these New York lassies how we do it--West Coast Style.
10/12 DIAMOND TUCK & THE PRIVATES @ Doug Fir -- Grand Opening!
10/29 COCO COBRA & THE KILLERS CD RELEASE PARTY @ Devils Point
10/30 DEAD MOON @ Sabala's Mt. Tabor
10/31 HIGH ON FIRE @ Sabala's Mt. Tabor
Congratulations, Bybee, on the new ball & chain! Best wishes from all of us at Exotic.