Bottom's Up is throwing a HUGE SUPER BOWL PARTY on Sunday, February 6th. Check out their new remodel, including a brand new stage and lots of hot new girls. Come in on Tuesday nights to see the Junior Varsity shake their shit on AMATEUR NIGHT, all month long!
If you're on the other side of town, the Dancin' Bare is the place to see the game 2/6. Relax while topless waitresses bring you your hot wings and beer. "The Twins" Danny and Daisy will be on hand--with big sis' Heidi--for halftime entertainment. So get off the couch, potato!
V.D.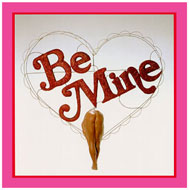 Picking the perfect sensuous gift for your someone special will be fun and easy this year, thanks to
SPARTACUS' SPECIAL VALENTINE'S SHOPPING EVENT, featuring 25% off purchases, free Valentine gift wrapping, beverages and hors d'oeuvres. Belly up to the LUBE TESTING BAR and watch kinky product demonstrations. Best of all, local favorites the Porcelain Twinz will be modeling lingerie. Don't miss it! Wednesday Feb 9th, 7pm-9pm @ Spartacus Clackamas Store (15536 SE 82nd Drive, 503-657-7666). Thursday, Feb 10th, 7pm-9pm @ Spartacus Downtown Store (300 SW 12th Avenue, 503-224-2604).
2/3 MAKERS, BRIEFS, VOLUMES @ Dante's
2/4 RICHMOND FONTAINE @ Doug Fir
2/13 INTERPOL, BLONDE REDHEAD @ Roseland
2/17 SEX WORKERS' ART SHOW @ Berbati's
2/18 STEVE EARLE & THE DUKES @ Crystal Ballroom
2/24 GOSSIP @ Nocturnal
From: Experience589@aol.com
My names Brandon i seen your ad in exotic magazine, and I liked it a lot. IM a 22 male i have short blonde hair blue green eyes 5"11 180lbs. I work out daily And play a lot of guitar. When i herd the name jimmi hendrix in the ad it really caught my attention, because im a huge fan. Especially when you said you want a man too play your body as well as he plays his guitar. That would be me i play a lot. I love kissing, im a lover and i would love to take you on hot dates in my car. Basicly my life revolves around music constantly. I sing and play drums too. Me and my dad have a studio with a lot of equipment in it, and i will be playing live when the time is right. Pretty much i just want to tell you your ad described me. So i would love to hear back from you. "Further more" im very good looking easy going loyal and hard working. So please email me back. I would love too talk too you. thank you.
P.S. Jimmi Hendrix, Jimmi Hendrix, Jimmi Hendrix
---