COCK FIGHT!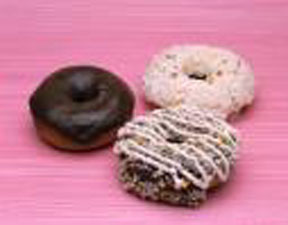 Once again Voodoo Doughnuts leads the local news, having hosted their second annual COCK FIGHT last month. Relatively sober contestants volunteered to beat their meat 'til it was hard enough to be measured with one to one hundred doughnuts. Only those who practiced in advance stood any semblance of a chance: what guy brings himself to the brink of orgasm, only to rein himself in so that some stranger can ram soft, sweet, slick and sticky DOUGHNUTS on his drumstick? And who among that tiny group would not just jizz all over the lot (as happened to the top cock in last year's fight)? The cock fight is indeed the hardest sport conceived since the biathlon. Too bad you missed it. Stop by their shop on SW 3rd Avenue for a limited edition JIZZ JELLY JUBILEE.
CLUB CABOS CABARET COSTUME PARTY
If you like alliteration, you're gonna LUV this. Sit stageside at this Southeast strip bar on Saturday the sixteenth for a stunning smorgasbord of sexy sylphs at Club Cabos' Cabaret Costume Party.
EIGHTIES THEME PARTY
The Dolphin Clubs are bringing back the Best Decade. Featuring special theme shows and "eighties prizes," these parties on Thursday the 21st (Dolphin 2) and Saturday the 23rd (Dolphin 1) are a guaranteed good time. Wear your best eighties outfit and win $200 CASH. Wait.... was Xanadu an eighties flick or seventies? Can I wear roller skates? Will there be piles of coke and Wall Street Journal types?
HONEY OF THE MONTH CONTEST
May's Honey of the Month will be chosen on Saturday, April 16th during J.Mack's Honey of the Month Contest at Club Exotica. Don't miss the hottest monthly event in town!
MISS NUDE OREGON 2005
The Miss Nude Contest kicks off on May 12th at the Dolphin, so hit the gym, choreograph your show and bedazzle your costume, cuz the finals on JUNE 16th are right around the corner, and you wanna be there!
HOT SHOTS
Next month in Erotic City we'll be cutting down on boring old words to make space for more spicy photos. Wanna see photos of your slutty friends splayed across the society pages of Exotic Magazine? Send them to viva@xmag.com. Pictures of naughty girls & boys (18 plus, please) frolicking in skimpy outfits will of course be favored, but ample time will be accorded other photos, especially if they are a) gross, b) ridiculous, c) of your pets.
ROCK, etc.
4/1 NIRVANA featuring JERRY GARCIA @ satyricon
(just kidding. april fools' day.)
4/9 MÖTÖRHEAD @ roseland
4/12 DJ ALWAYS ALISON @ dino's
4/15 ELECTRIC SIX @ dante's
4/26 DJ ALWAYS ALISON @ dino's
4/30 DIAMOND TUCK & THE PRIVATES @ devil's point
---