STRIPPER BRAINS CO-WORKER
A fight between two dancers turned felonious at Jiggles in Tualatin on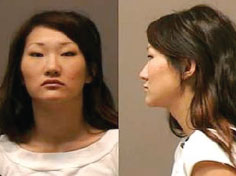 February 17. Witnesses say the fight started in the dressing room and ended with one girl on her way to the hospital for emergency brain surgery and the other, 21-year-old Shannon Gee (pictured above) (yes that's her REAL NAME), arrested for first-degree assault and looking at seven years in the slammer.
(For a good time call: www.pdxbars.com/blog-1127.html)
STRIPPER CITED IN INTERSTATE BANK HEIST
On March 23rd, 25-year old Luke Deavers was arrested for the armed robbery of a California bank, hoping to bag his favorite Magic Garden stripper in the process. "He said he wanted [her] to be the getaway driver, that it would be a cool way of getting to know her," says Deavers' friend, Ben Shook, in the Willamette Week.
STRIPPER NOMINATED FOR PAPAL DUTY

Exotic's own Viva Las Vegas was suggested as a possibility for Pope last month in Willamette Week. Las Vegas was selected alongside a handful of political luminaries and perennially cool writer Chuck Palahniuk. She says being Pope would be "cool... as long as I could still edit Exotic." See the article at http://www.wweek.com/story.php?story=6219

STILL WANNA BE A STRIPPER?
Show us your stuff at Club 505's Amateur Night on May 12th. Remember, there's more to it than hair-pulling, bank-robbing and shit-talking—you still have to take off your clothes!
WANNA BE THE *BEST* STRIPPER?
The Miss Nude Oregon 2005 Competition kicks off this month! Preliminaries are at the Dolphin II on May 12th. Semifinals are at the Dolphin I on May 26th.
Stripping is a spectator sport! Get in on the fun as J.Mack hosts his "Work That Pole!!!" Competition on Thursday, May 19th, at Stars Beaverton. And of course don't miss the Honey of the Month Contest on Saturday, May 28th, at Exotica.
FIFTY NEW STRIPPERS
.... @ Montego's! Check 'em out at the Cinco de Mayo Party on May 5th. Featuring free t-shirts for every customer!
SUMMER KICK-OFF PARTY
All your favorite Exotic Covergirls will be partying at Lush on Friday, May 27th. Start your Memorial Day Weekend off right with the hottest ladies in the biz at the Summer Kick-Off Covergirl Party!
RAWK, etc.
5/1 MOBY @ roseland
5/4 MEEZILINI w/ MESSY MARVE @ the vue
5/6 COCO COBRA & THE KILLERS w/ THE NEINS @ devils point
5/6 RAVEONETTES @ dante's
5/7 MUDHONEY @ sabala's mt. tabor
5/7 MILES BEFORE w/ DANGEROUS BOBS @ dino's
5/10 RASPUTINA w/ HAZARD COUNTY GIRLS @ dante's
5/14 BAD GOAT w/ OPERATION J & AMERICAN ROULETTE @ dino's
5/15 HOWIE & THE HOT KNIVES w/ DEMORALIZER @ dino's
5/21 SUPER EGO 99 @ dino's
5/22 TWO TON BOA @ dante's
5/28 DIAMOND TUCK & THE PRIVATES @ sabala's mt. tabor
5/28 THE RED DEADLY w/ ME @ dino's