MAGIC GARDEN FIRE
Nothing gets a stripper out of bed like a 9AM fire alarm that threatens her livelihood. On the morning of Wednesday, May 4th, a phone call spread like wildfire amongst the Magic Garden girlies. The club had burned down; it was unsalvageable.
By 11 AM a half-dozen un-made-up fully-clothed strippers congregated outside the bar. In the street were shards of glass, charred bits of building, and a circa-1982 stripper shoe. Scenes from Dawn of the Dead played out as strippers who'd forsaken the stage in 1976 strolled bleary-eyed up the street to see the fabled Garden's last stand.
The blaze was started around 8:45 AM by contractors who were drying freshly poured concrete sidewalks with a blowtorch. It quickly spread to the uninhabited, boarded-up upper stories of the Chinatown building that houses the Magic. EIGHTY dreamy firefighters fought to save the venerable institution.
When investigators finally deemed the bar habitable, owner Everett Moore invited everyone in for a drink (by candlelight—the electricity was down all day). The naked girls—after a frantic morning on the phone with mommies and daddies, threatening to move back in—scattered for lunch. Despite reports on all major news stations saying the bar burned down, the girls were giggling and naked by 11:30AM the next day.

NEW MAG IN TOWN
Feathers were ruffled in internet land when the new owner of SFX Magazine was revealed to be Christopher Nardin, a convicted murderer and alleged ____ (fill in the blank). Local media outlets once again contacted Exotic for the poop scoop on the seemingly unending drama that plagues the local "adult" industry. Dishing the dirt, Phil Stanford of the Portland Tribune erroneously cited editor Viva Las Vegas's "long-term monogamous relationship" of five years ago as something that is au courant. Exotic regrets the error.
MISS NUDE OREGON 2005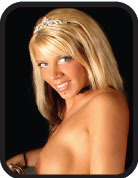 After a month of preliminaries, this year's Miss Nude Oregon will be chosen on June 16th at Dolphin II. The contest finals are the party of the year and what every pole-dancer worth her salt aspires to. Don't miss the fight for the crown (and $4000 in prize money)!

SATURDAY NIGHT FEVER
If John Travolta can have a comeback, so can you. Bust out your leisure suit for Club Cabos' Disco for Daddy retro party on June 18th.

GET SOAKED!
The Sunset Strip on Exit 69 is hosting a Beach Party Weekend June 17th and 18th, culminating in an Amateur Wet T-Shirt Contest. The following Saturday, Montego's gets wet & wild as summer heats up. Pottzie & Shauna's Supersoak Wet-T Contest on June 25th showcases soft boobies and hard nipples. They're also giving away signed shirts and a $100 cash prize.

WHERE IN THE *!#?@ IS GOBLE, OREGON?
The Fourth of July's just a couple cases away. Where are you gonna party? Allow me to suggest the sleepy "town" of Goble, Oregon, just past St. Helens on Highway 30. Goble's first annual Fourth festival features a lollapalooza of the left coast's finest rock bands, including Dark Skies, Goodtime Gil and the Champagne Cowboys, the Nightmares and Diamond Tuck and the Privates. Best of all you get to sleep out under the stars with Portland's greasiest up-all-nighters at the lovely campground behind the Goble Tavern! [The township of Goble is not responsible for any STD's, DUI's or other initials you might come down with.]

ROCK, etc.

6/1 & 6/2 SLEATER KINNEY @ crystal ballroom
6/3 PRESIDENTS OF THE USA @ crystal ballroom
6/4 HELL'S BELLES @ dante's
6/5 INTERPOL @ crystal ballroom
6/6 SOCIAL DISTORTION @ crystal ballroom
6/16 SPOON @ crystal ballroom
6/16 DIAMOND TUCK & THE PRIVATES @ tonic
6/17 STEPHEN MALKMUS & THE JICKS @ crystal ballroom
6/17 FASTER PUSSYCAT @ dante's
6/19 POWER OF COUNTY featuring JIM GOAD
6/24 BLEACH @ devils point