It's approaching the end of the year, and I just want to thank all my readers for feelin' ya boy Mack throughout the 2005. During this past year, I spoke on and wrote about a lot of different topics that I felt needed to be addressed. When I see people in the streetz that I have never met before, tell me how much they appreciate my monthly column, it feels good!!! One thing that I want my loyal readers to know about me is that I don't do this for the hype; I do it because of my love for keepin' it real!!! There are so many fake ass people in this world that sometimes you have to be your own best friend, but still give love to the ones that truly deserve it. At the same time, J.Mack will never bite his tongue on the bullshit that I see and wish to change in this thing called "Life." I look forward to bringin' you some more real editorials in 2006. Again I thank you all for checkin' out my articles, and much love to the entire staff of Exotic Magazine!!! In this months column, I'll be given my ladies and my fella's some game so that y'all can keep it crackin in your relationships!!!
First Up " Kiss yo' Chick Man"
Now a dayz so many of you so called playa's are so caught up with what the next so called playa thinks about you that it dictates they way you treat yo' chick. Never think a woman is just going to love you because you're rich, popular, gangsta, or fly. A real woman digs that cat that truly knows how to bring her natural sexuality out. What us men might think is corny or some punk shit, is the very thing that the ladies dig the most. We just need to put our fucked up male ego's aside, and give our honeys that affection they need. So kiss yo' chick man!!! Women don't ask for much except to be respected and loved, so do the damn thang!!!!
Next Up " Damian Marley Rocked the Roseland!"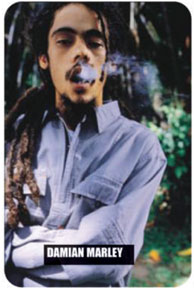 This cat is a jewel to the entire music industry! The show he put on at the Roseland Theater was one of the best concerts I've seen this year. It was high energy, and soulful from the beginning to the end. The passion that Damian has for his music, as well as his performance was felt by everyone in attendance. The place was completely sold out, with a cool mix of different nationalities of various ages. I can't tell you how good it feels to see that there are still true artist left, that not only have good music, but also know how to give it with the crowd!! If you missed the show, make sure to check him out next time… Big ups man!!! Your pops would be real proud of you.
Honey of the Month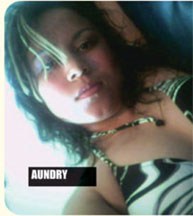 Aundry
This young lady is not just sexy; she's also highly intelligent. Aundry is currently working for a Judge, while studying to be a lawyer. She also has excellent promotional skills. Congratulations girl and let me be the first to wish you happy birthday. Much Love!
Whatz Crackin' Sponsors
" Hot Wireless" is the newest cell phone company on the block with everything you need. They can hook up your service and provide you with some of tightest gadgets in the business. They have Pocket PC's, Air Cards for laptops, camera phones, and much more. For your new wireless experience please call: 503.459.6860
"503girl.com" is the fastest growing adult entertainment website in the N.W. Just log on and you'll see what I'm saying! They cover it all baby!!!
Make sure you also check out whatzcrackin.com
Until Next Month, y'all keep it "Crackin!"
I wish all my readers Happy Holidays, and a Happy New Years!
One Love,
J.Mack