What up, my peoples of the adult-entertainment world? It's that time again, baby, to see "Whatz Crackin'" around the town with ya boy J.Mack. Oooh Weeee!
First Up ... "Are You Fuckin' Kiddin' Me?"
That is exactly what I said to a couple dancers that shared with me some outrageously true and hilarious stories they've witnessed. The names have been changed to protect the embarrassed. Conchita of Club Exotica International told me an interesting story about a hair brush. Apparently Cadonkadonk left her hair brush on the counter in the main dressing room. When she walked back in, she saw Lady Compton using it to brush her hair. She informed her that she didn't appreciate Lady Compton using her "Pussy Brush." Cadonkadonk had been using it specifically to brush her coochie hairs. Wow! Another night while at The Dolphin 2, I was sittin' in the VIP section when I noticed Double Dee crackin' up laughing. I asked her what was so funny, and she said that Li'l Bittabutt had a customer point at her string while he was sitting at her rack. I said, "What was wrong with her G-String?" Double Dee said "It wasn't her G-String Jay, it was her that-time of-the-month string." It was dangling in the customer's face. Ahhhh Daaamn! Too much information, baby, but I did ask. The moral of these two stories is to always make sure you know whose shit you're using, and what they use it for! Also, make sure to tuck those type of strings in real-real good. OK! I'll have more stories for you next month, so stay tuned…
Next Up ... " Where the Party At?"
That's a question that I'm asked quite frequently, and I always try to point people in the right direction! On Thursday Nights, I host "Ladies Night Out" with DJ L.B. a.k.a., Mr. Mosaic, at The Viper Room, soon to be renamed Club 720. There is no cover charge for the honeys all night, and for the fellas it's just $5. Ladies get the benefit of 2-for-1 specials all night as well. The Viper Room is located at 720 SE Hawthorne. On Fridays make sure to check out NOCHE with myself and DJ Mello Cee from NYC. This club is tight and has the perfect party atmosphere! NOCHE is located in downtown Portland at 33 NW 2nd. We will be bumpin' cutz for everybody such as Salsa, Hip-Hop, and Reggae! Come kick it wit' ya boy!
Honey of the Month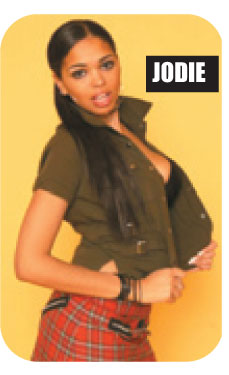 This gorgeous young lady is not only sexy & fly, she also is a jack of all trades. Jodie is currently working for Ideal Fusion Marketing and happens to be a Coors Light Girl. She is also a medical billing professional, an aspiring model, and one of the best Go-Go Dancers in town. On top of all that, she is one of my hottest female street-team promoters with Whatz Crackin' Entertainment. Check her out on myspace.com Her site name is jo_jodancer.
Whatz Crackin' Sponsors
503girls.com gives you the best information on the hottest honeys in the area, as well as a complete listing on all the adult entertainment locations in town. Big ups to my partna' Brian for holdin' it down! ... Hot Wireless is your #1 company for all your top-of-the-line cell-phone needs. They also have Air Cards for your Laptops, fly Camera Phones, and Pocket PCs with broadband Internet speed. To get the hookup today, call: (503) 459-6860.
For more information, questions, comments, or behind the scene stories you would like to share, hit me up at: whatzcrackin.com.
Until next month, y'all keep it "Crackin"!
One Love,
J.Mack