April 2006
Walking around in the back alleys of Erotic City, you can find just about anything. Desire, lust, greed—it's all here. Last month was the first time in a while that I crawled out from under my rock up north and spent some quality time here in Portland. We even almost made it through a whole deadline without anyone getting hurt. Except my wallet, that is.
After a grueling deadline on my final night in Portland, I found myself with a couple hundred dollars in my pocket somehow. So because the mag was wrapped, it was time to hit the strip clubs! Hell, I had money—maybe I'll even get drunk enough to buy a table dance or two. Rather than give you a total narrative, I'll just try and summarize it into a list of dos and don'ts for strip-club survival. (Remember, I booked dancers, deejayed, and was once very educated in the predatory persuasions of the exotic entertainer. It's truly amazing how a few Oxy's and way too much Crown Royal can erase what you once knew.)
DON'T enter the club announcing it's your last night here and you still have $200 in your pocket. You might as well paint a bull's-eye on your
forehead, bend over, and bust out the Vaseline (if they're nice…otherwise, lubrication isn't generally an option).
DO buy the dancers a drink. Although if you plop your drunk ass in the middle of a pack of 'em and buy them ALL a drink, you have now been targeted by the group as whole, and you are now outnumbered.
DO sit at the rack when your pick of the litter hits the stage and tip generously. Maybe even say something cute like, "Gee the whole time I worked with you, I never noticed what a nice pussy you have!" (They seem to like that!)
DO NOT pay for a table dance on stage. Apparently, Direct Deposit
doesn't work on stage and is not transferable to table-dance Accounts Payable.
DO pay attention to the music once seated in the table-dance area. You are charged per song. Maybe even tip the bartender in advance to throw an ice cube at your head after each song in case you're too drunk or lost in visions of vagina to notice the meter just reset. Them deejays is sneaky and will mix and slide right into the next song.
DO NOT think that when a dancer pops out of the table-dance area and comes back with two more hot dancers that she wants to show you off to her friends. Your meter has now tripled, my friends. But your drunken ass thinks you're a pimp, don't ya?
DO the math. 7 shots, 40 bucks +10 dollar tip to bartender. 10 singles on stage, 20 dollars on stage ineptly intended to be a deposit on a table dance, 20 bucks, 3 songs with 3 dancers, 180 bucks. Add em up... 40+10+10+
20+180=260. You had 200—you're fucked. And if ya don't know the owner of the club, who thankfully loans you your deficit, you might wanna look into the Oregon Health Plan when you get out of the hospital.
IN THE CLUBS…
On to the finest of exotic news and events that all of the erotic entrepreneurs in this town will be bringing you this April. Stars Salem kicks it off with their feature of the month, Paris Love, every Thursday, plus Fetish Circus 2 on Thursday, April 27th featuring XXX star Sonny Leone. The Viewpoint continues its Top Entertainer 2006 Contest with heats every 1st and 3rd Tuesday @ 9pm—grand prize winner gets $3,000, the crown, and a trip to Las Vegas. Don't miss the Grand Finale July 14th, 2006. Exotica promises the biggest event of the year with their 7th Anniversary Celebration on Saturday, April 22nd @ 9pm. Feature entertainers, martini bar, complimentary buffet, return of the $1 dance, live painted girls, live performance by local R&B sensation Arjay, lingerie modeling sponsored by Heaven's Closet, and prize giveaways all night. Just in case you were allergic to strawberries last month, Jody's Bar and Grill puts a new spin on the sheets on Friday, April 21st when Jody's Angels return to Portland's original bed stage, this time with Raspberry Jam. (It's tempting, but Jarred, when your Angels bust out the peanut butter, I'm all over it!) This month's featured cover girl hangs her thong at the all-new Pallas Club, now under new ownership. Pay them a visit for the Pallas Renaming Party on Friday, April 21st and cast your vote, then head on back on Friday, April 28th for the name unveiling. Plus free Porn Fridays, and if the IRS left you with anything, come on down on Saturday, April 15th for drink specials to drown your Tax Day sorrows all day long. The DV8's 2-Year Anniversary rocks the house on Saturday, April 15th @ 9pm with $250 for Best Tits and Ass and even more sinful shenanigans
on Sunday, April 30th @ 9pm for Marvelous Mr. Greezy's Pimps & Hos Ball featuring M.J. Eminence on the turntables with $100 for best pimp and $100 for best ho. The Dolphin Clubs bust out the big guns with the return of
The Miss Nude Oregon 2006 prelims on Thursday, April 20th @ Dolphin 2, semifinals on Thursday, April 27th@ Dolphin 1 and the finals on Wednesday, May 10th @ Dolphin 2 with $4,000 in prize money. Make your reservations NOW! And bringing up the rear, (literally) is the Boom Boom Room's Booty Shakin' Contest on Thursday, May 11th, open to all entertainers.
AT THE SHOPS…
Pink Kitty's broadens their appreciation of the female form with a new selection of erotic art for your viewing pleasure while you're waiting for the 3D version. Passionate Dreams is now open 24 hours for your pleasure and convenience. So now there's really no excuse for not making the time now is there—live a little, why don't ya?
ELSEWHERE…
Be sure to clip your 20%-off coupon for store merchandise at Fascinations in this month's issue, or you can drop your load and whack it to hot, naughty girls on Exotic Tuesdays at the Jefferson Theater. (I was told to say that.) 503girls.com is now hiring internet models. Just in case you get lucky, you might wanna drop by the Exotic-friendly Kings Row Inn rather than your backseat, you cheap fuck. But if you'd rather do your business in your ride, why not upgrade that old P.O.S. at Austin's Affordable Auto's new location with new industry-friendly financing options available? That's it for this month—you stay sexy, Portland.
Do you know these tits? Awaiting us this week in Exotic's myspace mailbox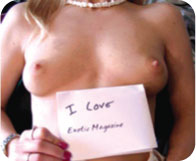 was this lovely "personalized" set of jugs. A day later I found it in Underground's mailbox as well. (Within a day or two, more than 15 other myspace friends proudly showed me their own personalized versions of these very familiar fun bags. Busy girl? No, this is a creative way to suck you into a pay-porn site. These enterprising mammaries were generated by a program that will personalize your choice of racks with an unlimited amount of names off your address book. Gee, I don't feel special anymore. But you can help! Ladies of Portland, email us your rack and tell us you want something more exciting than love—you just might land on these pages!