Summer in Portland. You gotta love it. Being schooled in the art of flesh as we all are in this town, it's really nice to see the sun come out, (be it ever so brief) and watch all the clothes start coming off. Portland always amused me in this way. On that first day where the temperature kicks up and the solar rays are blazing, it seems like everyone in this town immediately decides to bust out the flip flops, the shorts, the bikini, whatever, just as long as it shows 80% of what God gave ya. And this isn't just because you're going to the beach; living in Portland, you need to take advantage of the heat while ya got it. So from the MILFs shopping at Fred Meyer to that secretary having a latte at Starbucks, for a short time, they have one thing in common with your favorite exotic dancer—it's all about the skin, baby. So eat it up, Portland—enjoy the summer while it lasts. And just to make sure your summer nights are hot and sticky, all of our finest sex-crazed establishments are, of course, pulling out all the stops to make sure your summer nights are hot and sticky.
IN DA CLUBS
After a fierce series of competitions, a new queen of all things exotic has been crowned. Congrats to Alex, Miss Nude Oregon 2006 of The Dolphin. Aside from the lovely Alex, The Dolphin has plenty of ways to keep you hot this month. At the Dolphin I, stop by for Bartender Extraordinaire "Tawnya's" Happy Birthday Bash on Wednesday, June 28th @ 9pm. And over at Dolphin 2, stay tuned for Stripper Boxing and an outdoor patio in the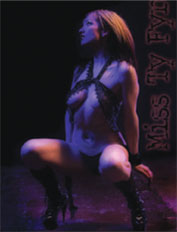 forecast for Summer. Wanna be a Dolphin V.I.P.? Stop by D1 for V.I.P. Card Giveaways every Thursday, and the same at D2 on Wednesday nights.
Over at Wildcats, you can check out their DJ Contest Sunday, June 4th @ 7pm...Panty Night Friday, June 16th @ 9pm...The 1st day of Summer Bikini Party Wednesday, June 21st @ 6pm...and Ultimate Fighter 3 Parties every Thursday @ 10pm.
It's Ladies' Night Every Tuesday at DV8, plus a Budweiser is Back On-Tap Party Friday, June 9th @ 9pm with serious giveaways. The Boom Boom Room will be holding their 2nd Annual Bikini Contest coming Thursday, July 13th, and stop by to see the shakin'est booty in town, Ladybug, who just won the Boom Boom's annual Booty Shaking Contest.
Like a phoenix rising from the ashes, (literally) be sure to stop by and welcome back Soobie's on their Grand Re-Opening Day Thursday, June 15th. Also coming soon is a $5,000 Boob Job contest open to all entertainers.
You can see this month's covergirl Lindsay, along with all the other hotties over at Cabaret, celebrating its Two Year Anniversary with a party so big it's gonna take two days, on Friday, July 7th and Saturday, July 8th featuring amazing giveaways and even more amazing shows! Over at City Limits, you can now get your drink on with the all-new full bar and free admission with this month's ad. They are also actively, hiring rumor has it, so check 'em out. Exotica will be hosting its Customer Appreciation Carnival Night Saturday, June 24th with local R&B sensation Arjay CD release party
featuring a live performance plus giveaways, specials and a free BBQ starting @ 5pm. Meanwhile, over at the Pallas, for the body-mod-friendly, you can enjoy their Tattoo Party with Raven Ink on Saturday, June 10th, where you can get a chance to win some free ink, plus a Summer Beach Party on Saturday, June 24th. And if the heat hasn't gotten to you yet, be sure not to miss the "Atlantis Forged From Fire" Party on Friday, June 23rd, at the one and only Atlantis, (my favorite strip club I've never been to, love you too, Claude, not in a gay way, of course!) This blazing bash will feature a fire bar, tropical drinks and fire-dancing with Miss Ty Fyre.
Lush is proud to present DJ Trouble, Portland's first naked DJ, appearing exclusively at Lush. Keep your eyes open for an all-new Lush coming soon with new stages, bar, hot tub, bed, V.I.P. area and expanded menu with naked sushi packages. With the growth will come the need for new help, so stop by if you're looking for work.
Jody's Bar and Grill embraces the dark side with their Devil's Night 6-6-6 on Friday, June 6th. No, they won't be sacrificing dancers to the Dark One, but they will feature heavy metal all night long. Now wait a minute—does metal HAVE to be associated with the Devil? I heard from a reliable source that Satan is responsible for the music of Alanis Morrisette and Milli Vanilli, but the closest thing to metal he had a hand in was Limp Bizkit. So anywayze, get to Jody's and bang your heads all night long as you await the coming of the Antichrist. And if you prefer to spend the most evil of all nights further South, head on down to Stars Salem for their "Hell Night 6-6-6 Party" with live music by Debris and Kandles At Nine. What else is there to do after a night of good metal, you might ask? Stars Salem has the answer! Try the Slayer After Party @ 10pm on Thursday, June 15th, and The Rob Zombie After Party Friday, August 4th @ 10pm. Coming next month, AVN Newcomer of the Year Carmen Luvana will be celebrating 10 Years of Stars on Saturday, July 22nd, with a 50's Cruise In V.I.P. event. Check out next month's issue for all the goods on that one.
ELSEWHERE…
Elegant Angel Adult Stars Tiana Lynn and Kinzie Kenner will be appearing live for signings at The Adult Shop in Eugene on Friday, June 9th @ 4pm and at The Adult Shop in Salem on Saturday, June 10th @ 2pm.
Bust out the welcome wagon to: Passionate Dreams, now opening their new location at 10518-B NE Sandy Blvd....Valentine Video's new store just off St. Johns @ 6935 NE Fessenden...and Exotic Knights Books with a new video store @ 5620 NE MLK. Last and certainly not least, welcome to Sugar and Spice (formerly Sugar Daddy's), a brand-spankin'-new lingerie shop where naughty is nice featuring a complete remodel, new owner, new management, and new girls. (But there's always room for more—they're hiring, ladies!)
That's it for me this month—no mud slinging, no bullshit. Or wait, maybe just one thing. In a past episode of Erotic City, I consoled a former Exotic contributor for whom I regretted there was no longer any competition that would employ our castaways, but I stand corrected. So, Christopher, I dedicate this to you, the "original castaway." We all hope you're happy together.
---