July 2006
Happy Birthday to us! Thirteen glorious years of sin and sex right here in these pages. The number 13 is often associated with bad luck. Superstitious architects have deleted the thirteen from blueprints of skyscrapers that skip straight from 12 to 14. It even has its own phobia, for crissakes—Triskaidekaphobia is the fear of 13. But what exactly is the problem with 13, anyway? Well, it appears that the Scandinavians believed that the number 13 was unlucky due to the mythological 12 demigods being joined by a 13th, an evil one named Loki (AKA the god of mischief) who brought misfortune upon humans. It was also said that Christ was crucified on Friday and the number of guests at the party of the Last Supper was 13, with the 13th guest being Judas, the traitor. Think this has anything to do with us? Are we that god of mischief's descendant that is finally coming into its own? To hell with it; we never assumed this magazine would be saving any souls, anyway. We're probably going to hell, but we can rest assured of two things—that we will have a high-ranking position in upper management waiting for us, and that we're gonna take as many of you with us as we possibly can. That being said, let's see how much Portland has in store for us this month so we can all enjoy our cursed souls as much as
possible on the way to damnation.

IN DA CLUBZ!
Stars Salem will be keeping your rock hard with The Battle of The Bands and Babes on Saturday, July 22nd, starting @ noon with 10 bands, plus six chick fights (AKA catfights, I believe) with a winner-takes-all purse of $1,000.
Wildcats is bringing back an old favorite, with $1 dance nights on Mondays, and busting out a little something special for you with feature theme performance nights on Fridays and Saturdays.
Welcome back to Soobie's on 122nd, now open, remodeled and arisen from the ashes. To bring it back with one hell of a bang, they'll soon be launching a $5,000 boob-job contest in upcoming months. As an incentive for top talent, hired dancers will receive a $1,000 bonus. Stop by the club for
more details.
Our friends over at Sassy's want all you dancers to know that the club is now independent and offers in-house scheduling. Come get lei'd at Montego's outdoor Luau Party on Saturday, July 22nd, with a free feast and hot naked babes. It's Customer Appreciation Month at the Dancin' Bare with free pool on Sundays. Jody's Bar and Grill is bringing back Jody's Angels on Friday, July 21st , plus the return of the
legendary Exotic Magazine Covergirl contest is in the works. Hell, that's one I think I'll have to make the trip down for. Can I be a judge, huh, can I?
There's always room for one more in the mix, so let's all give a big welcome to iCandy, Portland's newest addition to our naughty little family. You can join them on Thursday, July 13th @ 11pm with local hip-hop group Syndicate debuting their album 503. $5 at the door, plus every Wednesday is Amateur Night, and Thursday is Ladies' Night.
The battle rages on over at The Viewpoint as The Top Female Entertainer of the Year 2006 continues with the last heat on Wednesday, July 5th ($1,000 first prize, $500 second, $200 third), followed by the Grand Finale (hosted by porn star Kim Chambers) Friday, July 14th. The winner gets $5,000, a trip to Las Vegas, and much more. Definitely one not to be missed!
Atlantis will be getting low with a Booty Shakin' Contest on Wednesday, July 19th, @ 9pm. $600 in cash prizes, open to all entertainers. And if their Forged in Fire party got ya hot last month, get ready to cool your jets with the Ice Party on Saturday, July 29th.
The Dolphin I is hosting Couples' Nights on Tuesday, and Wednesdays are Ladies' Night, while the Dolphin II has opened its all-new patio for your summertime pleasure.
Good things come in twos for Cabaret, as they bring down the roof with their 2 Year Anniversary Party, an event so damn spectacular it's gonna take two days to get 'er done, on Friday, July 7th and Saturday, July 8th. In addition, welcome to Cabaret II (formerly City Limits) as they celebrate their Grand Opening Party Friday, July 14th and Saturday July, 15th.
The Boom Boom Room has the cure for your summertime blues with their 2nd Annual Bikini Contest on Thursday, July 13th @ 9pm with lots of cash and prizes! Those naughty vixens at DV8 will show you who's boss on Thursday, July 20th, at their Fetish Night, featuring lovely girls in leather and lace—feel free to bring along your "human" pets for this one! Stop by The Pallas on Saturday, July 15th, for your chance to win Alice in Chains tickets, and don't forget The Pallas Pool Tournaments on Mondays and Tuesdays. And rumor has it that our old friend Gary, (formerly of the Dolphin II) has a new exotic club in the works and is now actively hiring superstars—look him up!

ELSEWHERE…
A late but most sincere thank you to Spartacus for the covergirl's attire last month—we so rudely forgot to mention it (sorry, Linda!). Have you stopped by Passionate Dreams yet? Check out what you're missing at one of Portland's newest lingerie shops located just off NE Sandy (105th). The Oregon Theatre is featuring 3 new XXX movies every day, and Exotic Nights Books will be opening their all-new video arcade coming soon. Getting dirty is always fun, but now cleaning it up can be even more fun with Seduction Cleaning—get your house cleaned by only the best. Trust us on this one, guys, you'll thank us for it later.

WE JUST COULDN'T RESIST…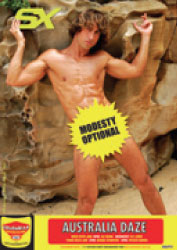 By now, we're all aware that the ghost of the son of the revenge of SFX has returned, and its latest incarnation is now known as SX Magazine. So we were curious one day what kind of web presence they had, so we did a little search on our new/old archrivals on Google to see what they were up to. Our only results gave us a mag catering to nothing but the best of all Aussie gay beef! Look on the bright side, Chris—if things go to hell for you again out here, the road is already plowed for you down under!
I'm out, Portland, enjoy your summer, and here's to the next 13 years!