August 2006
Sometimes it's a little bit difficult writing this column from three hours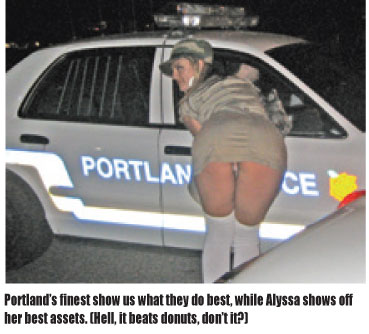 away. My boys (and girl) back at home plate do their best to communicate everything I'm missing out on in Portland, and I in turn do my best to pass that on to you. But every so often, I have the need, dare I say, desire to cross back into that oh-so-familiar land I left behind several years ago and see how long it will take me to get my silly ass back in trouble. (On average, it usually only takes about 24 hours.) You can leave your heart in San Francisco, but if home is where the hard-on is, Portland, you've got it going on—ESPECIALLY this month! If there's one event I simply cannot resist coming back home for each year, it is without a doubt EXOTIC MAGAZINE'S ANNIVERSARY PARTY. You are cordially invited to come celebrate 13 years of PDX's #1 Adult Entertainment Survival Guide on Saturday, August 26th at Berbati's (conveniently located right across the street from Dante's). Debauchery on the menu this year includes live music from Velabonz and sexy gangster smut rap from Fingerbang City (as featured in this month's issue). In addition, I'll be heading into town with some lovely chaperones from The SaintSinner Burlesque Review, who will be taking it off for you Seattle-style and then some. More naughtiness is currently in progress that we can't reveal right now, but you won't want to miss this one. Advance tickets are on sale, or you can risk it at the door. See ya there!
Next up, before I get crackin' into the news of all things nude, I believe an apology might be in order. Last month I attempted to compile an editorial of 13 years at Exotic magazine. I attempted to cover the highs, the lows, and the moments that shaped Exotic into what it has become today. But I received a late-night irate text message from our former publisher telling me that my facts were completely incorrect and that my writing still sucks 80% of the time. This hurt me deeply. I have gone through great pains to try and make sure my writing sucks 100% of the time, but it appears I'm letting all of you down. I will do my best to correct this in upcoming months. Or maybe I can just put a picture of my cat in here for you, call it 'pussy,' and take a month off to take some writing classes. Wouldn't that be nifty?
IN DA CLUBZ
Congratulations to The Viewpoint on their immensely successful Top Female Entertainer of the Year Contest. Athena (Miss Nude Oregon 2005) snagged herself top honors as well as $5K and a trip to Vegas. Second place went to Sequoia, and third runner-up was Jackie. The event drew a packed house, and the contestants delivered outstanding performances. Make sure not to miss this one next year.
Lush and Bliss have double the excitement all month long, with two parties featuring door-to-door action in both clubs starting with the Crave Magazine Anniversary Party on Thursday, August 17th, followed by a MySpace Friends VIP Party on Sunday, August 20th @ 9pm with a free dinner.
Over at Dolphin I they'll be pampering the ladies every Wednesday. (Ummm, isn't that what we normally do, anyway? It's always about the ladies! But I'm sure it will be very special just the same.) And out at Dolphin II, you can now party in the sun on their new patio with a cold beverage and enjoy their sexy entertainers getting wet and frolicking in the pool.
Stars Salem revs up with the outdoor event of the year, "Bikes, Bands, Babes and Brawls," on Saturday, August 19th @ 1pm. The event will feature custom ride vendors, Crazy Train (Ozzy tribute band), Motorbreath (Metallica tribute band), an official 4B ring-card girl contest, and 10 full-contact MMA-style amateur brawls. Tix range from $20-$40—sounds like a hell of a deal for that much entertainment.
Watch the pretty ladies of The Boom Boom Room get moist at their Wet T-shirt Contest on Thursday, August 24th, @ 9pm…contest is open to all ladies, and stay tuned for the all-new Amateur Night coming in September. Soobie's is back in business with two girls on each stage every Thursday, Amateur Nights on Sundays, and awesome new food specials. Meanwhile at DV8, stop on in for the "Hot Rods and Hot Bods Cruise-In" on Sunday, August 20th. Registration begins at 2PM.
Wildcats brings back an old favorite, "The Great Popsicle Suck Off," on Saturday, August 19th @ 11PM. (Ah…the memories. I remember their first one, when I tried desperately to capture a dripping popsicle oozing across one of the naughty kitties' breasts during a photo shoot.) OK, cold shower time, where was I?…right, The Dream on Saloon is hosting a Dancer Contest Thursday, August 17th, where you can also check out their brand-new outdoor patio.
PLACES TO GO IF YOU HATE EXOTIC.
So suppose you wanna go to the Exotic Anniversary Party but you think we're a bunch of fuckbags. Maybe you think we fucked your girlfriend, or maybe we cheated on you, or maybe we put the wrong picture in an ad that made you look fat, or we never called you back…FEAR NOT, EXOTIC HATERS! It appears that through some insane coincidence, there is an awful lot of stuff going on elsewhere on the night of our 13th Anniversary Party. It starts with Atlantis Showgirls. (And I thought you loved me, Claude—I guess the honeymoon is over.) Aside from being the home of this month's August Cover Girl Aris, Atlantis will be hosting their H20 Party on Saturday, August 26th. Seems like Lush and Bliss are in on this conspiracy as well, as they bring you "Oasis–The Ultimate H20 Event" on Saturday, August 26th. (Ummm, double H20s? Why not get together, guys, and have an H40?) And last and certainly not least, Wildcats offers you a reprieve from those bastards
at Exotic with a Hawaiian Beach Party Saturday, August 26th from 7pm-close.
ELSEWHERE…
Construction is complete at Pink Kitty's West. Butterfly's lease has been extended, and so has their sale offering 50-80% off clothing with new designs and custom outfits.
And you can get a free DVD with any purchase of $24 or more at any outlet of The Adult Shop located throughout Oregon.
That's it for this month, Portland; see you on the 26th.