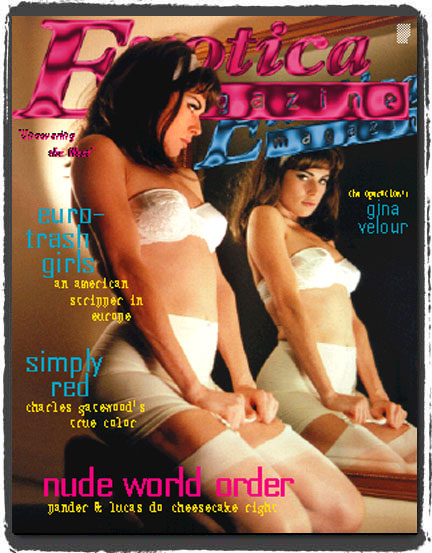 Jacob Pander shot our cover with model and collaborator Marne Lucas. You can see more Pander-Lucas photography in their gallery showing this month at Umbra Penumbra. Jacob, of course, is one-half of the Pander Brothers [uh, oh... not those evil Pander twins again... now which is the evil one, Jacob or Arnold?] Well, Arnold's sometimes got that evil smirk, but Jacob hangs out with Marne a lot... [hangs out... yeah.... I wish I could "hang out" with her like he did in that porno they made...] The Operation, yeah, that was cool. [yeah, how many times did you jack off to that?] Once or twice maybe. Anyway, anyone who hangs out with her must have the devil inside somewhere [right on... slip in that gratuitous INXS joke...] Anyway, the bro's are famous for their Triple X comics and are currently working on their new project called Secret Broadcast. Marne is trotting the globe modeling for famous fetish photographers and working on her own inner slut...
Back to Main Page : Send us your comments


---

Copyright &copy 1996 by X Publishing. All Rights Reserved.
Send email to the webmaster: mrjonz@hotmail.com.