Avalon from Scores Cabaret, Kat Black from the Boom Boom Room, Seven and Breezy. All the dancers that participated put on great shows and Lucas from the Silver Dollar Club proved, once again, a gracious host. We'll have more pictures and information next month.
April flowers may bring showers; for some. But for the rest of us, it's time to get out and get wet 'cause the rain is getting warmer.
Doc's Bar and Grill is still applying the friction; on Thursday Nights they have "Full Nude Oil Wrestling." So get your mind around it, slide over to Doc's and hoot it up.
CJ's will be having their "No Tax" party this month on April 17th. The Hudson Rocket Band will play while the Party Animal will be making deductions for those who aren't having enough fun. Stop by and unwind after the IRS gorilla is off your back.
Club Coco II will be having a huge four day dance contest for ladies of the northwest starting Wednesday, April 21st through Saturday April 24th. Call 232-7705 for more info. Be sure to check it out on the east end of the Ross Island Bridge.
The Dancin' Bare invites you to dance on by and check out Dominique. After enjoying their Amateur Night last month, we think the Bare will curl your hair. Hot!
The Backswing is serving melt in your mind "chocolate Easter Bunnies" this month. Whoa! Jump back Loretta ... see you guys there!
Ladies, don't forget, for your pleasure, The new Viewpoint has male dancers upstairs on the weekends. Why let him have all the fun.
Webb's Pub continues to have
Saturday Night Fever with their dance contests every Saturday at 8:00pm. This has been building up for awhile now, leading to the Grande Finale, on the 25th.
The Double Dribble has Feature Night this month, April 8th and 22nd. Be sure and stop by; tell them your friends (perverts) at Exotic sent you.
Cathie's is kicking ass and taking names with their fabulous Shoe Sale this month. What do your feet yearn for? Platforms, slingbacks, mules, pumps, boots. Makes my mind weep with joy. Sniff out their ad for details, or, better yet, step on by. And they still have a huge selection of lotions, oils, games and dancewear.
We'd like to welcome Rumours to the pages of Exotic this month. "Thunder only happens when it's raining/ Players only love you when they're playing..." So check out their hot, seductive clothing and remember: "All's fair in love and war."
Plaza 9000 is having their "Pay my taxes" sale this month--twenty-five percent off everything in the store. They get to give the Gorilla his bananas and you get to gorge yourself on their huge selection at peeled back prices. Everybody wins.
Fantasy Adult Video has opened their brand new store in Beaverton at 10720 SW Beaverton-Hillsdale Highway.
Castle Adult Superstore is preparing for their opening soon on Barbur Boulevard. Keep watching these pages for the latest developments.


Tuesday, March 16, 14 dancers showed up from 12 clubs all over the state to compete in the 1st Annual State Pole Contest at the Silver Dollar Club in Eugene. Everyone watching had a great time and got to see some of the most beautiful women and finest athletes in the state. The winners included Mariah from the Silver Dollar Club,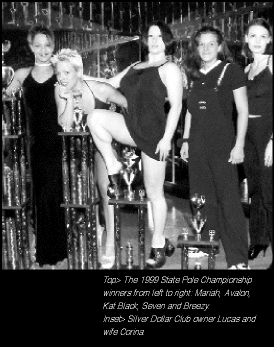 Baby Dolls and Honeysuckles has gone to the moon with their new exotic remodel; it's outta this world. While you're there, be sure to take in a show with one of their hot, new models, just in from L.A. (The Eagle has landed.) You'll be walkin' on the moon..
Palace of Pleasure is still there for you, 24 hours per day, seven days a week. I guess that means they never close. There is never a time when you can't go there for a show. As they say, King For a Day . . .
Private Pleasures. Saving Private Pleasure, saving your Private Pleasures. . . That's right, sit back and you can be the Best Director, in your debut, directing her show, to save yourself.
Leather and Lace: Desire is having many a beautiful face to choose from this month. As pinhead would say, "What's your pleasure?"