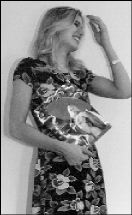 My friends tell me--theoretically speaking if I had any--that I have the dream job; for example, meeting Gallery Magazine's 'Girl Next Door Of The Year,' Kristinea Morrison, so I can interview and photograph her, is just a part of my job. Was I excited? No. Was she excited? No. We both tried to conceal our languor as Kristinea arrived at the Exotic office, in tow with her handler, Al. Kristinea was sipping a hot chocolate from Peterson's on Washington--where she had just finished the last of four signings at the downtown convenience and magazine stores. Our office is conveniently located just around the corner, so . . .

I asked Kristinea about her higher aspirations.
"I know Conan O'Brien is a (Gallery) reader . . . that would be nice," she said, picturing herself snuggled in the interviewee chair between Andy and Conan. Visionary. And she would like to star in a movie with Brad Pitt. She'd pass on Val Kilmer and George Clooney. So would I, for that matter. She admits that she's got some dental work to do first . . . but no implants!
In a reversal of centerfold reason--if there can be such a thing--she wanted implants before she entered. But, now that she's won, Kristinea has kissed off the surgically enhanced idea. Which is smart. If she does make it to the big screen, the audience will be seeing her teeth a lot more than her breasts. Or, at least you would hope so.
Tall, lean, blond, brown-eyed and country simple, interviewing Kristinea was beyond easy. I asked the tough questions, like, "How do you deal with existential horror?" Kidding. Kristinea doesn't have a clue and neither do I. But she first got the bright idea to enter the Girl Next Door Contest when she was only eighteen. Back in St. Joseph, Missouri--a town of 80,000, not far from Kansas City--her boyfriend bought a copy of Gallery and told Kristinea she should go for it. Then he moved away to Albuquerque. But Kristinea continued to pick up a copy of Gallery every month so she could check out the competition . . . waiting to get up the nerve. Four years later, she submitted her photos and won July, '98, automatically entering her in the yearly contest. Kristinea got the news last September 4th: she was crowned 'Girl Next Door Of The Year.' And she's been on the go ever since, doing promotional signings in Missouri, Kansas, Oklahoma, Nevada, New York, Canada and Oregon. Spring Break, down at Daytona Beach, was her next stop.
Shy, unassuming, wholesome, cornfed, modest and innocent, I wouldn't bet against her. The offices of Exotic may be a long way from St. Joe's, but just a forgettable pit stop along the way for the Girl Next Door Most Likely To Succeed.
Destiny brought us together for that one shiny moment, as you can see in the photo that Al took. Kristinea did perk up when I did her numerology chart off the top of my head. Very impressive numbers. Destiny number 8. The Amazing K-rex-kin predicts this girl is going places. Sort of a Laura Palmer/Twin Peaks meets The Flying Nun /Out of Africa in Pretty Woman. And the ending is definitely "Up."