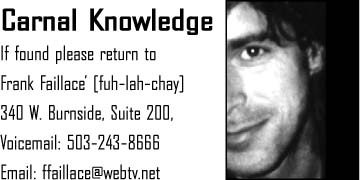 This column has absolutely nothing to do with this magazine or the fact that The Soprano's hasn't been on for over a month...
It's hard to let go of a business that you have put so much sweat, time, money, sacrifice and love into growing. I've had that experience only a few times in my life, and it's like letting go of your own child. Closing down Bad Kitty recently was one of those times.
For three years me and my partners poured in the juice, and all we got back was pride (one of the seven sins). We lost money. But it looked great, and it sounded great. And it probably would work given the right location and capitol investment.
Like any love, it's always a little easier if you wean yourself from it slowly, and then close it down, telling yourself that you'll re-open at a later date. Right. Like that'll ever happen.
Anyway, it was a great name. And I have a great t-shirt to show for it. The lesson here is, when you know it's not gonna work, despite all the exceptions, you just need to let go... Anybody need a pipe?



Lastly, here's to Ian, we'll miss you...

Issue #75 - Volume 7 - Number 4
October 1999
Copyright © 1999
All Rights Reserved
Published Monthly by X Publishing, Inc.
Circulation: 75,000+ (hardcopy) per month; 529 sites
Mailing Address:
818 SW 3rd Ave., Suite 324
Portland, Oregon 97204
Telephone: PDX (503) 241-4317
SF (415) 252-1322 - SeaTac (206) 986-3756
FAX (503) 241-7329
Email
xmag@teleport.com

Publisher & Creative Director
Frank Faillacˇ
Senior Editors
Gary Aker
Viva Las Vegas
Bob Armstrong
Production Director
Bobby Baldwin
Graphic Design
Jack Dawkins
Web Design
Jack Dawkins
Office Manager
Karla Foster
Advertising
George Miller
Dan Selzer
Distribution
Brian Hevener
Gary Aker
John Henry
Contributors
Gary Aker, David Aaron Clark, Teresa Dulce,
Dan DePrz, Flagstone Walker, Viva Las Vegas,
Jimmy Doyle, Rex Breathes, Snickers LaBarr,
Can Reed, Jack Dawkins, Art Bouthillier,
Bob Armstrong, Goddess Severina, Dee
Cover
Model- GiGi Fontaine from Suck It And See
Photography- Gina Velour
Hair & Makeup- Angela Baldwin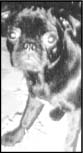 Exotic is not liable for any images of models used by advertisers to promote products or services. Rights and releases are the sole responsibility of the advertisers. All persons appearing in photos are over the age of 18 except Bug, and Bug's a dog. Any reproduction of materials presented herein without the expressed written consent by the publisher is forbidden by law. So There. All submissions welcome. No animals were harmed in the making of this magazine or website. No batteries required unless you are using a laptop or palmtop computer, but then that's your own fault. There's a fine line between romance and restraining order. Characters in this magazine are purely fictional. Any resemblance to ex-girlfriends, living or dead, is purely coincidental. This publication has been certified Y2K compliant. Keep out of reach of children. Safety-sealed for your protection.