Dark Garden; VCA; Dir., Michael Nin; Stars: Juli Ashton, Vicca, Lea Martini, Jamie Gillis

The cops find a corpse in his bed, bullet hole in his head, which sets the stage for the fleshbacks (sic) before the crime. Some whore shows up at the soon-to-be-corpse's door and gives him some virtual porn device. The Barbi Doll body and 30's art deco fashion show should be the first clues he's not in Kansas anymore, as our corpse tries to fuck his way out of this "Harsh Realm." Good luck. I'd never wanna leave either . . . save for the world beat new age score that's infecting all high end, shot-on-film features these days from Blake to Nin. But this is a minor complaint borne of testosterone poisoning.
Girls in white pearls and Dick Tracy hats masturbate to the melody--sort of like Yanni imitating Enya doing "Stairway To Heaven." Back to the reality of the investigation, I have a clue the dirty detective is going to get his dick wet soon as his female partner says: "I would prefer not to go down that way." Personally, I prefer a partner who has no preference about the way she goes down. More on that score later. Enter the mad scientist twins, played by Jamie Gillis, who invented the digital whore mind candy--silver wafers that attach to your temples and allow you to fuck genetically superior Aryan porno pussy in circa 1930's fashions. Everyman's dream come true. But why would anyone wear condoms in a virtual porno fuck? More on that score later.
Seriously, there's nothing but super prime, grade A pussy in Nin's Garden--the kinda pussy that makes you lie, cry and die. White Aryan tits anointed with the cum of the New World Order. Meanwhile, the dirty cop's addicted to the digital whore device, doing his partner, natch, who shows how willing she is to go down . . . in his digital dreams. Reminds me of this blonde number working third watch--a cop with killer looks to die for in NW Portland! Meanwhile, the detective slips deeper into his digital depravity, watching a whore suck off an ethnic minority prisoner in jail. Prisoner's sort of white Hispanic, not black--that would mean interracial and then VCA couldn't sell Dark Garden to cable. More on that score later. But I'm thinking of that blonde cop and wondering if she needs a good stiff drink from my dick when she gets off work. Poor man's virtual reality, it's called fantasy. And it's addictive.
The boss really likes this latest Nin. I hate to agree with him because he wears butt rocker jeans and a tight little Eddie Van Halen black leather jacket coupled with his Eddie Vedder haircut. He also gets
a lot more pussy than me. I can't even get my friend's cat to sit in my lap without holding it down. So I go bust-up the black jack dealers at the Double Down Casino. Candy from a baby. More on that score later.
Rent this movie. It has blonde Aryan bitches dressed in tuxedos smoking cigars while giving looks of condescending cruelty to the camera. Cruelty and cards. That's about all that's left over. And since most of you can't play cards for shit, stick with the stylistically cool cruelty of Nin's Dark Garden. It could save you some dark and stormy night from the toilet in your mind.
Barely Eighteen; Sin City; Dir., Chuck Martino; Stars: Melody Love, Lee, Anesthesia, Bridgette

A little girl--who just turned eighteen--shows up to clean some guy's pool and winds up polishing his knob. She's a virgin, or so the story line goes. And she looks and acts like she's about fourteen. A reliable inside source has assured me that Melody is about 21 or 22. Melody does her little-girl pony-tail ball-licking best and proves she knows how to be a dirty girl. Condoms are off, but the bald headed daddy keeps his sunglasses on. This theme repeats itself in the next scene including the pony tail and sunglasses. I'm racking my brain trying to understand the latter directorial choice.
Ah oh, an interracial scene four is the nut buster, featuring the pretty pouty lipped Bridgette--who just turned eighteen. I've seen girls at the kiddie coffee shop suck the foam off lattes better than Bridgette sucks dick. But she redeems herself by taking the lincoln log in her ass while a not-so-average white guy keeps her pussy occupied. Definitely pretty girl gone bad, as she gets stretched out to obscene proportions and gives gaseous gape. And you'll never see Bridgette get oreo'ed on cable. Overall, a fuckworthy effort you might wanna jack to.
Suck It And See; Palm Pictures DVD and VHS; Written and directed by Jacob Pander; Stars: Roxy Hearts, Cayleb Q. Long, Belle, Leonard Burns III, Coco Cobra, Rodolfo

Suck It opens with Roxy Hearts doing an Emmanuelle Redux, dragging her luggage through the airport--smirk on her face--while jumbo jets copulate overhead. The dirty old man voyeur,

Leonard Burns III, begins stalking his not-so-innocent prey through the techno (sound and visual) jungle. Roxy gets lukewarm with her BF in the back of the limo while flashing on fuckage in the airplane bathroom. I'm enthralled. Enraptured. Those associated with Suck It passed on "Suck Me And See," thus guaranteeing the really cool, quotable review, so . . .
Seriously, I'd love to rave on about Suck It (local heroes, nice people, friends of Exotic, etc), but I can't give it more than an A for effort. Lesbian sauna scene track 2 and I'm fading, in spite of serious Black Tiger (tm) caffeine products. Best Suck It promo quote from Taboo magazine: "Highly recommended for video party mixes and first dates with film school chicks." Amen.
In all fairness, Suck It writer/director Jacob Pander is handcuffed to the mild medium of music videos. While Pander and company have succeeded brilliantly with the short film, The Operation, Suck It may suffer from trying to be too many things to too many people: visually interpret the seven Howie B. techno/dance tracks and weave each of the widely varied segments into a cohesive whole. Suck It is not a feature, a short film or hardcore. While The Operation was a hardcore experimental short film, Suck It is safe art. This failure to take risks--beyond the ambitious nature of the project--means the viewer doesn't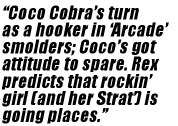 have to experience anything outside the ordinary. As such, Suck It should appeal to a wide audience.
The "Burlesque" segment satisfies with its cheeky, scratchy B&W kitsch. Kudos to Gina Velour for her make-up, costuming and hair on that track. Also, Coco Cobra's turn as a hooker in "Arcade" smolders; Coco's got attitude to spare. Rex predicts that rockin' girl (and her Strat') is going places.
More airport/airplane sceneage spliced with mosaic infrared and we're outta here. Throw Suck It into the party mix and everyone will think you're cool. Sorry folks. But I'd rather be honest than stand on a soft seventeen, if you know what I mean.