Ten Things I Really Wish Would Happen In The New Millennium
Political Futuramas
(1) Portland Mayor, Vera Katz, will save a little each meal for Oregon's hungry--ranked number one in the nation by the Feds--and quit legislating what consenting adults do behind closed doors. But you know her girth and power will grow, putting everyone who isn't shopping or working (white collar) downtown on the wrong side of the law--otherwise known as her colossal backside. So sit on this and rotate your ass outa office,Vera. Portland's not safe for anyone but the fat katz (sic). Thanks to Herr Vera, our Portland Police State think that $250 tickets for bicycling on the sidewalk or arresting a protester for littering when he drops a flower are how to keep Portland safe and livable. Not to mention, the protester who protested the above arrest was then arrested and had his arm broken in the process. Ironically, this and other insanity occurred during a peaceful demonstration against police brutality. What's next: shooting people with shopping carts?
(2) All West Hills women driving SUV's (like they own the road) so they can sit up high and mighty above the little people will be banned from downtown. Men will need a special $200 license with a complete police background check, fingerprints and mugshot to drive the gas guzzling, accident unfriendly pollution machines downtown.
(3) All fast food restaurants will be zoned so they can't be within 1000 feet of any city park, public building or architectural icon (i.e. Vera Katz). The particularly offensive ones like Jack-off In The Box and Taco Hell will need a $10,000 annual permit to offset all the emissions from cars idling in line. This fee will go directly to the emphysema and lung cancer ward at OHSU Hospital.
(4) Since fast food restaurants are known hang-outs for prostitutes and drug dealers, all customers will have to sign a contract with each purchase.
Furthermore, a sign in bold black letters not less than two inches high must be posted inside that reads "PROSTITUTION AND DRUG DEALING ARE CRIMINAL ACTIVITIES." Other signs to be posted: "FAST FOODS WILL KILL YOU QUICKER THAN MARIJUANA AND SEX COMBINED." And: "CATTLE GRAZING RAPES THE RAINFOREST, KILLS FISH AND RUINS WATERSHEDS. ENJOY YOUR MEAL."
(5) An undercover black police officer, dressed as a homeless man, will be bum rushed and beaten by officers on patrol. Katz will complain, "How could this happen?" One brave TV station, hungry for a ratings boost, will broadcast this retort from a real homeless man of color: "It happens all the time, baby."
(6) Copious crimes against property downtown, like theft and vandalism of our autos and bicycles, will actually be investigated more vigorously than the activities at the neighborhood jack shack, adult store and strip club.
(7) Proceeds from video poker will go towards filling food banks, meals on wheels, shelter meals etc., so Oregon can drop out of the top ten nationally for hunger. Meanwhile, every person earning over a million a year will be required by law to spend one day per year serving food at a shelter, or pay an extra $50,000 in taxes--donated directly to food serving shelters.
Non-Political Futuramas
(8) The erect penis size of all Portland Trail Blazers will be published alongside their height and weight in the daily paper. This should increase fan support among women and gay men, thus guaranteeing SRO at every game--even the Clippers.
(9) An annual all nude "Bud Clark 5K Run" will be inaugurated to benefit breast and prostate cancer. Men will be allowed to wear sheer nylon jock
straps. Big busted women will be permitted to wear see-through sports bras, but only if they're bigger than a B-cup. And, of course, shoes can be worn as well. Oh yeah, children will be allowed to run along, too--a whole nude family fun out for a run day. After this event, nudity will be passe. In fact, many will wish that some participants put their clothes back on . . . please; but only for art's sake. And then we'll all realize how lucky we are to have nude dancing establishments where so many beautiful bodies labor in stiletto heels for peanuts!
(10)
An all nude web site for the show
Ally McBeal
will pop up called "Alley McBeal," featuring hardcore pics of Calista Flockhart taking it every which way but loose--since she's a tight spinner. A double dildo lesbian scene with Flockhart's on-screen roommate, Lisa Nicole Carson, will be the nut buster, or, jean creamer. Flockhart's weight from week to week will be chronicled in "The Tale Of The Scale." Also, exactly how little she ate the days before and of the weigh-in will be posted. Her weekly weigh-in will be conducted all nude, of course, with Flockhart and too-skinny-wannabe Portia de Rossi trading insults. Nude oil wrestling between Flockhart and other female cast members will follow the weekly weigh-in. Female cast members who come in over their weekly weigh-in mark will be disciplined by ex-NBA sideshow freak,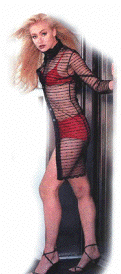 Dennis Rodman, while producer David E. Kelley hurls insults at the over-shooting- weight actress. The website will include occasional "Holiday McBeal" recipes, like eggnog: "One ounce non-fat milk sprinkled with nutmeg."