Y2K-- what us worry? It came, it went and a lot of people had really bad hangovers in the morning. Even if the power did fail, you can be sure the taps at all your favorite bars were still flowing by candlelight. With that in mind, the anti-Y2K terrorist team here at Exotic have some great events exploding on the naked scenery for January 2000. Top of the FBI's (Fabulous Babes Inside) most wanted list is the Dancin' Bare, 8440 N. Interstate. They now feature a FULL BAR, along with the most delectable women in the known universe. Throughout January you can play "Who Dunnit?" with the lovely ladies. So, get a "Clue" every Wednesday from 10pm till midnight. The mystery is over.
And if you're out and about on a lonely Tuesday night wondering what to do with the extra money "found," via computer belch, in your formerly overdrawn account, why not head over to the Backswing Tavern, 4579 N.E. Cully, for "Tightwad Tuesdays" and experience the most tantalizing Table Dances in town for only $5. All Day Long! Thanks April!
Exotica has been open for a few months now, but their huge Grand Opening Party is set for Friday, February 4th. This is gonna be one heck of an all day and night "blast," featuring prizes and giveaways, hundreds of beautiful, naked girls, and the debut of their 20-screen wall of tv's and go-go cage embedded into the bar (great place to order a cocktail...).
The Riverside Corral will be having another great party with dancers and the Jimmy Robb Band on Sunday, January 23. So bring your cowboy boots and party down with Mike and his girls.
Fetish Night will be making a venue change, across the street from Berbati's to Dante's Caffee' Italiano on Sunday, January 16th. Don't forget to dress fiercely.
Doc's Rocks with Red Matter on Saturday, January 15th. And rumor has it Floater will be rockin' soon on a Doc's Rocks Saturday Night.
On January 18-19-20, adult superstar Taylor Hayes will be performing nightly at Stars Cabaret Beaverton, 4570 S.W. Lombard Ave. Don't miss this one, boys and girls; it's sure to be a once-in-a-lifetime chance to see one of the most gifted stars in the adult industry. The new Stars Cabaret in Bend is now open and is proud to bring you Taylor Hayes on January 21 & 22. They are located at 197 3rd St. (Hwy 97) next to Bend's hot spot, the Eclipse. It's not just another bend in the road, so, don't miss it.
When the bars close at 2:30am and there's nowhere else to go, what do you do? Taco Hell? Bowling? Acts of vandalism? I don't think so. There's is only ONE place in town to go! Webbs Pub "The best showclub in town" is now open 24 hours for your pleasure. They are located at 7530 NE Killingsworth Ave. Check'em out and tell them the Exotic "FBI" anti-terrorist team sent ya.
But wait, we almost forgot every Tuesday is 'Amateur Night' at Jody's--come see Portland's newest talent compete for cash and prizes. It's "FBI" compliant!
Finally, don't forget the Miss Nude Oregon 2000 Pageant on Saturday, January 22nd at the Portland Conference Center. Some of the proceeds will be used to fight Ballot Measure 87, (coming at you this November... more on that in next month's issue). This annual bash will feature the current and many past Exotic and T&A covergirls and is brought to you by our friends at the T&A Times. Maybe we'll see you there this year... (hint, hint... Phil...).
The Portland Area Privacy Alliance, a strong coalition of several business owners, workers and customers, filed suit against the City of Portland on Tuesday, December 14 to halt the enforcement of the recently legislated Escort and Lingerie Modeling Ordinance. On the same day the city agreed with the P.A.P.A.'s attorney, Bradley J. Woodworth, to suspend enforcement of the ordinance until a preliminary injunction hearing could be held in February. The lawsuit gained further momentum on December 23, with the American Civil Liberties Union agreeing to file a brief in support of the lawsuit. Additionally on December 23, the city informed Mr. Woodworth that they would make a decision shortly after the first of the year whether they would defend the lawsuit, or withdraw the ordinance completely.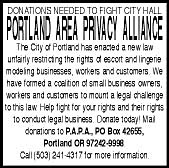 Honeysuckles and Babydolls features Gallery "Girl Next Door" Crystal this month. See the ad on page 4 for the details.
The Palace is open again! And completely new and LUSH. Thank the goddess.
Velvet Dreams will be having their Grand Opening on January 20. They have new girls that will definitely give you something to dream about (Do Androids Dream Of Electric Sheep?); but don't wait for the 20th to run over.
For the best in Double Trouble, Princess and Ariel will be together "All Day and All Of The Night" on Wednesdays at Sugar Daddy's.
Leather & Lace will be featuring Vivianna; once you've seen her, you'll be coming back again and again. So, keep coming back, it quirks.
On the westside, D.K. Wilds is the place to go for all your adult accessories and video needs--one of the best selections of everything you could want for a romantic evening at home, when the lights are (knocked) out. Remember to stock up on batteries for new vibrational purposes.
And if you're out towards Oregon City and Milwaukie, be sure to check out the new adult Video Superstore, 13311 S.E. McLoughlin Blvd. right next to Dillinger's. At last, it's safe to go into Milwaukie.
Fantasy Adult Video is gearing up for their huge in-store(s) appearances of mega-adult stars Vicca and Nikita in February. All the details will be forthcoming next month.