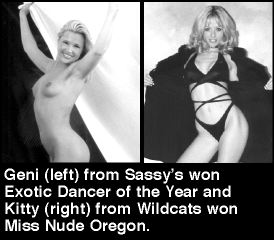 --by Severina
Ah, the Saga of the ordinance continues. I was told to be in Judge Maurer's court room at 9:00 am sharp. The Plaintiff, PAPA (Portland area Privacy Alliance), wanted me to testify.
About 9:45 AM, things began. Our attorney, Brad Woodworth opened up his freedom of expression speech and the "defendant" quickly shot off their rebuttal about how much crime is attributed to adult businesses--80%. (This ridiculous myth, with no substantive proof whatsoever, was reiterated like a mantra to the judge. And these are supposed to be intelligent people?)
Then the testimonials were given for our side--the plaintiff. A lingerie model spoke first, clearly and softly, about being a stripper and a lingerie model. She spoke of how men wanted some sort of acceptance from the woman--someone to talk to as well as seduce them and turn them on. The cross examination's focus was mainly on how many men asked her to have sex with them.
Then it was my turn. Our attorney asked about the role play (as a Dominatrix) and more elaborate details of the theatrical drama that took place. (See Superior Sadist this month for example)
An escort service operator was next. She spoke in a very shy and timid voice when our attorney asked the details of her job and the speech that took place between a client and her. She was apprehensive and embarrassed to explain the stripping and the masturbation shows.
All in all, it was a long morning and we adjourned for lunch, to return by 1:30. As I left the building, I bumped into Vice Detective Ed Brumfield--a tall and powerful man, with a kindness, as well, about him. I put up my dukes, as a playful gesture, to say come on, put 'em up. I smiled, he smiled. He said I shouldn't take this so personally. I told him I have to, that I will be a dominatrix long after he and Mayor Katz are gone.
The defendant's first witness was a female police officer. She went off about all the problems and crimes that went on in the sex industry. After she was done with her testimonial our attorney asked the officer if she had a degree in statistics. She replied that she had been in a Masters program involving statistics. He then asked her if specific statistical tests had been taken for her to come up with the conclusion that 80% of the sex industry was involved with criminal activity. She said she had no basis for that. The attorney asked the judge to dismiss the testimonial because it had no grounds. The Judge replied that she wanted to hear all the testimonial before she came to a decision on that. More witnesses including one former escort convicted of prostitution and horror stories of two evil men abducting underrage girls and forcing them into prostitution, none of which happened in Oregon or had anything to do with our sex industry here, and the defense rested.
Later that evening on the news, they said the judge would make her decision Wednesday, March 1st . The saga continues...
The Portland Area Privacy Alliance has won the preliminary injunction, and thus the entire court case against the City of Portland over their "Escort & Lingerie Modeling Ordinance." Circuit Court Judge Jean Maurer concluded in her decision on Wednesday, March 1st, "The ordinance as written is content-based and therefore, under the holdings of the appellate cases in this state, impermissibly burdens expression under Article I, section 8 of the Oregon Constitution.
Additionally, its language is unconstitutionally overbroad and vague. In light of these conclusions, it is unnecessary to address the plaintiff's remaining challenges to the ordinance."
The ordinance is now offically dead. No licenses are needed to operate. No privacies will be jeopardized. However, we still owe the attorneys over $17,000. Donations are welcome. Call Exotic magazine at 241-4317 for information.

The Miss Nude Oregon Pageant took place on February 19th and our very own Exotic covergirl, Geni from Sassy's, walked away with the Exotic Dancer of the Year title. Jillian, from Exotica, took the trophy for Best Breast in the West; but the fur coat and the Miss Nude Oregon title went to our Y2K covergirl--the fiercely sexy Kitty from Wildcats. Congratulations to all the winners and sponsor clubs.
Even though Wildcats in Beaverton is the home of Kitty--Miss Nude Oregon--take it from us, the place really sucks...POPSICLES that is! You guessed it, this month brings us the return of "The Great Popsicle Suck Off" on Saturday, March 18th at 10 p.m. Reigning Suckstress Extraordinaire "Houston" will be taking on all comers. Bring along the girlfriend and maybe she'll want to go after the title, if not...maybe she'll learn something! Get there plenty early and you can be one of the lucky guys holding the popsicles. You won't want to miss this one!
The Wild Orchid comes into full blossom this month with their Grand Opening Party & Luau on Wednesday March 8th--complete with complimentary catered buffet and a roast pig. Once you're fat and happy, you'll definitely want to stick around for the Exotic Hula Contest starting at 9 p.m., sponsored by the gang here at Exotic. With cash prizes, merchandise from Cathie's and more, this contest will be open to all ladies. Sorry guys, you'll have to leave the grass skirts at home, but not to worry, every customer is guaranteed to get leid.
And for all you S.I.N.ners out there, be sure to stop by Exotica International for the all new "Club Exotica - S.I.N.ful Sundays." They'll be rolling out the all new dance floor, opening up their three stages for public dancing, and filling the cages with Go-Go girls. Sounds like the place to be!
Be sure to stop by the Backswing Tavern and check out their brand new remodel. And if you're watching your budget, April and the gang can make your life much easier with Tightwad Tuesdays--$5.00 table dances. Then come on back for free pool Thursday through Saturday nights 9 p.m. till close, and all day on Sundays.
There's going to be plenty of opportunities to check out up and coming talent this month. George's Dancin' Bare will be hosting their Amateur Contest on Saturday March 11th at 9 p.m. With cash prizes for the ladies, great food and drink and gorgeous, fresh amateurs for the guys, sounds like everyone comes out a winner
Club 205, "Home of the covergirls," will also be holding their scintillating Dance Contest on Weds., March 15th. Reliable sources say the contest will be so loaded with covergirls, how can you pick a winner. Not a loser in the bunch. Oh well just have to suffer through it.
Welcome back to the Dream On Saloon to the pages of Exotic. We spent a good part of a day photographing their all new look, featuring 2 new high tech stages and a lovely collection of beautiful women booked exclusively through the Heartbreaker's Agency. Now equipped with a fully stocked bar and kitchen with outstanding steak specials, the Dream On is setting new standards of excellence. Way to go Alex and Rob!
Stars in Salem is celebrating their first anniversary all month long with feature shows by porn stars Dakotah Summers and the legendary Jill Kelly. Silver Dollar Club in Eugene has Jade St. Claire featuring this month.

Tired of waiting around for Summer? Cathie's can help this month with 30% off all swimwear in March. And to help you look like a real beach bunny, they'll be giving away two free tans with every purchase of $40 or more.
Castle Superstores will be offering a special sale exclusively to readers of Exotic. Just mention their ad this month and receive 20% off any lingerie item. Now it pays to pick up Exotic.

Fantasy Lingerie has a new owner, new management, new girls and a new attitude.
Tired of the rain? Watch the girls get wet instead at The Palace, now featuring shower shows and hot tub shows.
ALL ADULT BUSINESS OWNERS
NO ON 87 MEETING
Wednesday, March 29th 6:30pm
at Ohm ( formerly Key Largo )
31 NW 1st Ave. ( in Old Town next to MAX & Saturday Market )
(503) 224-3147
KEEP OUR CONSTITUTIONAL RIGHTS INTACT. HELP FIGHT THIS ADULT BUSINESS ZONING AMENDMENT TO THE OREGON CONSTITUTION. THIS IS NOT NEW YORK.