By Jim Redden
Did Larry Hurwitz kill Tim Moreau with his own hands, or is the former Starry Night owner being framed for the murder by lying ex-friends and employees, assisted by the Portland Police Bureau and the Multnomah County District Attorney's Office?
That was the question at the heart of an extraordinary hearing which took place before Multnomah County District Court Judge Robert Redding on May 8. In an attempt to get Hurwitz released on bail, his attorneys, Daniel Feiner and Marc Sussman, presented a surprise witness who challenged the state's claim that Hurwitz killed Moreau with his own hands. Deputy District Attorneys Norm Frink and Greg Horner attempted to undermine the testimony, but they could not completely discredit it.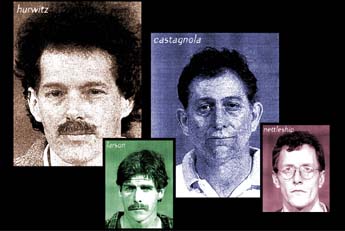 Hurwitz was present at the hearing, guarded by two beefy Multnomah County Sheriff's deputies. He sat next to his lawyers in a standard jail-issued blue jumpsuit. The months of hard time have taken their toll on Hurwitz. His skin is pale and his frizzy hair has been cut short, exposing a bald spot on the top of his head. His once-muscular forearms are now rail-thin. But his eyes sparkled with interest as the hearing unfolded, and he chatted with his attorneys repeatedly as the day progressed.
Hurwitz was charged with five counts of aggravated murder on November 20, 1998. He is accused of killing Moreau, his former publicity director, on February 20, 1990. The District Attorney says the murder took place to prevent Moreau from telling the police that Hurwitz was running a counterfeit ticket scam at his former Old Town nightclub. The only witness to the murder is former Starry Night sound engineer George Castagnola.
According to police and court documents, Castagnola says he helped Hurwitz plan the murder and hide the body. But Castagnola swears that Hurwitz personally strangled Moreau with a garrote made from a broom handle and stereo speaker wire. As Castagnola tells the story, Hurwitz arranged for Moreau to come to Starry Night to talk about the counterfeit ticket controversy. The two men were walking down the hall on the second floor when Castagnola popped out of an office and distracted Moreau. Hurwitz quickly stepped behind Moreau, slipped the garrote around his neck and pulled it tight.

Moreau's face turned red, his eyes bugged out and he made gurgling noises as the two men fell over backwards and crashed to the floor. Castagnola jumped on top of them and held Moreau's legs together until he stopped struggling and passed out.
As Hurwitz continued strangling Moreau, Castagnola ran into his office and returned with a roll of silver duct tape. Hurwitz held Moreau's head up off the floor, not knowing whether he was dead or alive. Castagnola wrapped Moreau's head with the tape, making him look like a silver mummy to be sure he suffocated. Hurwitz and Castagnola then loaded Moreau's body into the trunk of a borrowed Cadillac, drove up the Columbia Gorge and buried it in the mountains on the Washington side of the river.
In return for his confession, Castagnola received a 10-year sentence for aiding and abetting the murder. As part of the plea-bargain deal, he agreed to testify against Hurwitz when the case goes to trial in September of this year. Hurwitz's attorneys tried and failed to get their client out on bail once before. They moved to reopen the bail hearing after meeting with two witnesses who say Castagnola lied about Hurwitz's role in the murder. These witnesses claim they heard Castagnola take full credit for both the counterfeit ticket scam and the murder. If this is true, he framed Hurwitz and pulled a fast one on the District Attorney.
One of the witnesses is Kevin Nettleship, a longtime Portland area drug abuser. Nettleship took the stand on May 8 and told his remarkable story in Judge Redding's courtroom. According to Nettleship, he was in the Multnomah County Inverness Jail on August 12, 1999, the day Castagnola was formally sentenced to 10 years in jail for his part in the murder. After the sentencing hearing, Castagnola was placed in the same holding cell as Nettleship and a number of other inmates.
Nettleship says he was simply sitting on his jail bunk when he heard someone say, "I was involved in this ticket scam and this kid wouldn't stop talking and I killed him." Nettleship turned around to see who was making this bold claim. He recognized Castagnola from the television coverage of his guilty plea.
Nettleship says he was shocked by how casually Castagnola talked about the murder, calmly explaining about how many pounds of pressure it takes to break a human neck. Castagnola demonstrated how strong he was, Nettleship says, by doing 40 or 50 inverted push-ups. And, according to Nettleship, Castagnola bragged that he had "pulled one over on the D.A." by negotiating a 10-year sentence.
The D.A.'s Office did not directly challenge Nettleship's testimony at the hearing. Instead, Frink and Horner offered a reason why Castagnola might have lied about his role in the killing. Castagnola was supposed to be in protective custody when he was transferred to Inverness Jail. Instead, he was mistakenly released into the general prison population. By coincidence, Hurwitz was also in Inverness at that time. Frink and Horner suggested that Castagnola might have been afraid of retaliation, taking credit for the killing to appear tough. Under questioning from Frink, Nettleship admitted that prison inmates hate snitches.
Frink also pointed out that Nettleship and Hurwitz are friends. The two men had met at Inverness before Castagnola was transferred there. Hurwitz told Nettleship he was innocent, and Nettleship said he believed him. Within days of overhearing the conversation, Nettleship wrote Hurwitz a letter offering to testify about what Castagnola said. In the letter, Nettleship said he would join the former club owner on the "Larry Hurwitz Victory Tour" after he is acquitted.
Frink and Horner also provided the court with a sworn statement from Castagnola saying he had told the truth about the murder to the police. The two Deputy D.A.'s insisted there was a lot of evidence to support Castagnola's original story. Among other things, Hurwitz talked about killing Moreau before their final meeting, and he arranged for a part-time employee, Michael Wolbaum, to stand guard outside Starry Night on the night Castagnola says the murder took place. According to Frink, Wolbaum saw Hurwitz and Castagnola drive away from Starry Night that evening in a Cadillac.
In addition, an Oregon State Police trooper stopped the two men in a Cadillac near where Castagnola says the body was buried. The stop took place the morning before Moreau was allegedly murdered. Castagnola says they were pulled over during a trip to dig the grave to hide Moreau's body.
But Castagnola is the only eyewitness to the actual murder. So anything that might discredit him helps the defense and hurts the state's case.
And Nettleship was a strong witness. Despite his lengthy history of drug abuse, he came across as intelligent, articulate and thoughtful. Tall and thin, with short brown hair and wire rim glasses, Nettleship oozed the intense sincerity of a young Jimmy Stewart. Even Frink, a legendary bulldog, couldn't rattle him. Although Nettleship's friendship with Hurwitz raises obvious questions about his honesty, he came across well during the May 8 hearing.
Nettleship says Castagnola was talking to an inmate named Steve Larson, another longtime drug abuser. Hurwitz's attorneys interviewed Larson before the hearing, and they produced a report which says he confirms Nettleship's story. But Larson didn't show up for the May 8 hearing. Although he had been subpoenaed to appear and testify, he skipped the proceedings entirely.
Judge Redding issued a warrant for Larson's arrest and continued the bail hearing until May 24. Hurwitz's attorneys were confident he would show up by then. So were the two district attorneys, who noted that Larson has frequent run-ins with the law. But Larson didn't show up on the 24th, either. He hadn't been arrested, and he didn't call anyone to say where he was. "We've checked his last known residence, and we have no idea where he is," Horner told Redding when the second hearing started.
Talking to Horner outside the courtroom before the hearing began, Sussman said he was afraid that Larson might turn up dead, the victim of a drug overdose.
Because Hurwitz's attorneys couldn't produce the second witness, they withdrew their new bail motion. Redding promised to reschedule the hearing if Larson showed up, but warned that he would be more reluctant to consider granting bail as the trial approaches. "It's one thing if you find him tomorrow," he said. "It's another thing if it's two weeks before trial."
Hurwitz didn't seem upset to be remaining in jail, however. That's because his lawyers scored at least one minor triumph during the May 8 hearing. They had Nettleship testify about the conversation he allegedly overheard under oath, meaning they can use his statements to try to impeach Castagnola even if Nettleship disappears, too.
Although Nettleship's testimony is not much to base an entire defense case on, it is the first point that his lawyers have scored so far, and it suggests the legal maneuvering is far from over.