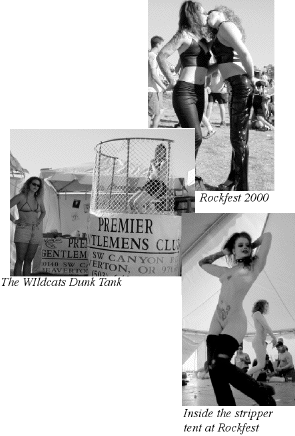 Gentlemen's Club Events and News
There is absolutely nothing worth mentioning about Exotica this month. But it looks like just about everywhere else is the place to be for the month of August. (Ed's note: I detest this personal axe grinding in print, but, alas, I work with monkey brains who think our 5 or 6 readers are entertained by the airing of dirty laundry; so, forgive them as they know not what they do.)
Take Wildcats for example (Exotica's main inspiration for new ideas by the way). The bad kitties will be up to their naughty little games all month long. Another Pie Eating contest, a Popsicle Suckoff, and a Wet T-Shirt Beach Party will keep you busy. See the Calendar of Events for dates. Last month the cats used up 1 or 2 of their 9 lives in their Rockfest Dunk tank. When they weren't getting wet, they were tearing up the backstage stripper tent for all the rockstars. (See accompanying photo(s) ten times more entertaining than this text.)
Welcome to Cocktails and Dreams, Pornland's newest strip club. Formerly the Neon Spur, you'll find this spacious club on SE 35th directly across from Tommy's on Powell. Offering a full bar, full menu, pool, lottery games and beautiful dancers courtesy of the Heartbreakers agency. Stop by for a cold one to check the place out. Let 'em know Exotic sent you!
George's Dancin' Bare will be hosting another of their action packed Amateur Nights this month on Saturday August 19th. These events are always popular so make sure you get there early for a good seat.
She's on our cover; she's an adult films and magazine centerfold star; she's Cricket. And this month, she's appearing at the Main Event in Salem, Aug. 17, 18 and 19.
Webb's Pub will be getting hot and bothered all month long in their beer garden. Stop by for lunch on Tuesday through Friday for a smokin' BBQ meal, cold beer and some of the hottest naked chicks in Portland, all under the open sky.
On a recent adventure in Pornland, we stopped by the Riverside Corral for a cold one and were drawn under the spell of a certain dancer by the name of Indigo. This is definitely a performer to behold if you want to see a real dancer. If you're seduced by hauntingly gothic beauties, she's your dream come true,if not, you'll still be enraptured by her body moves. At times she seemed to practically levitate around the pole. Supernatural powers? You decide.