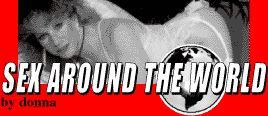 Travel to Europe often necessitates a stop in Amsterdam; Schiphol is one of the world's busiest airports. I had a 12-hour layover in Amsterdam each way on my last trip and I don't regret one minute spent there. The train station is right across the street—head for "city center" (5 minutes) and ask someone to tell you when to get off. From the central station, you walk straight down Damrak Street a few blocks, hang a left and you'll be in the famous "Red Light District." It's a ten-minute walk!
Sex has always been legal in Amsterdam and to get a good fuck you only need to do a little window-shopping. Literally! The streets are lined with brothels, which they call 'sex shops.' Not very imaginative, but they're Dutch, so, whad'ya expect. Prostitutes sit in illuminated picture windows and beckon you inside for some fun. (Don't even think about trying to take a picture here! It's a good way to get a broken arm.) You can either keep walking till you see a lady you like or step inside and ask for a line-up. Sometimes the girls will expose themselves to entice you…
This time I was without male company, so, I hung around the exit waiting for some satisfied slob to come stumbling out to ask him how much he paid and what he got. My first two victims told me to fuck-off and mind my own business; the third asked me if I was queer; but the fourth one was more than happy to spill the beans. According to my exchange rate calculations, he paid about $45 for the works. She let him go down on her for as long as he wanted, then she sucked him for a while, then he fucked her doggy style. Said it was pretty good. Said he spent about one hour inside and the lady was very clean and attractive. No complaints.
I walked down a few blocks and saw a lady in the window dressed like a witch. She had on black stockings, corset, long black gloves over the elbow, a long black lace robe hanging open and a big black hat—not a pointed one though. She even had black hair! She was quite interesting and I was tempted to step inside and interview her. I just stood there looking at her while she looked at me. Next thing I know, she's being replaced by another lady. This new one was a little on the plump side. I was too intrigued by 'Elvira' to leave, so, undaunted by the change in scenery, I summoned my courage and went inside.
I managed to ask several questions before they threw me out. I found out that girls can start 'working' when they're 18 and they must pay a small percentage from each customer to the shop owner. She does not work for the establishment and she can choose the number of hours she wants to work each week. She must be examined and tested for disease each month and bring written 'proof of cleanliness' from the doctor. I asked if the lady in black was popular. "Yes, she usually only lasts a few minutes in the window." I'll say. Then I was ushered out.
Like Marijuana? It's LEGAL! And, if it's porn you like, the selection is limitless and a lot harder than anything we sell here. Lifesize photos in the porn store windows of ejaculation caught in mid air right as it splashes across a happy female face! A lot of cock sucking shown in the windows, too.
Don't miss the Sex Museum (Damrak street, #18). You'll be amazed at their collection of erotic and porn photos, films, naughty medieval clothing and sex toys. Seems they have quite an appetite for piss parties!
KLM and Northwest fly to Amsterdam regularly from PDX. Passport required. Low season R/T varies, about $940. So, why not go stomping through the tulips this year?