The Year in Review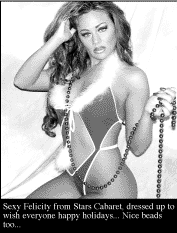 We made it to the end of another year, by the skin of our dildos, and brother, what a ride. Vera Katz and company had a witch hunt brewing in the form of a nude modeling ordinance, ruled unconstitutional last February. Of course, it took about 30 K, rounded up by the Portland Privacy Alliance, to fight City Hall. So, please remember, when you're making out your naughty and nice lists, who loves you, baby. Exotic interviewed everyone from "Out On a Ledge" green protester, Tre Arrow, to the Hedgehog, Ron Jeremy and uncovered AVN's Best Actress, Chloe, in between. We went backstage at the Grammys, under the tents at the Rockfest and inside the conspiracy addled brain of Dr. Len Horowitz, all for you. Rex got rexer, Viva rocked and Redden reamed the Corporate powers that be, until he got a day job. And last month the electorate kicked out the latest, and hopefully last, challenge to our first amendment by voting down measure 87. 52% of Oregon's voters said 'leave our constitution alone,' a whopping margin by today's recount standards. This month we hopped on the tour bus with the Orb's Alex Patterson, bringing you a rare interview with the King of Electronica and opened our pages to a convicted writer, Jim Goad, all in the natural course of things, because we care just as much about feeding your head as we do about fueling your libido. The brain is still, after all, the biggest sex organ. Or, free you mind and your ass will follow. As we embark on the bona fide beginning of the next thousand years, Exotic would like to remind you to think, it ain't illegal yet! And have a happy fucking new millennium. (This intro is already placed in docs)

Strip Club News
After a rousing victory over Measure 87 last month, Pornland celebrated the protection of our rights by opening two new strip clubs in our fair city (there always seems to be room for more!). First off, there's Soobie's Bar & Grill--a new exotic hot spot located on SE 122nd near Stark. This warm and cozy den of decadence offers 2 stages, kickin' sound, absolutely outstanding bento and teriyaki cuisine, and, of course, super entertainers provided by the Big Dog agency. So stop by and pay a visit to Hong and his crew and tell him Exotic sent you. Be on the lookout for special events at Soobie's next month when The Exotic Big Dog Covergirl Contest kicks off in late January.
Also nakedly opened last month was Brandi's. Located in the Hollywood district at 37th and Sandy, you can find all the basic essentials already in place: full bar, lottery and hot babes from Heartbreakers. Check it out!
A big welcome back to Stars Cabaret from the gang here at Exotic, hopefully to stay this time. You'll be seeing a lot more of Stars in our pages. Hell, they have so much going on that we decided to give them their own calendar of events ( see pg. 17). Stay tuned for big things happening in 2001 when Exotic and Stars join forces for some stellar promotions.
Roosters is doing their part for the holidays by hosting a breakfast on Dec. 2nd at 8 am to celebrate ABATE's 21st Anniversary Toy Run--a benefit for the children of Shriner's Hospital. They'll be serving up biscuits and gravy for a buck and a half, with a side order of hot naked chicks. Sounds like a great way to start the day! Also, coming from Roosters this month, live music. Give 'em a call for dates and details.
The battle rages on at Jody's Bar and Grill this month as the Exotic Covergirl Contest continues. This month kicks off with contest four of eight rounds to determine our finalists. With $300 in weekly cash prizes and the cover of Exotic magazine's February issue at stake, you can expect the competition to start getting fierce. So stop by every Thursday night to watch the fur fly!!!
Union Jacks is trying an exotic theme of a different nature this month...on their menu. That's right, you can now sink your teeth into exotic burgers served with fries for only five bucks, such as buffalo, kangaroo, venison, ostrich and alligator. Fuck McDonald's; when you throw in one of their scintillating table dances, this is the best happy meal going. UJ's is also planning a big New Year's Eve bash this year.
George's Dancin Bare
is pulling out all the stops this month with their big 10 Year Anniversary party on Saturday, Dec. 16th. It's gonna' be a wild one with special drinks, body shots, half-off table dances, prizes, feature dancers from the past 10 years and the best of the amateurs. Happy Anniversary George...we'll see you there!!!
Look for "The Houston 500" at Wildcats this month on Dec. 16th. Guinness has been notified as this bad kitty attempts to set an unbreakable record for most table dance performances in one day...and yes, she's going for 500 of them. If you want to be a part of this event, just sign up in advance for only $10 a dance. This will be Houston's farewell to the Rose City as well as your last chance to enjoy a private dance with this lovely lady, so why not be a part of Guinness History?
The Boom Boom Room will be hosting the first annual Nicest Ass In Portland Contest on Tuesday, December 12th. With $500 cash at stake and an open contest, we're pretty sure there's gonna be some fine booty shakin' over on Barbur Boulevard.
Club 205 will be having another of their famous "Exotic Covergirl Dance Contests" on Wednesday, December 20th, featuring eight former Exotic covergirls.
The Main Event in Salem is having a big Christmas Party on Friday, Dec. 22nd, and $15 Private Dances all month long.
Adult Store News
With the defeat of Measure 87, the number of Adult Stores in Portland has swelled slightly as well. Imagine that! It's almost as if they were waiting in the wings to witness the outcome or something.
First on that list would be Taboo Adult Video. You can find this new superstore on 237 SE MLK Blvd. for all your "adult needs." The Grand Opening for the new store lasts all month long. Specials include buy one movie, get one free, and a huge $1 adult comic sale.
Second, out in Aloha, the apparent failure of Epic Furnishings to fully secure their lease cleared the way for Mr. Peep's Adult Superstore to open their doors on December 5th. A full-on grand opening is scheduled for January.
Fantasy For Adults is having their Hot Holiday Video & Toy Sale this December at all five locations. Spartacus and Frolics both have sales on sizzling hot xmas items. Sweet Sensations is having their annual Super-Xmas Sale all month long. Cathie's is always a great place on the eastside to procure a precious present for him or her. Castle Superstore has a 25% off sale (with any rental of video or DVD), and a 10% off all lingerie sale. Fantasyland has a sale on videos starting at $9.95. And Paradise Video now has DVD's and tobacco paraphernalia... All together it sounds like there's gonna be a whole lot of Xmas cheer under the tree this year...
Internet News
Portland's first local, live, interactive videosex chatline, SexxxyChat, is rolling along nicely. Exotic has teamed up with SexxxyChat, putting stations in at the office for more girls (and everyone else) to make money doing private shows on the web. You can access live local Portland models 24 hours a day (as well as five years worth of complete online Exotic magazine archives) through our website at www.xmag.com.
Holly, Miss Nude Oregon 2000, has her website up and rolling now with live shows and broadcast archives that'll spin your spurs even more for this talented young lady. Catch her hot live shows from home three times a week at www.hollyshabitat.com.
X-otic Tan has announced that their website at www.x-otictan.com will soon be featuring local live broadcasts as well.
Ink-n-Pink News

Ink - N - Pink 2000 wrapped up last month with a huge finale on Halloween.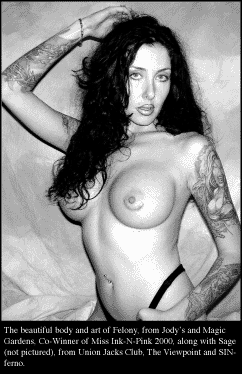 We had intended on bringing you the wrap-up in this months issue, but, due to circumstances beyond our control, it's gonna' have to wait until our January issue. The biggest news is the fact that Miss Ink-N-Pink's outcome was so damn close that, unlike Florida, a draw was declared. For those of you who were there, you know what happened; the rest of you will have to wait until next month. Happy New Year!
Jody's-Exotic Contest Growing
The Thursday night Jody's-Exotic Covergirl Contests are getting bigger and bigger each week. The closer it gets to the final showdown in January, the better the show is gonna get. Make sure you head out early on Thursday nights, and be prepared to stay late as some of Portland's finest dancers compete for nightly cash prizes and the coveted February 2001 Exotic cover.