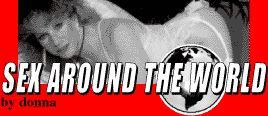 It's Carnival Time!

Carnival 2001 happens from February 24th through the 27th. As anybody who's been to Carnival knows, it gets downright nasty at times. In fact, much of the time!
Brazil is known as the land of thong bikinis, and Rio De Janeiro is one of the sexiest places on earth. A couple of years ago, I went to Carnival and was completely unprepared for what I saw. I'd heard things got hot, but "hot" doesn't even begin to describe the action!
I actually think Brazil allows its obscenity laws (which are pretty mild to begin with) to be ignored for this special occasion, because Carnival is notorious for rampant public sex and nudity. Sexual acts of all kinds can be seen happening throughout the city; often in front of cheering crowds.
But let's talk about events first. You can see or enter several costume contests where there's a guarantee of X-rated flesh flaunting. There are also a whole slew of "Gay Balls" and "Gay Galas" if that's your thing. Even if it isn't, these parties are a riot! Carnival is a favorite for drag queens, so watch out who you try to pick up on! Gays and lesbo gals openly do their thing at a party called X-Demente in downtown. It attracts gays and lesbians from all over the world. The costume contest is taken to such a flamboyant level, it's unbelievable. Even straight folks have a blast here.
If it's balls you're after, you're in luck. The world famous Copacabana is throwing a black tie gala that starts at 11pm on the 24th. There are 'Carnival Balls' happening all over Rio. Scala, Help, Leblon and the Metropolitan are just a few hot spots.
There are non-stop parties at just about every bar in town, but most famous is Bunker 54 and Base. 'Anything goes' at these parties, so be prepared.
The food in Rio is spicy and the February weather is hot. Prepare to spend mega bucks; the costume parade (more like a runway fashion show) at Sambodrome could end up costing you around $800 for front row seats and they sell out far in advance. You can buy bleacher seats in front of the Sambodrome for $5 and see the stream of wild and crazy characters as they arrive. It reminded me of our Academy Awards.
"Carnavil is notorious for rampant public sex and nudity. Sexual acts of all kinds can be seen happening throughout the city; often in front of cheering crowds."

If you don't book a hotel room early, you won't get one. Even neighboring cities are booked to capacity for Carnival. If you miss out on this year's events, start planning for next year.
Now, let's talk about the SEX you'll see and get at Carnival. Both men and women strut around the streets and clubs wearing nothing more than a G-string (Sometimes it's painted on!). It's not unusual to see couples fuck in front of a rowdy group of onlookers while law enforcement looks the other way (figuratively speaking of course; they're gawking just as much as everyone else!).
During Carnival 97 I watched as no less than two dozen camcorders and even more cameras documented the action that was taking place right in the middle of downtown Rio. There, perched on the hood of a car, was a naked and very beautiful blonde with her legs wide open. Several men came to worship at her alter while their buddies got it all on video. What a vacation souvenir! Tit fondling is easy and expected as women walk around topless for the entire 4 days.
Ah, only in Rio!

Trust me, if you want hard-core sex in public, Carnival is a must. You'll need your passport & visa and a copy of your R/T ticket, plus proof of plenty of spending money. Yellow fever and hepatitis A vaccine required. Currently, the Brazilian 'Real' is about 1.80 to the US dollar.
Flights from PDX to Rio run about $800-$900.
Check out www.ipanema.com/carnival/2001.htm.