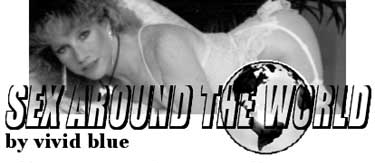 While I sat home alone, good 'ol Dave ushered in the New Year in Hamburg, Germany, with Elke. I'm only slightly jealous. Not! They traveled overland to Berlin by trains that were modern, luxurious and punctual. He wanted to enter Berlin through the point at the city limits that was once known worldwide as "Checkpoint Charlie." Charlie went up overnight on August 13, 1961, and was removed in June of 1990. Today this is a very important tourist spot and, as Elke pointed out, it's a great place to meet East Berlin women!
Although the Berlin Wall came down on November 9, 1989, parts of it still stand as a memorial. In fact, there are more than 106 paintings on the few remaining pieces of the Wall that are still standing, making it the world's largest open-air gallery and another darn good pick-up spot, believe it or not. You know what they say about museums and women, or, galleries and women. John Updike even wrote a book of short stories about it.
Horny local gals anxious for some international flavor will hang out at tourist sights and make their intentions known by either approaching men up-front or dressing in a 'fuck me' kind of way. One such scantily dressed babe approached Dave and offered to show them the city. Lene's price was 50 Deutsche Marks (about $25.) She claimed to be a sales clerk during the day but later admitted to Dave that she was a prostitute several nights a week.
"For a grand total of $75 he got a full day of
sightseeing and ended the day banging his guide."


Elke made herself scarce as nightfall approached, leaving Dave alone with Lene. He would learn much about the long suppressed sexual needs of East Berlin women.
The years of repression have led to an almost nymphomaniacal behavior in Berlin women; Lene started turning tricks when she was 25. She says women are looking for unrestrained, no-strings sexual thrills just like men are...and perhaps a good dinner thrown in at the end. When asked about anal sex, Lene smiled and said, "We like it." But after years of stifled sexuality under communist rule, they still aren't comfortable asking for it.
Lene was just coming of age when the Wall fell in '89; now, at 28, she is belatedly enjoying her freedom. She was, like most Easterners, so used to being sexually oppressed that she found it hard to let go of her inhibitions for many years after the fall of the Wall.
Although the economy is getting better, the average person still struggles financially. Young women are eager for money that they can spend in the fabulous new shopping centers that have sprung up in the past ten years. Berlin's females are 90% tall slim blondes; prostitution is on the rise and American guys are considered prime cuts. Berlin has its fair share of STD's but most girls are fucking with condoms these days.
According to Lene, Berlin girls are very casual about sex. She did her best to suck Dave's brains out through his cock. For a grand total of $75 he got a full day of sightseeing and ended the day banging his guide.
Whorehouses (also called 'business clubs') do exist and are essentially tolerated as long as they don't make a nuisance of themselves. They have a strict dress code and girls can be bought with cash or credit cards, starting at about $50.
Berlin has many first-class hotels; Lene suggested the Hilton. It was expensive but exquisite and very near the Embassy, the Gendarmenmarket and the Brandenburg Gate.
His only gripe about Berlin was its so-called 'nude bars', which weren't nude at all. Dave's used to hardcore shows and unfortunately, in none of the four or five strip joints he visited did any of the girls ditch their thong. And absolutely NO touching was allowed.
It's a long flight (9 hours plus) from Portland, with at least one stop. Your cheapest destination would be Frankfurt. You can go by rail from Frankfurt to Berlin in only a few hours and for under $20. For food, transportation and lodging in Berlin you'll pay less than you would in Portland.