Wilkommen...Bienvenu...
Welcome...Come on in!
Welcome to the hotter, stickier, nastier premiere edition of the all-new Erotic City. In the past eight years, Exotic magazine has evolved from a free Portland porn periodical into the prolific and perverse 96-page publication it is today. And since we're on the doorstep of another New Year, we decided it was time to bring Erotic City into the new millennium.
What has Erotic City been in the past, but a sometimes humorous, often boring update of which club is doing what and when with whom? After writing this feature for the past year or so, there are only so many ways to pretend you're excited that some club has two girls on stage at one time and is serving up $1.00 PBRs with half-price table dances. It's time for something new. More cynicism, more parody, more satire, for Chrissakes! If we can't make fun of ourselves, then what's the point? We work in an industry of illusion, boys and girls...this is not MTV, and this sure as hell ain't the Real World. This is Pornland, Oregon, land of free table dances and home of the depraved.
New and Exciting Features
Erotic City is now a full two pages, overstuffed with all the things you won't want to miss, as well as the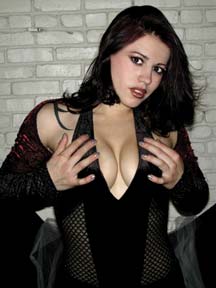 things you wish you had never been told. We're even gonna throw in some things that never even happened, just to see who's paying attention. We've even added glorious full color to this feature because, goddamn it, you deserve pink instead of gray.
Probably the most exciting change here at Exotic Mission Control is the changing of the guard of our Editor-in-Chief. Raise your hands, voices, automatic weapons, or whatever else may be in order to share your opinion of Mr. Jim Goad.
The Goadster is responsible for writing close to half of the editorial escapades contained within the pages of this month's issue, and, love him or hate him, YOU WILL READ!!! Think of your alternatives on a local scale...would you rather read a page full of crap cannibalized off the Internet, or a slice of American sexism at its angst-driven finest?
Gone are the days when Exotic's editorial was something left over to fill in unsold ad space. Goad's influence will be recognized. After a string of successful ghost-writing spots such "I Vote for BUSH Every Time" and "Faking the Male Orgasm," he finally exposed his sinister identity in public with last month's controversial terrorist taunting, "Muslim Girls Turn Me On!" Who knows what havoc Goad's words may wreak on our fragile, disillusioned psyche? If this is food for thought, enjoy the feast that is Goad.
The Most Overexposed Naked Babe of the Month Award goes to an Exotic
favorite this month, Holly Foxx. And not only is she baring it all in Exotic, she has dominated the whole damn country as Gallery Magazine's Girl Next Door of the Year. For the second year in a row, Portland is hometown for Gallery's Grand Prize winner. We're so damn lucky to live here, people. Remember that shit the next time you're sitting at your favorite stripper's rack drinking a dollar's worth of beer without a tip in front of you.
Tickled Ink-N-Pink
Ink-N-Pink 2001 came to a fiery conclusion last month on Halloween night at Dante's Sinferno Spectacular. If you were there, fill in the blanks yourself. Otherwise, the condensed version would offer you an exotic gathering of tattooed, clothing-deficient performance artists; the surprise "retirement" of the immortal miss Ink-N-Pink 2000; the embarrassing fall of a mediocre musician with wannabe industrial-icon delusions of grandeur; a sharp increase on fire-insurance premiums in all venues involved; and massive abuse of sedatives by the event's promotional director. (Ed.: Let's not forget REED McCLINTOCK!) But due to my personal addiction to drama involving naked tattooed women, "Ink-N-Pink 2002," tentatively titled "The Resurrection," will be comin' at ya next October. Congrats to this years winners: Anya (pictured) as Miss Ink-N-Pink 2001, Roxy as Best Exotic Performance, and Dakota as Best Tattooed Entertainer. Our favorite virgin, Cherry (also pictured) from Jody's Bar and Grill, scored a draw as Miss Congeniality with Dante's own Poison Ivy.
Stupid Question of the Month
Little Miss Pretty Pussy asks, "HOW DO I GET ON THE COVER?"
It used to be that the average female's hopes and dreams consisted of things like being Miss America,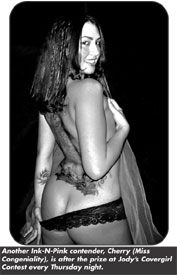 marrying a doctor, 2.5 kids and the white picket fence. But right here in Pornland, Oregon, apparently the exotic dancer's ultimate desire is to land herself on the cover of Exotic magazine, and then there are those less ambitious that will settle for the cover of other Portland publications. Now as honored as we are with their collective desire to adorn our most prominent of pages, I really have to laugh. Come on ladies, we're a free magazine...underpaid for by our advertisers. And the wage you collect for being a covergirl in most cases is equal to the fee Exotic charges for ad layout, design and photography, also known as...nothing. But with financial dysfunction aside, why would a girl not want to be on our cover? You'll be spread across the state on the cover of 30,000 copies, filed away in the Portland Vice Department's reference archives, passed around the local barbershop or office break room until a copy eventually lands in the hands of an unknowing relative or stalker ex-boyfriend...and you'll be despised by every other girl who's worked at your club three years longer than you without even getting into an ad. Welcome to the world of the covergirl, baby; now you're a star!
But now that you know the aftermath of getting on the cover, back to the question at hand. How do you get there...? Well, if you ask our friendly neighborhood competitor, he'll just tell you that you have to sleep with one of us to get on the cover. Unfortunately, our adversary, the Queen of Kirby, is quite unaware that Exotic's policies have changed since he was dismissed from our employ. Current
covergirl applicants are as follows: "It is not required that a potential covergirl perform sexual favors of any kind with any Exotic magazine staff member in exchange for selection as a covergirl; however, it would be greatly appreciated if favors are
willingly awarded within six months of cover publication."
Other options include winning a covergirl contest, of which there usually tend to be one or two per year. If you pursue this method to land your cover, we strongly recommend the use of predatory female charm, spreading nasty rumors about your competitors, misleading advances on any judges or authority figures, and excessive use of phrases such as, "I'd do just about anything to get on the cover!" or "Getting my picture taken gets me so horny, I can't think about anything but sucking your dick!"
Not the contest type? Well, how about selecting a club to work in that actually has the good taste to advertise with Exotic? We are in the business of promoting our advertisers, after all, and if you're working in some white-trash hellhole in North Portland that views advertising as writing dollar-off specials on a chalkboard over the bar, you'll probably never see yourself on our cover.
And speaking of contests, starting in January, Exotic will be bringing you the first ever Exotic Covergirl of the Year Contest. Twelve of your favorite covergirls will be competing by ballot and 900 phone lines for over two months in hopes of winning this new title. Additional benefits for this title will include $1000.00 cash, the cover of Exotic's 2002 Christmas Edition, and your very own website on xmag.com's all-new xmagstrippers.com. (And don't forget the best part...the option to have sex with the Exotic employee of your choice in the next six months!) We'll be bringing all 12 covergirls together for a huge party as we announce our winner at Stars Cabaret in February.
If you aren't one of the lucky 12 in this contest, don't worry your sweet little asses, because there are still eight more chances to qualify at Jody's Bar & Grill's Exotic Magazine Covergirl Contest every Thursday night at 10pm. The winner of this one will also cash in a grand and score the Valentine's 2002 cover. And all you horny guys out there, don't forget--Jody's is
definitely the spot that'll keep the crotch of your jeans tight on contest night. We're talkin' 12 girls on a Thursday night on two stages, at the same time, even. And there's also a chance for you big tippers to score some props as well. The fattest wallet of each preliminary round will be appointed as our honorary judge for the final event, with a complimentary dinner with the finalists, free table dances, T-shirts, and more.
Strip Club Spotlight

Contests! Contests! Jesus Christ, do we have contests in this town!!! And the Boom Boom Room will not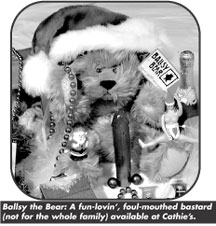 be left out. This competition is a returning event looking for "Portland's Biggest Ass." And they got Five Hundred bills for ya if you got that ass. (Pay attention...this is one of those aforementioned cynical stabs at parody. The Boom Boom is actually lookin' for the nicest ass. That's original, ain't it, like, aren't we all looking for that? And shit, if I found that nicest ass, and I got to keep it...I'd shell out a hell of a lot more than $500.) Anyway, ladies, shake your ass on down to the Boom x 2 on December 18 at 9pm.
The Dolphin 2 has made it official with a brand new sign adorning their Beaverton Hillsdale Highway location. If you haven't made it out there yet, you're missing out. A great space with gorgeous girls and our favorite rockin' DJ LEWIE is back!!! The Southwest is definitely up and cumming this Christmas. Stars Cabaret was the first (remaining) brave explorer to break ground on Beaverton soil, followed by The Dolphin II, and now another club is open and ready for erections, Roc's Dollhouse in Cedar Hills. The Dollhouse labels itself as "A Sophisticated Showclub for the connoisseur." (Exotic's translation: A high-end strip club for sexually addicted deviants.) Roc's is rollin' with 3 stages, Steak & Seafood cuisine, featuring live lobster tanks and a full bar. Rick and Steve, formerly of too many places to list, have done an outstanding job in bringing the Southwest another first-class emporium of exotic entertainment.
Feature performers are a strip club's way of showing you they care. I mean, sure,
we've got more hot babes right here in Oregon than you'll ever get to lay, but isn't it nice that these generous and sensitive strip-club executives take the time, trouble and expense to bring us famous individuals that hold extensive credentials such as Miss Tall Nude World, or Gang Bang Queen of the Universe, or my personal favorite, "Jizz Faced Anal Diva of Eternity!"?
Our pals at City Limits keep that porn-princess machine pumpin' with Jessica Justice from Dec. 12-15. Stars is putting the stuffing in your stocking with Stephanie Swift on Dec. 12-19. Of course I couldn't get away without mentioning all the shit Stars is giving away this month, like a Harley, plus a Sobe Mountain Bike and Snowboard. (That's awfully nice of Hong to do that for them! What a swell guy!) And there's another Stars Party Bus Bar hop rollin to Dante's and the Cobalt again on Sunday, Dec. 9th.
Our favorite downtown haunt, Magic Gardens, is showing all of us sex workers how much they love us by holding a S.I.N. Nite on Tuesday with $1.00 off specials and free pool, even. We love you, too, Everett.
And don't forget to stop by the only cool strip club in all of North Portland, (yeah, that's right, I said it!) as well as Portland's original all-nude club, Webb's Pub. As if they weren't already the first choice in our books, now those crazy babes at Webb's are givin' away table dances for ten bucks a piece! Gotta love that! So remember... North Portland...do you really need to go anywhere else than Webb's?
Lingerie Shop Review
Brittany is back at Honeysuckles and BabyDolls Lingerie Modeling along with favorites like Exotic Covergirl of the Year Contender, Taylor, and up-and-comers like Foxy from the Boom Boom Room. But if you go see Foxy at the Boom Boom Room, remember to refrain from public masturbation--that's a no-no there, and they'll probably beat the crap out of your whackin' ass. Damn, it all gets so confusing, doesn't it?
And we have the best new face you wish you could wake up next to, Malaya, along with one of our favorite pinups returning to our pages this month, international goddess, Vanessa. You can check them both out at Private Pleasures and Secret Rendezvous. And our covergirl Malaya is tearin' up the stage at Sassy's and Jody's this month for all you shy boys out there.
Leather and Lace has packed up and moved to a new location at 3407 SW Corbett, and what better way to celebrate the move than a limited engagement with another Exotic Covergirl of the Year contender Vivianna on Dec. 5-12? And while you're in the mood for strokin' Southwest style, stop by Aja's all-new location on Beaverton Hillsdale Highway. Wow, the South is rising, isn't it? We've got six strip clubs, four Lingerie Shops, and five porn shops out there now. And they tried to keep us out...you just can't stop this industry.
Planet Porn Shop
Since we're all so perverse and expressive of our addiction to all things sexual, isn't it just swell that we have so many emporia of erotic wonders for us to shop in this holiday season? Forget about the mall, we've got Cathie's on Powell, with our pick hit for most fun next to a blowjob, Ballsy the Bear. For just 30 bucks or so, with a squeeze of his furry belly, Ballsy shares his views on life, belching out quotes such as, "Kiss my fuckin' ass!" or "I swear...she told me she was 18!"
Bad Attitude is as kick-ass as ever, with an outstanding collection of the coolest and hippest fashions for your shopping pleasure. From corsets to chain mail, you gotta check this place out, now located downtown.
And in the Southwest, check out our friends at Fantasy Video, DK Wilds, and Sweet Sensations, for all the naughty little goodies you'll be unwrapping after all the damn relatives go home.
Have a Merry Fuckin' Christmas, Portland! I'm outt