HANK WILLIAMS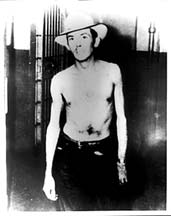 A sad man who was one helluva songwriter. He drank and pilled himself to death, possibly to escape his nagging mother and a lifetime of women who put him through hell on earth. Hank did for country what Elvis did for rock and roll...or what Jimi Hendrix did for guitar. A country singer's singer. If you don't like Hank Williams, somebody somewhere is gonna wanna beat you up.
He never recorded a bad song. Hank is a gift from the gods (Bacchus and Hermes), second only to $6.99 cases of beer.
GEORGE JONES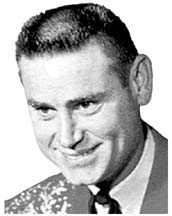 No punk rocker you can think of can claim to party as hard as ol' Possum did for thirty-five or so years. His autobiography is titled "I Lived to Tell it All," and it's amazing that he did. So many hard years of whiskey-drinkin', coke-sniffin,' and screwin'. His nickname in the early 80s was "No-show Jones" due to the infrequency of him actually showing up at gigs. He was finally arrested weighing about 108 pounds...fried...I mean FRIED!!...out of his hillbilly mind, living in his car with a bag of coke and a wad of hundred-dollar bills. He decided to swear off the blow soon after, and I'm glad he did.
George is the living king of misery songs..."If Drinking Don't Kill Me, Your Memory Will," "The Grand Tour," "These Days I Barely Get By," and one of the most tragic songs I've ever heard: "He Stopped Loving Her Today."
I can't expect a snotnosed 16-year-old with no woman troubles and no bills to pay to get into George, because his songs are tailor-made for situations when you're really feeling down...so, let juvenile listeners beware.
JIMMIE RODGERS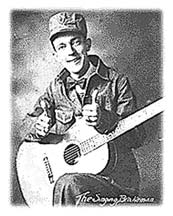 No, not the greasy fairy that sang "Honeycomb"...the SINGING BRAKEMAN...the FATHER OF COUNTRY MUSIC. Jimmie was a railroad worker. He loved trains. He eventually contracted TB and had to give up working for the railroad, so he sang and recorded a string of million-selling 78s back in the late 1920s and early 30s before his premature death. He spent his last days on earth hacking out lung tissue in a recording studio in New York trying to get as many songs cut as possible so his wife and daughter would have money. (Clint Eastwood borrowed this true part of Jimmie's legend for Honky Tonk Man.) He laid on a cot between takes...one of the songs recorded was the "TB Blues" about his impending death, complete with imagery of the graveyard and having dirt shoveled in his face.
JOHNNY CASH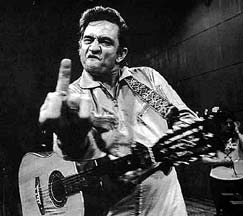 He has probably 125 albums out. Ninety percent are worth listening to, even the recent ones.
After some legendary sessions with Sun Records in the 50s, Johnny switched labels early in the 60s, and his hard-livin', pill-poppin' lifestyle seemed to add a rougher edge to his songs. During the 60s, Johnny recorded two absolutely essential albums at California state penitentiaries: Live at Folsom Prison and Live at San Quentin. There isn't a dead moment to be found on either album. Mr. Cash wasn't about to try to entertain 1,000 rowdy convicts with "Achey Breaky" bullshit. He did, however, snarl out a version of "Cocaine Blues" that had the Folsom inmates roaring.
ERNEST TUBB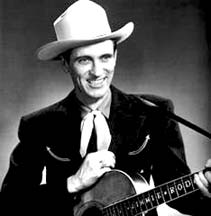 Here's another one of country's unique voices; he kinda warbled when he crooned. In spite of his occasional liquor-fueled binges, Ernest had an incredibly long career. He was a tall, lean, cowboy-suit-type guy with a style almost as mesmerizing as Hank's. His material wasn't as consistently great as Hank's, but it WAS better by far than that of any of the popular country hunks around today.
My fave Tubb songs are "Waltz Across Texas," "I'm Walking the Floor Over You," and any of the
fine tunes from his Jimmie Rodgers tribute set.
THE LADIES OF COUNTRY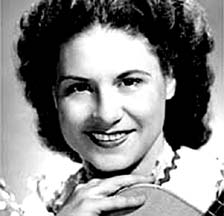 Until recent times, women lagged behind the fellers when it came to selling records. Their role for many years was to accompany the men on package tours, sing a couple songs, and then stand around looking pretty. KITTY WELLS [pictured at right] was the undisputed queen around 40 years ago. I like her voice (even though I hate most female voices), and the material chosen for her was usually strong, with an emphasis on adultery songs.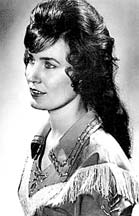 WANDA JACKSON [pictured at left] is my favorite female voice, period, whether it be rock 'n' roll or country. Nobody sings like Wanda. Her voice is powerful and sexy. She can bear down on a note like a wildcat shrieking, like a hot rod peeling out, like a navy-bean gas attack....
LORETTA LYNN's [pictured at right, below] voice is country music personified--not as exotic as Wanda's, but she wrote a lot of her own material, and her tastes ran to the extreme! "Don't Come Home a Drinkin' With Lovin' on Your Mind" tells a story that should be familiar to most couples. "Fist City" is a sexy catfight threat to a woman who's been messin' with Loretta's man. How cool!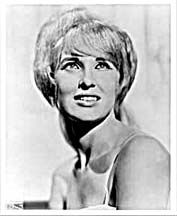 DOLLY PARTON, TAMMY WYNETTE
[pictured at left], and nymphomaniac cradle-robber DOTTIE WEST are also
worthy of your attention.
PORTER WAGONER
He's my personal favorite because:
1) He recorded three albums of down-and-out drinking songs;
2) Other "theme" albums he recorded are a penitentiary-songs album, an insanity album, and an album wherein he pays tribute to his own band.

3) Porter had a room in his apartment (the same apartment depicted on the cover of "The Cold Hard Facts of Life") filled with pillows...he'd lay on his back, allegedly sober, and think up song ideas. One of them was "The Rubber Room," a journey into an insane asylum that's been outfitted with an echo/reverb unit.
4) Almost all Porter Wagoner albums are dotted with at least one or two warped songs such as "Waldo the Weirdo," "The Carroll County Accident," and his crowning bizarre achievement, "George Leroy Chickashea," a tale about a fella who's part white, part black, and part Indian. As the song moves through the verses, the music shifts accordingly from funky-ass wah-wah pedal to cliché Injun war-whoopin' and tom-toms, and back to straight conservative country. This goes beyond ANYTHING else I've ever heard on a Country & Western record!
5) Porter's voice is as endearing as Lorne Greene's (Bonanza) and his manner as relaxed as Dean Martin's...then...BAMMM!!...he's shifted gears and is doing a pitiful narration about a child whose daddy is the town drunk....amazing.
DAVID ALLAN COE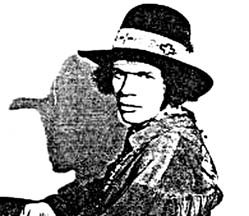 The wildest card in the country deck. He's recorded songs ranging from XXX pornographic lyrics such as "Fuck Anita Bryant," "Fuckin' in the Butt," and "Nigger Fucker" to sensitive (sappy?) ballads that sell really big. He also recorded some roughhouse songs like "Waylon, Willie and Me," "If That Ain't Country," and "Livin' on the Run." D.A.C. is another former convict, former biker, and alleged polygamist. I hear he performs magic tricks at his live shows and works the merchandise table himself.
Most everything you find, whether it's by one of the better-known artists of this subgenre or by an obscure artist...IT'S ALL GOOD!!! Male, female, 50s, 60s, 70s...funny or tragic..it's literally all good!!! Buy any record featuring a truck on the cover with confidence.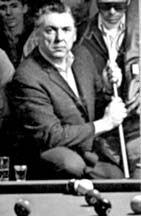 DAVE DUDLEY [pictured at left] is the king of the genre. He kicked off the early 60's era of the genre with "Six Days on the Road" and "Truck-Drivin' Son of a Gun." His bass voice booms out of your speakers. The guitar is twangy and rocking. His songs are filled with danger ("Jackknife") and drinking ("Two Sixpacks Away"). You can't go wrong with Dave.
RED SOVINE [pictured below at right] is so bizarre, you might wanna save him for when you've mastered country for a year or so. His specialty is what they call "exploitation" songs. In Red's songs, truck drivers are noble he-men who love puppies and help crippled children...widows and widowers abound...truck-stop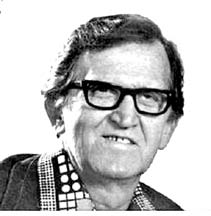 waitresses are more generous than Mother Theresa...and tragedy is heaped upon clean-cut, god-fearin' folk. Many of his songs are "narratives" where Red half-reads/half-sobs the words as fiddles saw back and forth in the background. "Leave it to Beaver" seems sinful compared to some of his stuff, like a duet album Red recorded with his granddaughters. He also waxed a great number of perfect truck-driving songs such as "Big Rig Rollin' Man" and "Diesel Smoke, Dangerous Curves."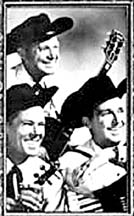 THE WILLIS BROTHERS [pictured at left] deserve special mention. "Convoy in the Sky," "Pinball Anonymous," "Diesel Drivin' Donut Dunkin' Dan"...they toss in a lot of cornpone humor and great picking. Their stuff is harder to find...but when you see it...SNATCH IT UP, even at a pricey record store.
With artists such as RED SIMPSON, DEL REEVES, JOHNNY DOLLAR, and DICK CURLESS, ...hell, you can't find a bad truck-
driving album.