Luckily, Mary-Jo showed up in the nick of time to escort us backstage. She took us to a little room where our prey awaited us, bristling.
His name was Kerry or Perry and he DID NOT have long hair. Instead he had tattoos all over his head. (I theorized that Kerry or Perry, when starting to lose his hair, was fired from Slayer, the ultimate hair band. But he filed a discrimination lawsuit and won, under the stipulation that he get tattoos and do all the interviews FOR THE REST OF HIS LIFE.) Me 'n' Blondie cracked open a couple of Heinies and splayed across the couch, trying to put the poor guy at ease, but he just nervously sipped his spring water. I think we intimidated him.
VIVA: So, SLAYER, what is the sexiest song of all-time?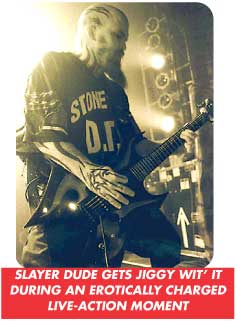 Slayer: [confusion] I guess I'm not really into sexy music....probably the Deftones, I don't what song it is. It's on Around the Fur, it's number ten ["MX"--Ed.], where some chick answers him....
VIVA: What about like Al Green?
Sayer: WHO? I never heard of him.
VIVA: Sexiest singer of all time?
Slayer: All-time? I don't know about all-time. But today I'll pick Shania Twain.
VIVA: Shania Twain? Really?
Slayer: Behind that fuckin' good-girl all-Canadian fuckin' moniker of hers is a fuckin' slut waiting to be born. I don't know who she's trying to kid goin' out with Mutt Lange. I mean, what is he, like 60 and fat? But rich?
VIVA: Do you frequent strip bars at all?
Slayer: I used to. I used to be a fuckin' titty bar magnet. But I haven't gone in a LONG time.
VIVA: Why? Do you have a Valentine now? Yeah? Where is she?
Slayer: LA. Shit, I just kinda got over it. I remember when I was 24 I used to go all the time. My first wife I met in a strip bar.
VIVA: Oh really? Was she dancing?
Slayer: Yep. I walked in and I said, "I'm takin' that one." And I did.
VIVA: Do you have puppies with this Valentine?
Slayer: Well, I used to breed snakes! I used to have like four hundred of them. But they were taking too much of my time. I wanted to put more time into this, so I sold them all.
Slayer: Sydney. Cuz I like Australian accents.
VIVA: What's the sexiest thing you've ever seen onstage?
Slayer: Probably years ago, when we were in Canada and they had chicks in showers onstage. I'd never seen anything like that.
VIVA: Are the kids alright?
"I never really wanted to hear Slayer. Not until they deigned to play on Valentine's Day...."
Slayer: Depends on which kids you're talking about. Our kids are alright.
It seems like our fan base kind of recycled itself.
VIVA: I think Slayer could do that indefinitely. What's the trick?
Slayer: That is the trick: recycling your kids. Staying relevant to your original fans as well as new ones.
VIVA: Yeah, like what's up with your latest record? I mean, it kicks ass.
Slayer: Well yeah, it's supposed to! I think it deals with things that kids young and old can associate to [sic] and bridge the gap. I don't think we did that intentionally, it just came out that way.
VIVA: You got a favorite Stones album? You know, the Rolling Stones?
Slayer: Nope! [Pause.] I mean I have maybe a favorite Stones song.
VIVA: Oh yeah? What's that?
Slayer: "Sympathy for the Devil." "Paint it, Black" is pretty cool, too.
VIVA: What about Chrissie Hynde--ya heard of her?
VIVA: You know...stock question...
Slayer: Sexy or no? Nope!
VIVA: My brother says she's got a voice that can make a guy cum in ten seconds.
Slayer: I'm waiting! It's been about fifteen years now!
VIVA: Favorite movie of 2001?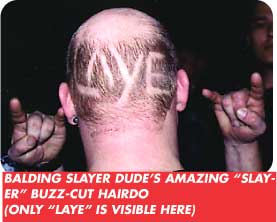 VIVA: Favorite war movie of all time?
VIVA: Like, have you seen The Longest Day? Slayer: Nope. Probably the first Nightmare on Elm Street. That movie is fucked-up. Like the girl says, "Oh, God!" and Freddie stretches out his fingers and says, "This is God." And I'm like, "FUCK Yeah!!"
VIVA: Favorite guitar solo of all time?
Slayer: There are so many....I'd probably pick something off-the-wall like Glenn Tipton on "Beyond the Realms of Death." It's the first one, the lead-in song.
VIVA: Uh-huh. Sexiest guitar sound?
Slayer: Well, it'd have to be one of mine. Take your pick! I play V's and I play Warlocks. I'll have to go with the 666-V.
VIVA [after super-hot & married lead singer comes in looking for his green tea with mint]: Sexiest drink of all time?
VIVA: Most influential musician of the 20th century?
Slayer: Randy Rhoads or Eddie Van Halen.
VIVA: Do you have a favorite Bob Dylan song?
Slayer: Nope! I couldn't even name one if I had to.