DESCRIPTION:
She's a diagnosed sociopath with tattooed boobs. Giant full-moon eyes. Short, round body. A smart girl. Mensa material. A bit of a chameleon, too: sometimes bespectacled and preppie, sometimes all Gothed-out and silent-movie-star-lookin'. We'd had sex a dozen or so times before. She has
a tangy, sour-tangerine smell that I find erotic. Her hair is dyed a bright rusty

color, so that qualifies her for the redhead's role.
Her boyfriend hasn't been giving it to her. In fact, they've been going out for something like four months and have NEVER had sex.
That's where Gordo can help.
She swings both ways and has recently arranged a threesome with her, me, and a stripper. That's why I don't mind when she forgets her wallet whenever we eat breakfast.
MY VIAGRA EXPERIENCE WITH HER: She called me up and said she was taking a "personal day" away from work, which means she wants to come over and have sex with me. There's an incomparable thrill knowing that someone is on their way over to your place strictly for the purpose of having sex with you.
I pop two 50mg Viagra tabs about a half-hour before the time I told her to arrive. While sudsing my genitals in the shower, I notice them starting to swell. Then I feel all flushed and horny. I feel drugged in a pleasantly speedy way, rollin' along like a hyperventilatin' caveman in cocaine/amyl nitrite-styled white-water rapids. I feel supercharged.
While leaning over my kitchen sink and shaving, I accidentally brush my cock up against the sink, causing it to become erect. This is like high school all over again, where even featherlike contact with another object would cause massive penile engorgement.
She gets over to my crib and says, "I have to tell you--it's my period, and we can't have sex."
My Viagra-enhanced boner doesn't want to hear this.
"Oh, we're having sex," I insist. "One way or another, WE'RE HAVING SEX."
I never act this way normally, but I'm taking orders from a really hard, really angry penis.
Red seems aroused by my forcefulness.
We start fumbling around on the bed. I grab her hand, place it on my granite-hard bulldog cock, and say, "I'd like to PUT this somewhere."
"Where do you want to put it?" she asks, somewhat guardedly.
"How about your ASS?" I suggest with an arched eyebrow.
"This is the meaning of life: To have a cute little gaptoothed truck-drivin' blonde girl from the South hold your cock in her hand and use the word 'big.'"
She pauses. "Well, if you have lube, then sure."

With a hop, skip, and a jump, my naked body and thick boner bouncing up and down all the way, I'm in the kitchen, fetching some aloe-coconut oil from under the sink. I slather a greasy handful onto my lobster-red cock, get in bed, and lay on my back. She sits down on that cock, wincing and groaning.
My pole is easily hard enough to jam it right up that ass without struggling or bending. Frankly, I enjoy her expressions of pain. That's what she gets for being on the rag. It feels good to be stuffing myself up her ass. Harder, thicker, veinier. I'll give her something for a girl to hold onto. A lightning rod with which to ground a skittish female. One has a weird sort of power over another person once you've been in their ass. I think you all know what I'm talking about.
I drill her butt for a LOOONNG time. I finally cum in her poop chute. When she dismounts to go to the bathroom and wipe up, I shampoo all the doody off my schlong in the kitchen sink and then treat myself to a bagel. While munching on the circular doughy treat, I check out my naked self in the mirror. My hangin' hammer looks impressive. Your dick's lookin' REAL good tonight, Gordo. NICE.
After another round, Red and I go out for coffee and ice cream. I feel ecstatic. I feel at ease. I feel rubbery. I feel witty. I feel things more intensely. And I think the Viagra has something to do with it. It would make sense that a drug which is powerful enough to give Bob Dole a woody would have some euphoria-inducing effects.
Red tells me that I have a "friendly penis" and that she's becoming obsessed with it.
Sweet afterglow. We loll around in bed amid the dewy sort of bliss you only see in 70s ads for douche products. I'm happy that I'm a man and she's a woman. The feeling in the room is THAT corny.

THE BLONDE
DESCRIPTION: A tiny skinny miniature Tonya Harding doll with a beautiful gap in her teeth and naturally blonde hair she sometimes wears in pigtails, making her look about six years old. She drives a truck and is from the South. We have very little in common besides a very strong mutual chemical attraction. Once we get close enough to one another to sniff the pheromones, it's almost maddening.
HER boyfriend of four years (I love being a male mistress) is only delivering the groceries to her once a month, and that's where Gordo comes to the rescue.
MY VIAGRA EXPERIENCE WITH HER: Blondie says she feels guilty even making out with me and doesn't want to fuck me until she moves out on her boyfriend. But this doesn't stop her from calling me to hang out a few times a week for insanely passionate dry-humping sessions.
For some reason, I'm sure we're going to fuck tonight.
I swallow a vial of liquid Viagra in the bathroom of the Matador, a bar
where Blondie has been tankin' herself up all night on beer and mixed drinks. She looks like she weighs about twenty pounds, so it shouldn't take much to
get her plastered.
She gets so drunk, she forgets where she parked her truck. It takes an hour in freezing February weather to find it. When she finally starts driving, it's the wrong way down a busy one-way street.
When we get back to my pad, I'm fairly limping around with a steel-hard observatory-telescope erection. We plop down on my bed and start making out teenager-style. I pop open my belt buckle, unzip my tight jeans, take my diving-board-hard cock out, and place her hand around it. Li'l Gordo seems twice as
thick as normal. It's so hard, so bloody full of blood, it's comical.
This is the first time she's made contact with my prong, and I'm glad she's feeling it in the vibrant fullness of its tumescence. I wanted to give her a really good first impression. While she's grabbing it, I distinctly hear her say "big" or "so big." Joy and happiness! This is what it means to be a man. This is the meaning of life: To have a cute little gaptoothed truck-drivin' blonde girl from the South hold your cock in her hand and use the word "big."
But the little C.T. still doesn't want to go all the way, what with the guilt and all. So we make out for about three hours, her hand on my crankshaft all the while, whispering in my ear that one day we'll fuck so much we won't have the strength to get out of bed.
We fall asleep together. When I fall asleep, my cock is hard. When I awake two hours later, it's still hard. Blondie has to be at work. She gathers her belongings and is gone.
About two seconds after she leaves, I start jacking off with Tasmanian Devil ferocity. I cum so hard that I splat my face twice--one squirt on the forehead, one on the chin.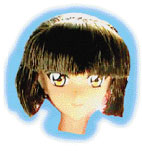 THE BRUNETTE
DESCRIPTION:
A six-foot-tall salty marshmallow from Arkansas with a beautiful hot pale body. Crow-black S&M bangs hanging over huge blue eyes. Thick muff and great sense of humor. She gets a nice slick of sweat going in bed, and I love licking it off her ivory skin. I can't think of anything bad to say about the girl. I like her so much, I'm kind of glad she doesn't live in Portland, because I'd probably lose my head about her, and I hate when that happens.
Although she's quite the tasty snack, she hadn't had sex in over two years before flying up to Portland last summer for the express purpose of having sex with me. And it was great...I'd almost forgotten how great until she flew up recently to remind me.
MY VIAGRA EXPERIENCE WITH HER: Around Valentine's Day, we decide it's high time she fly in for another three-day snugglefest with me.
I drop two 50mg Viagra tabs right after picking her up at the airport. We go back to my apartment, which is roughly the size of a desk drawer, and get busy. I power-fuck her hard and long, then pull out and squirt all over my ugly beige carpet.
But I'm not sure the Viagra makes much of a difference in this case. She stays for three days and we fuck a lot, and a few of the sessions are better than the Viagra-fortified one. The drug just didn't match the natural juices that are flowing between us. "God, you made me cum so much," she exclaims after one particularly sweaty round. I MADE her cum so much, as if she had no choice in it. This is the only thing a man wants to hear. This is his fundamental project. Hearing a girl say "you made me cum so much" is one of life's greatest treasures, regardless of whether one's stiffie was chemically enhanced or au naturel.
*
[I'd like to apologize to Blondie, Blackie, and Red if they see this and are embarrassed. Sorry if I kinda used you like guinea pigs and stuff. You're all top-flight gals, really good sports. And have I told you lately how pretty I think you are? No, "pretty" isn't the word--you're BEAUTIFUL. All right? Don't get pissed. Look, girls, nobody knows who you are...just me...you...and now every strip-club-crawling deviant in the greater Portland area. And hey--at least it proves you actually read the magazine like you told me you did, right? I'll buy the next breakfast, OK?]