by J. Mack
The U.S. is currently at war for oil? Should clubs hire strippers with bootie acne and other thangz? Are you bored with the Portland nightlife? Did that chick just fart on stage? These are just a few of the questions that I will be answering in this month's "Whatz crackin'."
Peace out to Club Exotica!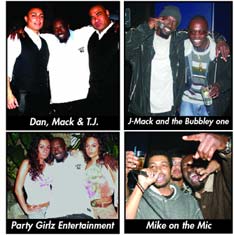 Last Sunday night was the end of Girlz Nite Out! According to the management, the owner of the club didn't want to pay my crew and myself what we were worth. Can you say "tight wad?" We gave this cat a love price from the jump and invited people to the club that actually spent money. I think that what it boils down to is that the OLCC (Oregon Liquor Control Commission) and the Portland Police Department has issues with Club Exotica from a past manager. It's really sad that people blame music for the ignorance of others. My message to the owner is if something is broke then try to fix it, but while repairs are being made, don't hit it with a sledgehammer. To the DJ's, bartenders, dancers and management, thanks for the love. To everyone that came out and supported a real cool function, don't trip 'cause we are relocating to the International Club on M.L.K. & San Rafael on April 20th. The event will be co-promoted by
Exotic Magazine
. If you weren't able to make it out, peep the pics!!!
War for Oil?
If you claim that you're fighting terrorism, why become a terrorist? I guess the United Nations wasn't moving fast enough for our President. Even though Saddam Hussein has done some terrible things in the past, he's never dropped any bombs on us. For Mr. Bush to ignore the request of the UN and start a fight with Iraq is only going to cause unnecessary deaths and more problems here in the States. They claim it's not about the oil, but why are they in such a hurry to secure the oil fields? Bush also tries to say that he is freeing the Iraqi people from an evil dictator, but every one of them elected Saddam for their president. Little George Jr. is this month's recipient of the Hidden Agenda Award! Power to the protesters!!!
Lumpitty Bumpitty's
Some of these cats that do the hiring at the local strip clubs are blind in one eye, and can't see out the other. On my mission to find "The Honey of the Month," I came across some cuties and some bumpy booties. Those black lights in the strip clubs work wonders. This past month I decided to take a closer look at things, if you know what I mean. From a distance, I saw one of the prettiest girlz I'd seen in a while. I decided to walk up and sit at her rack. As she began to back that thang up, I began to back my chair up. Her facial features were beautiful and her body was bangin', but her ass looked like it had mutha-fuckin' chickenpox!!! Either that or somebody had been shooting her in the butt with a BB gun before she came to work. She is this month's winner of the Nasty Rashy Ass Award. This award is really not one to be proud of, so if you never want to win it, wash yo' bootie baby!!!
Ms. Lumpitty

This chick had a "Big" problem!!! She is this months winner of the What The FUCK Is THAT Award!!! Uhhhhhhhhhhhhh Daaaamnnnnnn!!!
No She Didn't!!!
Yes she did and I still can't believe it! It wasn't cool and it stunk. Last weekend, while again searching for the right Honey to put in this month's article, I visited a little strip club on the outskirts of town. I felt bad for this lonely stripper who was dancing her ass off to get someone at her stage. Me and a couple of my partners sat at her rack to give her some moral support. She was so happy to see us that she really started dancin' her heart out. In the middle of her rump shake routine, I heard a loud trumpet sound! "Oh hell no," yelled one of my boyz. "This bitch just farted man!" None of us could believe it. This chick let out some serious gastric toxins right in front of us and she couldn't even play it off. She just turned red and tried to apologize, but her fart had really pissed us off. I covered up my drink, picked up my dollar, and got the fuck up. It smelled so bad that it gave me a headache. That was the type of fart that probably had shit behind it. It was a funky situation y'all foreal!!!
Party Pick of the Month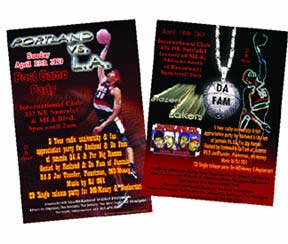 "Rasheed and the Fam"
The Honey of the Month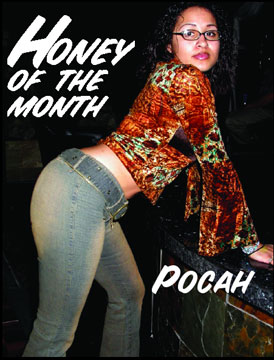 This month the award goes to Pocah of Atlanta, GA. She's doing her thang in the entertainment business and gettin' paid in full!!! One Love Girl...
If you have a honey that you think should be selected, e-mail me at whatzcrackin_j@hotmail.com
Until next month, "Keep It Crackin'!"
Much Love,
J.Mack