It's been a very interesting month in the music business. In my last article, I addressed the local strip-scene and how I felt about some of the strippers. This month I will update you on "whatz crackin'" on the national scene and some of the parties I recently checked out.
Kant Be Caught is Back!!!
A couple of weeks ago I had the chance to check out one of the hottest rap groups that Portland has to offer. Dale Davis of the Portland Trailblazers signed Kant Be Caught to his new company and they had a big showcase performance in the heart of downtown Portland, OR. The event took place at one of my favorite party spots, the Red Sea. I got to the club right before the group hit the stage and the place was packed. I was straight enjoying their new joints and proud to see these catz puttin' it down live. If you weren't there, you missed a treat because it was a bomb ass show. Keep up the good work y'all and reach ya boy that new CD when it drops....Big Ups!!!
National Headlines-- Luther has a stroke... TLC says goodbye to the stage...
The Hip-Hop Feud continues...
Luther Vandross, one of the best baby-making music singers of all time, recently suffered a stroke. He is currently undergoing medical treatment in an undisclosed New York hospital. Luther just turned 52 and has had a lifetime of hit records. He is also a five-time Grammy Award Winner. I wish you a speedy recovery man and I hope you'll continue to make that good shhhhh...... ONE!
TLC will be performing their last live performance on June 1, 2003. Both Chilli and T.Boz said that it is too hard to continue without their friend and former band member Lisa "Left Eye" Lopes, who was tragically killed in a car wreck last year. The show is going to take place at Giants Stadium in East Rutherford, New Jersey. TLC will be honoring their late band member as well as Aaliya and RUN-DMC's Jam Master Jay. It is uncertain if the girls will release any new albums under the TLC name, but a greatest hits album is due out this fall. I wish you both well and thanks for the beautiful talent that you've shared with us all. God Bless!!!
Shady/Aftermath vs. Ja Rule/Murder Inc.
The battle continues with these catz and in my opinion it's not looking too good for Ja Rule. He recently said on a free-style record that 50 Cent was loose change. He also said that Suge Night had told him that Dr. Dre used to take transvestites home. Say what??? He says that's the reason Eminem be dressing in pumps and tight little dresses. Ja Rule then goes on to say that he couldn't tell if Truth Hurts was a man or a woman. Ouch!!! 50 Cent says that Ja Rule is simply making a desperate attempt to keep his name alive. In a remix of Tupac's "Hail Mary", Eminem lashes back with some funny shit! He says "You ain't a killer, you a pussy/ That ecstasy got you all emotional and mushy." Damnnn!!! And that's only one line of the song. To hear the whole thing, pick up a copy of the Invasion Part 2 Mix Tape in stores soon.
Honey of the Month - Ms. Chocolate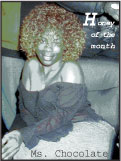 This sexy sister is one of the coolest chicks you ever want to meet. She is a hard-working beautiful mommy that's straight "Bout It"!!!
Along with my column in next month's magazine, I will be adding a new feature entitled "Who's Hot?" This article will feature an up and coming artist or record label that's doing thangz in the Northwest. Brian of Exotic Magazine thought that it would be cool to give some exposure to these individuals and companies that are working hard to get off the ground. So if you're a recording artist or have your own label, please contact me for the hook-up.
I can be reached at whatzcrackin_j@hotmail.com.
Until next month y'all be cool and keep it Crackin'!!!