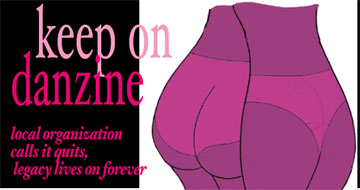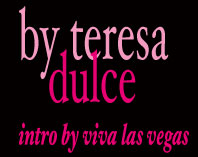 Seven years ago when I moved to town, danzine was a toddler, already up and running. As luck would have it, I moved into its crib: a dilapidated old rooming house in Northwest Portland where the mag was hand-folded and stapled by resident artists, loonies and junkies on a cat-piss soaked rug. The town then seemed to be the center of the 'zine revolution, and danzine positively vibrated with that energy: everything D.I.Y., everything by and for SEXWORKERS. Now, sexworkers are not the easiest demographic to give a deadline to. But this was the little 'zine that could. Suddenly the laziest gals in town were drawing cartoons, writing fiction, designing covers, pounding the pavement for advertising and dishing up informative articles on health, work and life. It was inspiring beyond belief. Sexworkers are notorious loners; get a few of them together and they takeover the world! danzine fomented a revolution.
Danzine grew up fast. Editor Teresa Dulce only had to flirt with those boys at Kinko's for so long before the magazine became a full-sized glossy. Its contributors and readers were devoted enough to throw bi-annual benefits, get up early to fight Portland's City Council (and win!), donate thousands of hours to street outreach, needle exchange and HIV prevention and give lectures at schools and conventions, nationally and internationally. Teresa was the heart and soul behind all this, a regular Robin Hood. Strippers suddenly became community-minded, rather than feeling ostracized. We had a voice, we had rights and we learned how to exercise them. It's interesting to see where Danzine alumnae are now: many of them have moved on to places like Planned Parenthood, Outside In and domestic violence shelters. Some have gone to med school and law school. Others are the best damn mothers you'll ever meet. Although Danzine proper may be ending, the values it instilled are indelible.
All of Portland owes Teresa a Nobel Peace Prize. 'Course she'd lose it somewhere on Lower East Burnside, or trade it for something useful like a box of fresh syringes to hand out on her travels. Good luck, woman, and god bless!! What follows is Ms. Dulce's letter of resignation.
Danzine ended June 1. This included the publication, the health programs, the art shows and film festivals. This transition isn't due to money alone, but it does lend a compelling argument. I think eight years of community service will do fine for now.
Danzine started as an idea and bloomed into a big fucking thing that was very cool while it lasted, but I'd be lying if I said I was sad to see it go to sleep.
Danzine--Mission Statement
Danzine was created by and for sex workers. Our goal was to provide the information and resources needed to make more informed decisions, personally and professionally.
Some of the girls hated that word--sex worker. I do too when someone tries to use it against me. Depending on what I was personally doing, I'd call myself a dancer, a model, an escort, a working girl, an outreach worker, a sexeducator. Whatever I felt like, really. I thought "sex worker" was more for the press, or students. They had to call us something, because 9 times out of 10 they didn't know shit.
Danzine--History
Danzine started in May of 1995 at a strip club in Chinatown, Portland. A few dancers and one escort made the 'zine, danzine. The first articles were about dancing out of state, a good dentist who didn't give you a headache for paying in ones, a police sting on escorts in Texas, and Outside In's free and legal syringe exchange. The homemade publication was a cut and paste job, photocopied on a piece of paper and folded once. Sixty copies were then dropped off at clubs around town, meant for the dancers in the dressing room.
The 'zine was self-published monthly. After a few months, a county outreach worker approached me. The nice lady said this was the exact type of thing the health department was looking for, people speaking for themselves--about what they did, needed and wanted to do.
In March 1996, Danzine became a non-profit organization and I went from being the editrix of a 'zine to the executive director of an agency. I also started going to health coalition meetings, raising my voice at the table for community health. That summer Danzine volunteers started two health care programs: peer education in the dressing rooms and needle exchange on Friday nights in Southeast Portland. By 2003, Danzine had given over 100 presentations for health care providers in four countries, 14 states and several local agencies. I have to say, I like to travel. At first I got to travel by dancing as I went. Later I got to travel by talking about dancing.
The non-profit snowballed. We received numerous small operational grants but were never considered as a candidate for institutional money, so Danzine threw art-filled fundraisers to create the necessary revenue. In other words, we never got government money. Ever. Never. And we didn't get money from the Ms. Foundation either, while we're at it. Categorically dogged, mainstream press wouldn't touch us with a ten foot pole. Screw 'em. That's why we started our own publication in the first place.
Risk Reduction Programs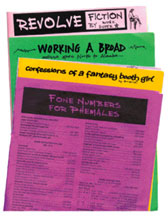 350 volunteers donated over 27,000 hours for Danzine's efforts since its inception--15,000 in the last three years alone.
Multiply that by an outreach worker pay rate of $14/hour and you realize we saved the county thousands of dollars in labor alone. This does not take into consideration the lives saved from our HIV/Hepatitis C prevention programs and the distribution of medications required to live with a virus or cure a sexually transmitted disease before it ripples out to the community.
Creating a more informed public takes creativity. It engages the written word, a piece of art, a live performance or even a simple conversation woven with self care messages. Danzine's risk reduction efforts occurred in the dressing room, on stage, on the street, in a van, on the phone, over coffee, over drinks, with peers, with strangers and with family.
Danzine has run seven programs over the last eight years, each program created to address a specific need. We needed information in order to be more safe in our personal and professional lives. Some of these programs were the first of their kind and are now being used as models for risk reduction efforts nation wide, with a global impact.
1995 -- danzine A 'zine and independent publication, danzine's art work and words were created by the people it was meant for.
1996 -- DanceReach
A self care program. Peer education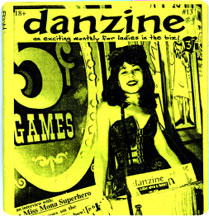 among dancers, lingerie models and escorts at the work site. Information and supplies shared for health care, disease prevention and vaginal care.
Over 3,000 peers served.
1996 -- StreetReach A hepatitis/HIV prevention program. Legal syringe exchange in Southeast Portland every Friday evening in partnership with the County Health Department. The program offered resources for disease and unwanted pregnancy prevention for injection drug users and survival based prostitutes, in addition to referrals for detox and rehab. In 2001 we included a mobile team in the downtown area. 183,650 used syringes properly disposed of, with over 2,500 exchanges. The County will continue the van every Friday night on 82nd/Ash from 7:30 to 9 pm.
1998 -- Portland Bad Date Line (PBDL) Descriptions of violent and abusive customers in the sex industry, circulated as a printed sheet every month. This started after one of our friends got hurt working as an escort. We called all the ads in the adult monthlies, told the girls we worked in town, had a friend with a bad date, and did they want the description of the guy/motherfucker? Most ladies said yes. Later the phone tree turned into a printed sheet, and now over 40 agencies in Oregon circulate it every month. Outside In is going to run the PBDL from now on--I encourage you to call in with an anonymous report if you don't want to deal with the police: PBDL voice message number 503-535-0901.
2000 -- Hepatitis C Project This project was initially created as a support group for women living with hepatitis C after a dancer we knew came up positive. Then the project turned into an information base for anybody who wanted to know more about the virus. The goal was to increase community awareness about the hepatitis C virus, and to provide the support and resources necessary to prevent and live with hepatitis C.
2001 -- Danzine Thriftstore Our purpose was to provide affordable clothing, job training and a source of income for the agency. Volunteers were trained to both work in a resale shop and offer health supplies and referral to community members on Lower East Burnside. The store was open for eleven months and was a successful fundraising tool. The store had to close because nobody was going to insure us, factoring in the syringe exchange program.
2002 -- Bio Hazardous Disposal Mobile Unit (Bio Babes)
Bio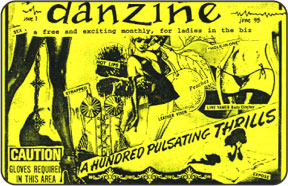 Babes walked around and properly disposed of used syringes, crack pipes and potentially hazardous material (like a used bandaid) found on the streets surrounding the thriftstore. The neighbors loved this one.
November 2002 -- Chief of Police Mark Kroeker signed a letter thanking Danzine, Outside In and the local Harm Reduction Coalition for conducting syringe exchange and helping decrease the transmission of HIV in Portland.
*June 14th, 2003* The Last Fiesta! A Danzine benefit on Saturday, June 14, featuring live music by Storm and the Balls and DJ Dairy. Come on down to Chinatown, Seven Stars Restaurant and Bar on 205 NW 4th Ave. Sliding scale $10 to $1,000. A buck off with a can of food. Food goes to Women's Innercommunity AIDS Resource (WIAR). 21 years and over with ID. Doors 9 pm. Sponsorship from the Willamette Week.
All in all I'm glad Danzine happened, even when people hated our guts for speaking up. Keep speaking up! My mama so did not teach me to take shit. Why would I start now? I sexertained to provide for myself. Not to be a goddess. Not to be exploited. And I can think of no better reason to fight for my rights then when it comes to getting health care and a safe work space. I mean, this is my LIFE we're talking about here.
Come to the party in June. It's sure to be a blow out. We'll have back issues available and Storm and the Balls put on an awesome show.
Peace and anger,
teresa dulce