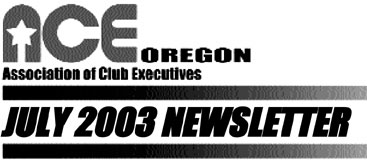 For months now, the author of this letter has been warning the industry that the OLCC and other authorities have decided to up the ante with respect to their enforcement of liquor laws against nude dancing establishments.
Recently, several clubs have been cited for "lewd" activity; many others have been threatened with citations. The real question is, "What is lewd?" Unfortunately, this is a question that cannot be answered. The Stars Cabaret lawyers, who fought vigorously against OLCC's interpretations, still cannot tell us what is "lewd."
By the time this letter is printed, the Association of Clubs Executives (ACE ­ Oregon) will have taken the initiative to demand clarification as to the enforceability of the OLCC's interpretation of lewd activity. ACE Oregon is a plaintiff seeking an injunction to prevent enforcement of these vague rules until the Oregon Supreme Court hears and decides two important cases this fall.
On its agenda, the Supreme Court will hear arguments overturning two Oregon Court of Appeals decisions. The first case, Ciancanelli, will decide whether an entertainer, club manager and club owner can be charged with a Class C felony if an entertainer touches her own breasts, buttocks or genitals. The second case, Duforth (or also referred to as the City of Nyssa), will determine whether cities can impose arbitrary rules imposes on club operations, such as distance to patrons, common tip jars, lighting, hours of operation, clothing and anything else a politician can argue that serves the interest of the community.
It would seem reasonable that an injunction be granted against the OLCC enforcement until the Supreme Court rules. But, some may argue, that these are not reasonable times. If the injunction efforts fail, the real battle still looms at the Supreme Court.
ACE Oregon is involved in all these efforts. ACE has filed briefs in support of the prevailing interpretation of the state constitution, which gives broad protection to freedom of expression. ACE is supporting the reversal of both Court of Appeals decisions.
Even if ACE prevails with the aforementioned injunction, or the Supreme Court rules favorably on the issues before it, the battle is surely to continue. On the horizon, many other issues are sure to arise. Not to be forgotten, of course, is that ardent nude dancing industry foe, Portland Mayor Vera Katz is possibly facing a re-election bid against another industry-hater, City Councilor Jim Francesconi. At the same time, look for Governor wanna-be Kevin Mannix to make another strong bid the state's top job.
Life is never dull in our business, for sure. But the prosperity of the industry can only be assured when all of us work together. ACE is our best shot at uniting, and fighting the common battle. Strength in numbers! Get involved.
Randy Kaiser
ACE Member
ACE MEETING FOR JULY
TUESDAY JULY 8, 4PM @ DANTE'S * 1 SW 3RD AVE. * DOWNTOWN * 503-226-6630
( ACE MEETING IS ALWAYS THE 2ND TUESDAY OF EACH MONTH )
Come meet our attorneys and get your questions answered on legal situations BEFORE problems occur.
All members should send a representative to each meeting.
ACE COCKTAIL SOCIAL TO FOLLOW AT 5PM