by J. Mack
Whatz goin' down Baby Boyz and Girlz? It's been a bomb ass month for your boy Mack and I'm about to tell you all about it right now. Plus I'll be letting you know whatz crackin' in the P-Town. California was on and poppin'. Besides that, soon as I got back to Portland, it was all kind of things happening. In this month's article, I'll also be puttin' y'all up on one of the flyest after hour spots to ever hit the city. They've hired me to host the joint every first and third Saturday beginning on July 5th, 2003. So basically it's on again!!!
First Up--Kickin' It In Cali
It was 3:00pm Monday, May 12th, and I was in the biggest hurry you could ever imagine! I had just picked up my check from my record label and my flight was leaving at six o'clock. I only had two hours left until I had to be at the airport. The problem was that I still had a lot of shit to do. I had to finish packing, jet to the bank, go to the mall, hit up the swap meet, swing by the liquor store on M.L.K., grab me bottle, pick up a sizack, twist up a fat one, shave my head, hop in the shower, get G'd Up, and bounce out!!! My little cousin VO Glamarody came by the house just as I was making me a drink. He asked me "Jay what time is yo plane leavin' man?" When I told him six o'clock, he straight started laughin'. It's already after five o'clock and I'm still in my boxers, sippin' on a drink. The homie Mike was outside in the truck waiting for us. VO started taking my bags out while I hurried to get dressed. Damn!!! I hate running late!!! We made it to the airport just in time. I was high as a hippie and slightly faded; walked on the plane crackin' up cause I made it. When I arrived in LA, it was nonstop until I came back to Portland. I had rehearsals in Anaheim, studio sessions in Santa Monica, shows in Long Beach and Hollywood. I got my soul food on in Compton and Watts. Much love goes out to Lil' Bre and her manager Andre for doing the new cut with me. It's gonna get 'em!!! But anyway, I'll be performing some of my new joints at the After Hours Party on July 5th. Don't miss it baby!!!
Next Up--Erykah Badu
If you weren't there, you missed some real ass Hip-Hop. I had just got back in town and saw a flyer about the concert. Made a couple phone calls and got the VIP hook-up. I couldn't miss my girl. When she hit the stage, the crowd went buck wild. I was with my boyz up in the balcony of the Roseland. I couldn't believe how live this chick was. First of all, she came out with her hair in a 'fro. Then she walked around the stage and modeled for the crowd. After that, she strolled up to a drum machine, which was in the center of the stage. I couldn't believe it when she started playin' these phat ass beatz LIVE!!! She took it old school and had the whole joint rockin'. Big ups ma......
The New After-Hours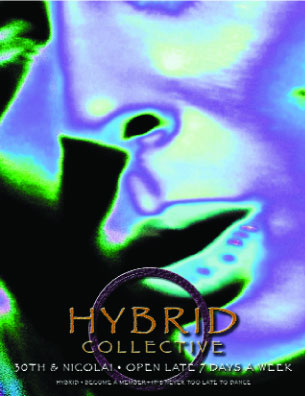 The other day I had a chance to meet with the founders of "Hybrid Collective" and it was all to the good. Mike and Matt have just opened up one of the most unique clubs to ever hit Portland, Oregon. These catz have also given me two nights a month to do my thang. This new club will be open seven nights a week and the hours will be from 11pm until 11am (oooh weee). According to Mike, "This club will be a cool fusion of everybody." When I asked Matt about his motivation for opening the Hybrid, he said, "I have been wanting to have a place that features good talent because I have been disappointed with some of the concerts that I've attended." Mike went on to say that "The Hybrid Collective is the place where Under meets Ground and we've had a lot of volunteers who have literally poured their hearts into getting the club remodeled and ready to open. We want the exotic dancers of Portland, Salem and Beaverton to have a place that they can call home." Saturday July 5th will be my first party and you know how J.Mack gets down. I'll be in the house along with my DJ partna' Mr. Mosaic every first and third Saturday of each month. We'll be spinnin' all the latest Hip-Hop, Reggae and R&B cuts as well as some old school joints. The Hybrid is located in the N.W. industrial area of downtown Portland on 30th and Nicolai. Both Mike and Matt told me that "This will be a place people definitely want to come back to, time and time again." !!!!!!! Seeya There! If you would like more info about it, holla at me at whatzcrackin_j@hotmail.com
Last Month's Honey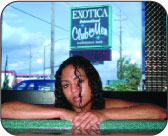 Iesha
I wasn't able to get her picture in last month but here she is. Congrats Girl!!!
Next Month
I'll be featuring photos from N-Style photography. My cousin Sonny has captured some of the flyest parties on film. You might see yourself in some of these flicks so stay tuned and until next month keep it crackin'!!
ONE LOVE,
I'm Out!
J.MACK