As I walked with Vicki through the fluorescent lit hallway to interview her father, images of an aging pimp were flashing through my head. I was expecting an old man with slicked back silver hair, a cobalt blue leisure suit with matching shoes, and a pinky ring... the zipper pulled down on the front of his jacket to reveal braided white chest hair. I've watched way too many mobster films. Roy Keller was the opposite of that image. I had heard stories about him since the day I started working at Mary's Club. When we entered the room, Roy was lying in his metal hospital bed. I hid behind Vicki, peeking around her shoulder to get a look at this guy. He was so delicate but dignified; his silver hair stood out on his red silk pillowcase and his kind smile put me immediately at ease.
Roy Keller has owned Mary's Club, Portland's oldest strip bar, for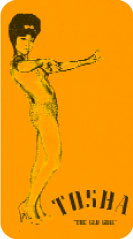 over fifty years. His daughter Vicki manages Mary's. His granddaughters Traci and Virginia work the bar, floor and stage. Pictures of his numerous great-grandkids adorn the cash registers. Mary's gives new meaning to family-run establishment. It's the heart and soul of the Portland strip scene.
Roy bought Mary's in 1954 from a detective and his wife who were getting a divorce and didn't know how to divide the business, so they sold it and split the profit. The detective's wife was named Mary. It was a piano bar at the time. Roy kept it a piano bar for a few years with its built-in clientele. He kept the name because a large percent of his clientele were longshoremen who would get off the boat, hop in a cab and say to the cabby, "Take me to Mary's." He was a smart businessman and knew better than to change the name. The longshoreman would stay at the hotel that is still upstairs from Mary's, so Mary's was their living room when they were in town.
Roy commissioned an artist to paint scenes of longshoremen on the walls in their honor. The brightly colored murals stretch the length of the club, and feature Mt. Hood, a Chinatown scene and a reclining topless woman in Egyptian princess finery. The longshoremen were regulars when they were in town and Roy assumed that they would like a strip club. However, as soon as Mary's turned into a strip bar, their attendance began to dwindle. Mary's soon changed from a hangout for longshoremen with a mild mannered piano player to a place with go-go dancers, strippers, transvestites and boa constrictors.
When Roy decided to make Mary's a strip club in 1965, it was a quick decision. The piano thing wasn't really working out for him. It wasn't filling the house. He got the idea from a friend of his who owned Big Al's, a strip club in San Francisco. Big Al's was always busy and that is eventually where one of the first dancers came from. Opening a strip club was a scandalous revolution at the time. Everyone thought Roy was crazy. He had no idea "if it would go," he said. Not only did it go, it paved the road for all the clubs standing today in Portland.
Roy tried to get out of the contract he had with the piano player but couldn't, so he started having a dancing girl between each piano set. When lines started forming around the block for the intermission entertainment, the piano man packed up of his own accord.
Roy assumed that the longshoremen would love a strip club, but
they didn't seem to, although he wasn't sure if they didn't like the girls or the drink prices going up, which happened at the same time. He never figured out why he lost their business. Yet the murals he commissioned in their honor live on, whispering stories of a world that can now only be imagined, a world with pirates that seems as vague in relevance as the murals themselves hanging on the walls of the fifty year old strip club. Somehow the images evoke a fairytale world. Amazing how time makes fiction out of memories.
Bambi Darling, Tasha and September Rose were some of the first strippers. There was a transvestite MC who helped keep the crowd entertained between sets. His name was Brandy Scott. He would paint half of his face like a woman's and the other half like a man's. Eventually he became a she and started stripping--at Mary's. There was also Wally who owned Wally's Place--a store next to Mary's--and would make the girls g-strings and also entertain the crowd by smoking spoons and eating cigarettes.
People's attention spans were much longer then. The customers would come to see the strippers but were also there for the show. And what a show they got. A transvestite MC, telling jokes and prancing on stage until the go-go dancers were ready to bee-bop to Ray Charles's "I Got A Woman." One girl had a boa constrictor, which got lost in the basement and found by the beer delivery guy, who shit his pants when the snake slithered from the rafters of the cooler to say hello. The boa then made its way into the sewers of downtown from a hole in the basement. "Was he ever found?" I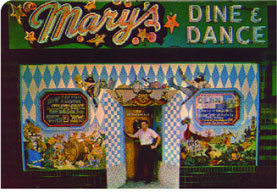 asked Roy. He smiled. "Eventually, I think."
Tasha was the first stripper. She moved up from San Francisco and lived in the hotel above the club. Roy said he used to go to her room and get her when it was time for her to go on stage. Vicki interrupted him to say there were lines around the block to get in. Roy kinda smiled and said, "I would escort Tasha through the crowd for each performance." It was a burlesque performance. By law girls could not get naked, so the dancers had extravagant costumes and would take an article of clothing off for each song. They would dance to three or four songs and, just like today, would pick their own music from the jukebox. Tasha would strip down to her g-string and pasties.
Roy's son Jerry ran Mary's for a few years, and in the late seventies his daughter Vicki moved from California,
where she managed a honky-tonk bar Roy owned, to manage Mary's. She still runs it. She is an amazing woman, as tough as she is sweet. Every woman who works there swears it is the best place in town to dance. The dancers are treated with respect by Vicki, the staff and all our cool regulars. Mary's is not at all your typical strip club--it's a family run business, which adds to its mysteriously nurturing charm.
Its décor hasn't changed much in fifty years; it is small and dimly lit. An old sixties TV is embedded in the wall between the neon beer signs above the restrooms. It probably hasn't worked in forty years. Mary's atmosphere is a character in and of itself. I can't stand it when people walk in and say, "This place sucks. What a dump." Those people obviously lack taste and imagination. The first time I walked into Mary's, I said to myself, "This is the coolest bar and I wanna work here." The place is oozing with stories, characters, history and personality. It may be a dive, but who needs new furniture and new paint when you've got great music, liquor, and--hello--beautiful naked women?
One of the things I was dying to know was what the tipping standard was back then. Was it nickels, dimes and--for the big spenders--quarters? Because today the average is a dollar a song. So I asked Roy. "How much did guys tip then? Did they tip change?" He laughed for a long second and said with a big smile on his face, "Yes, some guys would throw change on stage and the girls would throw it right back at them." He paused for a second, "A dollar a song was the norm I guess."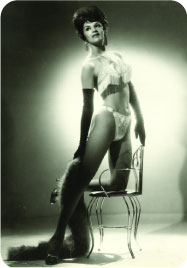 It's comforting to know everything has changed but nothing has changed. If you throw change at a stripper today at Mary's, be prepared for public humiliation and hopefully a scar from where the quarter welts your face. The stories Roy told me are endless and helping my book write itself, as are the stories of any day at Mary's. Any of us who works there could fill manuscript after manuscript because the club seems to be a magnet for all walks of humanity. I don't know if that is typical of strip clubs, but I do know that Mary's is a piece of history and, I think, the best club in town. Before I met Roy I liked working at Mary's, but after meeting him I'm proud to be working at Mary's. As we were leaving his room, I said to him, "Thank you so much Roy. It was so nice to meet you." He grabbed my hand, kissed it and said, "Thank you for helping Vicki." Call me a sentimental fool but who wouldn't be proud to work for a man like that?
Julie Gallagher has worked at Mary's for one year. This article contains excerpts from her upcoming book.