Allen Ginsberg gave a reading at a Seattle bookstore some years back and afterwards dutifully autographed his new book of poems for a long line of buyers. He appeared to be very gracious as he whipped off signatures but I suppose he was pretty anxious for that line to end.
I thought back on that while watching BARBARA BROADCAST TOO! from VCA. Chloe plays BB, the sex therapist who is out flacking her new book, "Healthy Sex, Mind & Body." At the book signing she sucks off the 100th customer. Now there's a way to pack 'em in at the book stores for readings. Probably not too many authors could take a hard mouthful with the same gusto Chloe works up when presented with the one-eyed Cyclops. Ginsberg could have providing the 100th autograph seeker was a young stud.
A journalist played by Dru Barrymore is sent to do a story on Barbara and becomes part of the story herself with the usual 57 varieties of doggie-style action, horizontal jogging and butt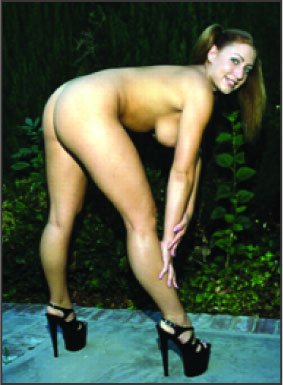 busting.
Seems to me some porn producer should play off the reporter going after the big story with a spoof on the huge scandal at the New York Times. You've probably read about the young Times reporter, Jayson Blair, who gamed the paper for five years with a boatload of fabricated stories. He made up quotes from people he hadn't talked to, plagiarized from stories in other newspapers and snorted lots of cocaine. He may end up with a healthy advance from a publisher for a memoir on his journalistic crime.
Good material here for UP THE ASS OF THE NEW YORK TIMES. A reporter heads out for an on-the-scene interview with a guy whose wife has been murdered, gets waylaid in an anal triangle and cranks out a made up interview while getting a blow job under his desk. Next day the guy sees the interview in the paper and says, "Did I say that?" He reads it over again, sees it was written with warmth and understanding, says "Yes, I guess I did say that." Meanwhile...well, take it from there.
In other news we have hot blonde Brit Ashley Long riding the waves of a double penetration in
TEEN PATROL 2
from Metro. Drimla, Sophia and some other chicks dick a private eye in
ARSENIC 2
from Hustler, a DVD with a series of flashbacks designed to fill out a plot where there is no plot. A flock of porn queens flit about and drip their bitch butter on undercover cops and Mafia dons in
LOST & FOUND
from Wicked. Kaylani Lei
and Melanie Jagger lick spoo and whine about not being able to go to a party in the passionless PASSION from Sin City. Finally, there's Kira Keener, who plays the 983rd cheerleader in a porn vid who will do anything to make it on the squad in SWIRL from Vivid.
My fave DVD this month is
ROCCO: ANIMAL TRAINER 11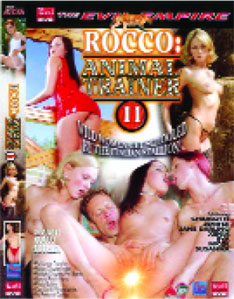 from Evil Angel. The Italian Stallion's last four or five vids didn't do much for me. All of them went overboard with about 50 people in endless group gang bangs. In his latest effort he's trimmed back his "the more pussy attacks the better" ethos and gone back to doubles and trios with himself as the main pole.
Animal Trainer kicks off in a barn with a trim girl patting down a horse. Rocco jumps her and goes down for the gravy. As the sex play continues the horse lets off with a loud hee-haw and you can hear chickens squawking in the background. This barnyard commentary adds a nice touch of comedy to the scene.
In a later scene our main stud ties up Charlotte with strips of red tape in a Christ-on-the-Cross position. He coaxes a nervous Jenifer behind her, then shoves himself against Jenifer. Sandwiched against each other he urges Jenifer to swat Charlotte's butt. She can't do it. He takes her hand, does it for her. It's hysterical, showing a girl how to slap ass. I'd never considered the possibility somebody didn't know how to spank.
The scene moves on for a very intense sex ride, including the two fillies down on their knees with one sucking off Rocco and the other with her face in his butt. Then they switch places and repeat the performance. In this DVD, Rocco's back on top with some solid blasts off the old back door trumpet.