This month I'm cuttin' straight to the chase and letting all my true people know how much I appreciate the love I been receiving in regards to my articles. I'll let you in on the local scene, and my adventures in the City. Some of the parties I went to and clubs I kicked it at were on and crackin'! Plus I had a chance to hang out with Sheena and the G-Girls (oooh-weee). In this month's column I'll be adding something new called "The Hater of the Month." This title goes to those pathetic individuals that go the extra mile to express their haterisms and bitterness towards others. Their hatred is so blatant and noticeable that I had to give the little peons a spot in my article.
First Up--Exotic Magazine's Anniversary Party
I still can't believe how hard I kicked it that night! Me and my partna Dez got to the spot around 11pm and it was definitely on and crackin'! Dante's was jammed packed and it was all industry people on a mission to party. The VIP Room was lookin' like the beginning of a cool porno flick. You could just tell that something later on was gonna go down. They were lap dancin', tongue kissin', nipple rubbin' and drink slammin' like a mutha-fucka. The stage performances were off the chain, and sexy as fuck. I bumped into my pretty homegirl Sheena and the G-Girls! We found us a cool spot in the cut and put some thangs in the wind. It's nothin' like these Oregon trees. After the party, it was the after party and the rest ain't none of ya damn business. But anyway, I had hella fun. Congratulations to everyone at the magazine, and lets continue to keep it #1.
Next Up--Club Vegas
This spot is crackin' from dusk to dawn and it's all juice baby. After a night of stiff drinks and club hoppin', it was cool to hang out at Club Vegas and get that cran-apple juice into my system. They're still open way after the other clubs have closed and the atmosphere is real laid back and cozy. They showed ya boy mad love and I'll
definitely be back.
My Ballin' Ass Homegirl
I don't stop with Sheena, because she is determined to stay at the top of her game for life. She's a top-notch female hustler that owns and runs several businesses including an all-girl promotion team called the "G-Girls." They recently held it down at the Snoop Dogg concert and continue to promote many clubs and private parties throughout the City. Intelligence plus beauty and heart equals Sheena! Love ya ma and I'm looking forward to the collaboration. Big ups to all the G-Girls...I got ya backs!!!
Hater of the Month
I ran into this mutha-fucka one Wednesday night while on my way to the Love Jones to check out the poetry. He happened to be working the door at the club next to the Ohm. Me and my cousin Sonni of N-Style photography were planning on going there first to have a drink. Soon as I walked up, I was mean mugged and looked at from head to toe. My hater alert started beepin' loud as fuck and it's never wrong! This little tiny nut buster told me I couldn't get in because of my tennis shoes, which cost more than everything this punk had on. Yet he let another cat come in with sweats and sneakers. Come to think about it, this bitch still owes me money from when he used to manage Club Exotica. Plus he got rejected by every one of my chicks he tried to holla at. He's been emotionally pimp slapped for most of his life. So I didn't trip on his hatred, because that's what he probably wanted and expected. Instead, I walked away cool like the Mack that I am. Plus he will never be half the man that his mama was and if you know who I'm talking about tell his ass he's J.Mack's pick for the Hater of the Month.
Honey of the Month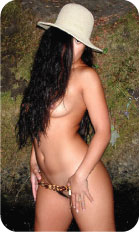 This month I had to give it to the exotic looking cutie pie Atreyu. She's currently in college studying to be an English major. Congrats baby and good luck in school.
Until next month, keep it crackin' and I'll holla when I see ya... Or you can hit me with an email me at whatzcrackin_j@hotmail.com
One Love,
J.Mack