With great fanfare, U.S. Attorney Mary Beth Buchanan in Pittsburgh announced on August 7 "a major obscenity prosecution." While Buchanan's stinking cunt is far more obscene than the defendants in this forthcoming case, she does have the advantage of working for the Fed's Bible-banging ballbreaker, John Ashcroft, who is determined to take another crack at wiping out smut.
This case could be the first blow in a new effort of America's Moral Squad to dismantle the porn biz. On the other hand, with
any luck, Buchanan and Ashcroft will end up looking like the pathetic, sniveling blue noses they are. It will come as no surprise to porn watchers that the spoo auteurs about to land in the dock are Rob Black and his wife Lizzy Borden from Extreme Associates, the house of horrors that features incest, rape, violence and piss-drinking in their DVDs.
Last April forty-seven federal marshals and postal inspectors from Pittsburgh along with fluffers from the Los Angeles police department arrived at Extreme's headquarters with a search
warrant. They took away sales records and five vids for their case: EXTREME TEEN 24, COCKTAILS 2, ASS CLOWNS 3, 1001 WAYS TO EAT MY JIZZ and Lizzy Borden's notorious homage to serial killer Richard Ramirez, FORCED ENTRY. As Rob Black pointed out, the cost of flying these forty-seven federal thugs in from Pittsburgh and housing them in an L.A. hotel for ten days so they could issue a search warrant likely cost the taxpayers several hundred thousand dollars.
Black and Borden have been charged with nine counts of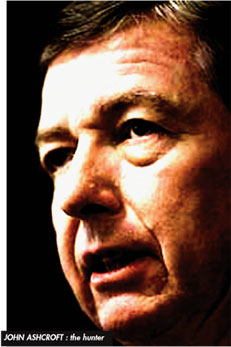 distributing pornography through the mail and on the Internet. There is also a tenth charge: conspiracy to commit crimes. The feds love to toss in a conspiracy charge to juice up a case. If found guilty on all counts, the hubby & wife porn team could get 50 years in prison along with a five-million-dollar fine. Likely that will never happen, but this strategy typical of the fascists in the Justice department is designed to force the defendants to cop a plea on lesser charges along with driving the company out of business with a big fine.
Although there has not been a major porn case brought by the feds over the last 20 years, Ashcroft made it clear when he came into office he would target the cum brigade. It might have happened last year but for Saddam Hussein. Now that Iraq has been pacified, it's time to turn the guns on the enemies within who are shredding America's moral fiber. Referring to the indictment of Black and Borden, Ashcroft said this "marks an important step in the Department of Justice's strategy for attacking the proliferation of adult obscenity. The Justice Department will continue to focus our efforts on targeted obscenity prosecutions that will deter others from producing and distributing obscene material."
This won't deter anybody from churning out porn, but the word "targeted" is the key to his strategy. In effect, at least for now, the focus will be on porn that is over the top, as illustrated by the following three indicted Extreme DVDs.
Lizzy Borden's bash & slash FORCED ENTRY leaps into the galaxy of fatal rottenness with porn-dude Luciano playing a serial killer who overpowers Jewel De'Nyle, rapes her, pisses on her face and suffocates her with a plastic bag. Next up Taylor St. Claire plays a pregnant girl who gets her stomach beaten in by Luciano and one of his gang buddies, the deranged Mickey G. The third scene, the climax so to speak, features Veronica Caine getting cut up with a knife and left in a pool of blood.
Last year a PBS crew working on a Frontline documentary,
American Porn
, visited Borden's set when she was filming the climax. The crew was so appalled by the "gutting" of Veronica they walked off the set. More to the point, they filmed themselves taking a powder which gave their documentary a load of authentic disgust and generated great publicity for
FORCED ENTRY
, which has now sold over 30,000 copies.
The box cover of EXTREME TEEN 24 is a work of comedy John Ashcroft simply can't appreciate: the usual 23-year-old girls dressed to look thirteen surrounded by teddy bears fucking each other. In one scene porn girl Brie breaks away from her chalk drawing on the sidewalk to give a perv a blow job. Cut to pig-tailed Black Cat sucking on a pacifier in a kiddie tent getting butt-fucked by a guy who wins her over by giving her a Pokemon magazine.
Veronica Caine shows up again in
COCKTAIL 2
, this time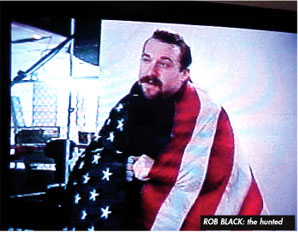 starting off a pedestrian double penetration. The boys have enough cum left to blow through a funnel into her mouth, then feed the remains of a spit bowl into a tube which gets stuffed up her ass and then again shoved into her mouth.
This triple wammy offers rape, murder, kid fucking and water sports. What kind of review will the grand jury give these DVDs? Hard to say, but the vids also include "blooper" scenes at the end with the degraded girls laughing and joking about their performances. There's also Lizzy Borden's intriguing defense of FORCED ENTRY: "If you watch it and don't fast forward, and if you think about it, you'll see there's a moral to it."
I suppose Extreme's "Fatal Five" DVDs do illustrate the classic tragic emotions of an artistic work: shame, horror, fear, pity and suffering. While not a turn-on for me (and I doubt for anyone other than short eyes and serial pervs), I admire Rob Black and Lizzy Borden for their willingness to cut through all the phony lush-colored satin sheet porn put out by the likes of VCA and Vivid.
The high-rolling producers of this gutless crap will no doubt defend the right of Extreme Associates to take porn into the dark corners where girls are depicted as trash bins for predatory cocks fucking like a herd of elephants in heat. Then the gutless warriors of nice porn and their cock-sucking PR hacks at AVN who whine about every video store that gets shut down in East Jesus, Kentucky, will whisper among themselves that Extreme Associates got what they deserved for crossing the line the chicken-shit Adult Film Industry long ago drew in the sand.