by J. Mack
It's that time again, and I'm not about to let my loyal readers down. I've got some big thingz that are about to happen, so I gotta put ya'll up on whatz going down. I also recently interviewed one of the most diverse DJs in the adult entertainment business, DJ Diablo. This month I'll also be conducting a poll in regards to the ongoing rivalry between 50 Cent and Ja Rule. I want to know what you think about this Hip-Hop feud.
First Up -- Somethin' for the Honeys?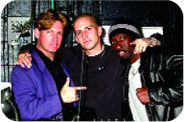 Yes!!! This little somethin' is a function that I'll be hosting every Wednesday Night at Club Exotica. I have a lot of female readers that email me, asking when and where my next parties are going to be. I decided that it would only be right to give them their own night to kick it!
I'll be co-promoting each Wednesday night with
Exotic

Magazine
and Party Girlz Entertainment. I'll be featuring a weekly singing contest for up-and-coming artists to win $$$ and prizes. Two contestants will go head-to-head each Wednesday and the crowd will always decide who wins. The winner will defend their title the following week. For audition information, email me at the address listed below.
Next Up -- Whatz Crackin @ Stephanos?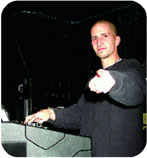 Every Thursday night baby... I'll be bringing Portland an Entertainment Industry Party. Stephanos will be the spot for musicians, athletes, promoters, exotic dancers, artists, DJs, hair stylists, businessmen and women to come and hang out with their peers. Thursday Nights at Stephanos is for those who work hard and play hard. I'll see you there!!! It's all love...
Let The Records Spin
That's exactly what DJ Diablo has been doing at Club Exotica International on Friday and Saturday nights. He's been keepin' it hot with his skills and all the latest cutz. I recently had the chance to chat with him in the Club's VIP Room and we had a cool conversation. I asked Diablo where he gets his drive. He said, "My love for music is what motivates me to spin." "I've been doing it for 11 years and I got
my start in college, rockin' parties at the U of O."
This cat has a huge music collection from hip-hop to R&B, from old school to house and break beats. Regarding his future, DJ Diablo says, "I'm planning to release a mix CD with my own beats, and one day own and manage my very own nightclub." He gives mad props to DJ Pierre Amador for getting him involved with the Gentlemen's Clubs. He also says "DJ Mike May has been very inspiring and a great mentor." DJ Diablo says that he has nothin' but love for his fellow DJs, who include DJ Dej, DJ Pete, Julian (aka Sir Kutz) and DJ Alldin. If you haven't seen this cat throw down, make sure to check him out Saturday Dec. 20th at Exotica's Winter Wonderland Party. Big ups to my partna Damon, aka DJ Diablo. Keep up the good work dogg... One!!!
The Feud
Ja Rule has just released a new joint aimed at the rapper 50 Cent. To tell the truth, he's hittin' him hard but I'm getting burned out on this shit. How do you feel about these catz? Email me at whatzcrackin_J@hotmail.com and I'll be featuring some of your comments in my next article.
Honey of the Month & Angel Forever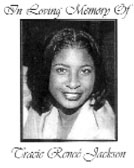 This month's award goes to my beautiful friend who recently departed to heaven. Her name was Tracie Jackson and she will be deeply missed. I love you, God Bless you! My prayers go with you.... Your friend J
Until Next Month...Keep It Crackin'!!!
One Love,
J.Mack