If your parents name you Paris why should they be surprised if you turn up in a porn film? Although technically it's not a porn film since Paris Hilton and her then-boyfriend Rick Solomon made the vid three years ago in the privacy of their Las Vegas hotel room, certainly the right city for their cinematic one-on-one.
Paris Hilton was born to make porn, I'd say. The great-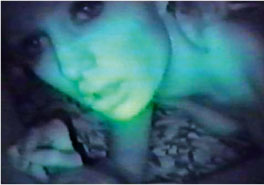 granddaughter of hotel magnate Conrad Hilton, Paris, 22, and her younger sister, Nicky, 21, grew up in Manhattan's famous Waldorf-Astoria, another family house out in the Hamptons and a mansion in L.A.--bicoastal from the crib. Quite the party girl as a teenager, Paris spent a lot of time shopping and hob-nobbing with fashion friends and has taken a stroll or two down the catwalk. She attended exclusive private schools like Dwight and Buckley but didn't stay long due to academic challenges that did not mesh with partying down. The stretch at a school in Utah for troubled youths didn't take either. Some reports indicate she dropped out of high school.
A couple of news stories said she got a GED which, if true, should be framed in gold and placed in the lobby of the Waldorf-Astoria.
The rap on Paris in the news zone is that she is "famous for being famous," that is, she has accomplished nothing except posing for pics at nightclubs and on the celebrity scene. A bad rap in that she's quite industriously built herself into a brand with an upcoming line of clothes, bit parts in a few movies, the cornball reality TV show The Simple Life, and a forthcoming CD. Whether she can sing a note remains to be seen, but it will probably sell. On top of that, she and her sister pull down big bucks as fashion models, like sometimes 50 grand for a shoot. So even though she stands to inherit a reported 30 million clams, she's doing quite well on her own.
While she's been featured in the tabloids and the celebrity
press since she turned sweet and tight-butted 16, many people had never heard of her until porn struck. That really sent her into the celeb zone. Scandal rocks.
She says she's terribly embarrassed the sex tape surfaced on the Internet. But the murky and grainy 3-minute clip from the 40-minute vid that has sailed through cyberspace seems to have magnified her 15 minutes of fame. As yet untitled--I'd suggest Paris Services the Vegas Hilton--the vid opens with a close shot of Rick Solomon's cock penetrating the gamy hotel heiress. After a few thrusts Paris starts to turn over to get on top of him--I think, hard to tell in all the blur--then changes her mind and gets down on all fours awaiting the dog to wag the tail. What follows is purr-fect for the Paris project: her cell phone rings!
She has an animated talk on the cell, enjoying what must have been an intense conversation. She flops across the bed, laughs, nods her head, hangs up and returns to her duties.
The bawdy couple flop around a bit and proceed with some doggie action. Rick pushes her forward apparently unaware she is now out of the picture frame and all we see is him grinding away from about waist up. In the final scene Paris gives him a blow job. Although enthusiastic, she needs some instruction in deep throating from a professional porn queen. I'm sure there are many out there who would be willing to give her a tutorial.
All in all she shows great promise as a porn darling. Except for that smile. In every photo I've seen of her she throws out this pose, her head to one side, a smile so fake you'd think there's nothing behind that face other than a manufactured doll devoid of passion.