The entertainment industry and those in it never cease to amaze me. In this month's article, I'll fill you in on some of the latest shit that's going down. One of Portland's hottest DJs makes a guest appearance on BET's Rap City the Basement, while on the other hand one of the industry's hottest rappers has a court appearance and gets a six-year sentence. Put somethin' in the wind and kick it with me for a minute...
First Up--My Crazy New Year's Eve
It started out real cool, but little did I know what the rest of the night had in store for me. How it all happened, I still can't call it, but this is what went down. I was sippin' on some Hennessey at the house while my peeps were getting ready. It was my ex-girl, my homegirl, my girl, and their drunk-ass friend. It was 11:15pm New Year's Eve, and we were running late to the club. The girls refused to let their homegirl go out looking the way she did, so they quickly gave her sparked ass a makeover. We finally got to the club and ordered some drinks. It was a quarter to twelve and out of nowhere, a big-ass fight broke out. "Damn ain't this a bitch!" The DJ stopped the music and turned on all the lights. The security was doing the best they could to defuse the situation, but it was now 11:55pm and nobody was paying any attention to the time. I told the DJ to put on a cut to at least get people back in the mood. My girl came running up saying, "Baby it's one minute 'til midnight." Oh, shit, it is! I then told my partna DJ Chill to count it down since he was on the mic. Chill said, "Man you do the honors." So I counted it down in the nick of time and the party went on. To top it off, the drunk chick that was rolling with us tried to pickpocket me. Can you say, "Dumb Bitch?" Anyway, happy 2004, y'all...
Next Up--DJ O.G. One Hits BET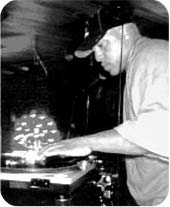 While on the way home from a studio session, my homegirl Precious informed me that my homie
O.G. One
was going to be on BET with Big Tig in the
Basement.
He was on the show for two days in a row and represented Portland quite well. It was real good to see that someone who works as hard as him got the chance to get some national exposure. O.G. looked like he was right at home as he mixed some hot jointz during both the shows. He even provided the instrumentals for the freestyle session in the booth, with Big Tig and Memphis Bleek. Keep up the good work, dogg, and make sure y'all check him out at a club near you... One! !
National News--Mystikal Gets 6 Years in Prison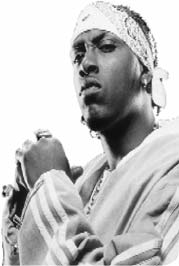 Can you say "Daaamn, Homie?" It's really a shame to see another hip-hop superstar go out like that, but this cat was guilty as hell. Michael Tyler aka Mystikal was recently sentenced to serve six years in prison for sexual battery. Mystikal and two of his bodyguards forced his hairstylist to have what the judge called "continuous sex acts." He was originally facing a ten-year bid but plea-bargained for six. The victim said that the three of them forced her to have sex with them after they accused her of stealing $80,000 worth of Mystikal's checks. The turning point in this case was that the judge saw a videotape of the incident and ruled that it was not consensual. He said that the victim was terrorized. Each of them took turns filming each other with the woman. They reportedly were upset that the tape was used as evidence. Why would someone be that fucking stupid to film some shit like that, and then try to get mad about it being used against them? One of his boys got three years, and the other received a four-year sentence. What the fuck were they thinking?
Next Month
I'll be once again featuring various honeys throughout the city in my Honey of the Month column. If you or someone you know deserves to be the next honey, email me and let me know. Reach me at whatzcrackin_J@hotmail.com Until next month, y'all keep it crackin'!!!
One Love,
J.Mack