Several months ago one of Exotic's imitators ran an ad for the Magic Gardens featuring a statuesque brunette. She was hot enough, sure, but not so hot that the little bar should have to field five phone calls a day from customers wanting to know when this gal worked. The answer was, over and over
again, "She doesn't work here! She's just a model!" No one could figure out why this ringer should inspire so much desire. Then one guy asked, "Well, are there any other women there with pubic hair?" Ah ha! It was the BUSH.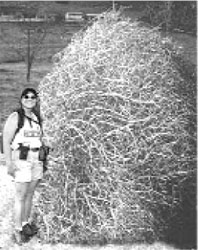 Yes indeed, this girl was wild and woolly. Exotic doesn't like to show snatch as a matter of taste, but a couple
of the other mags are cover to cover pussy. The bushy model stood out like a sore thumb in the midst of
all the bald beauties. But was there anyone at the Magic with more than a racing stripe? Nope. Sorry.

There was when I started, however. Miss Mona Superhero didn't tend her hedge. I'll never forget her slipping
off her g-string, so sexy, so slow, and then haughtily displaying her incredible bush. It was a black fuckin'
forest, you could get lost laying down there. Her bush was so bushy that we dubbed it the "Superhero," and I've
never seen anything like it before or since.

Because I am completely smitten with Mona, I've tried to maintain some semblance of pubic hair for most of my career. Only when I quit and moved to
New York did I raze the ranch. I was newly single and figured nobody would be seeing my stuff for a while, so I felt safe. But sure enough the very next night some totally untimid guy wanted to fondle me while walking me home through Brooklyn. He was shocked. "You're...bald!" Then he asked if he could eat me out right there, on the stoop of an upscale brownstone. Not bad for a preppy fucker.

Now it's 2004. I've been bald for three years. The last bush I've seen was at Christmas when my brother screened the eighties porn classic G-Point. Where has all the foliage gone? It's a freaking desert out there. So, I've done some
snooping around. Go and see for yourselves, readers, the
TOP FIVE BUSHES IN PORTLAND.

1—Danzine founder Teresa Dulce is still shaking it, and sporting an everfurrier triangle! She claims it's in the interest of art, that she will be modeling soon in some turn-of-the-century daguerrotype-style photographs. Who cares!
It's awesome! Check it out every other Sunday at Mary's Club.

2—Morgan Le Fay at Dino's—impossibly white skin framed by lovely
raven locks cascading off her head...and crotch!

3—Rain at the Acropolis. I have yet to see Rain but the boys say she's a
red-hot bush baby.

4—Kira at Magic Gardens. Gorgeous red hair, old-fashioned flapper outfits
and the cutest smile you ever did see. And bush!

5—Cherry at Exotica. The fluffy little kitty is just the icing on this cake.

HONORABLE MENTION: K.T. Risk at Mary's Club. Although K.T. doesn't sport much pubic hair, she has enough to speak her mind. My personal favorite K.T. topiary was the smiley face—a careful rendering of two eyes and a mouth, out of pubes!